If pimento cheese isn't on your yummy list, then you may wanna switch channels right now.  It's a Southern thing, y'all.  And it's made in a lot of different ways- the mayo is different depending on the cook (I grew up with only Duke's so I'm obligated to support that here), sometimes cayenne pepper and/or hot sauce is used, and sometimes cream cheese is added (I don't associate myself with the people who put onions or worcestershire sauce in theirs)… but there is really only one key factor in making really really good pimento cheese.  If you change out the other stuff and only keep this one thing in mind, you're golden.
Extra Sharp Cheddar.
Not sharp, not medium, not Monterey Jack, and don't you dare come at me with American or I'll… I'll…
politely turn around and walk away.
I am a Southern lady, afterall.
I love the stuff.  My husband didn't eat it as a kid and didn't even know what it was until he met me. It took a lot of convincing to get him to try it on our first Fourth of July spent together.  A lot of convincing. See… he thought a pimento was a fish.  So you can imagine how gross we must have seemed trying to get him to eat some chunky orange fish spread.  But now he's a believer.
I grew up eating it as a dip for celery sticks in the summertime, all my life.  I never ate Pimento Cheese sandwiches, although that's a really popular thing in the South.  But it is such a big part of my childhood food memory bank.  And I now make a few different recipes using the concept of Pimento Cheese for my family… I make a Chicken Pot Pie using a homemade Pimento Cheese biscuit dough as the crust, Pimento Cheese Scones, a savory Pimento CheeseCake,  Macaroni and Pimento Cheese…. All delicious.  But I couldn't just stop there.  No, no.  I had to take it here.
And what's not to like here?  Savory custard, flaky pie crust, gooey cheese… all peppered with pimentos and a hint of spice.  Get it?  Peppered?
This quiche is perfect for dinner, lunch, or brunch.  Serve it with a salad for a complete meal or do what I do and sneak a slice cold from the fridge when no one's around.
P I M E N T O   C H E E S E   Q U I C H E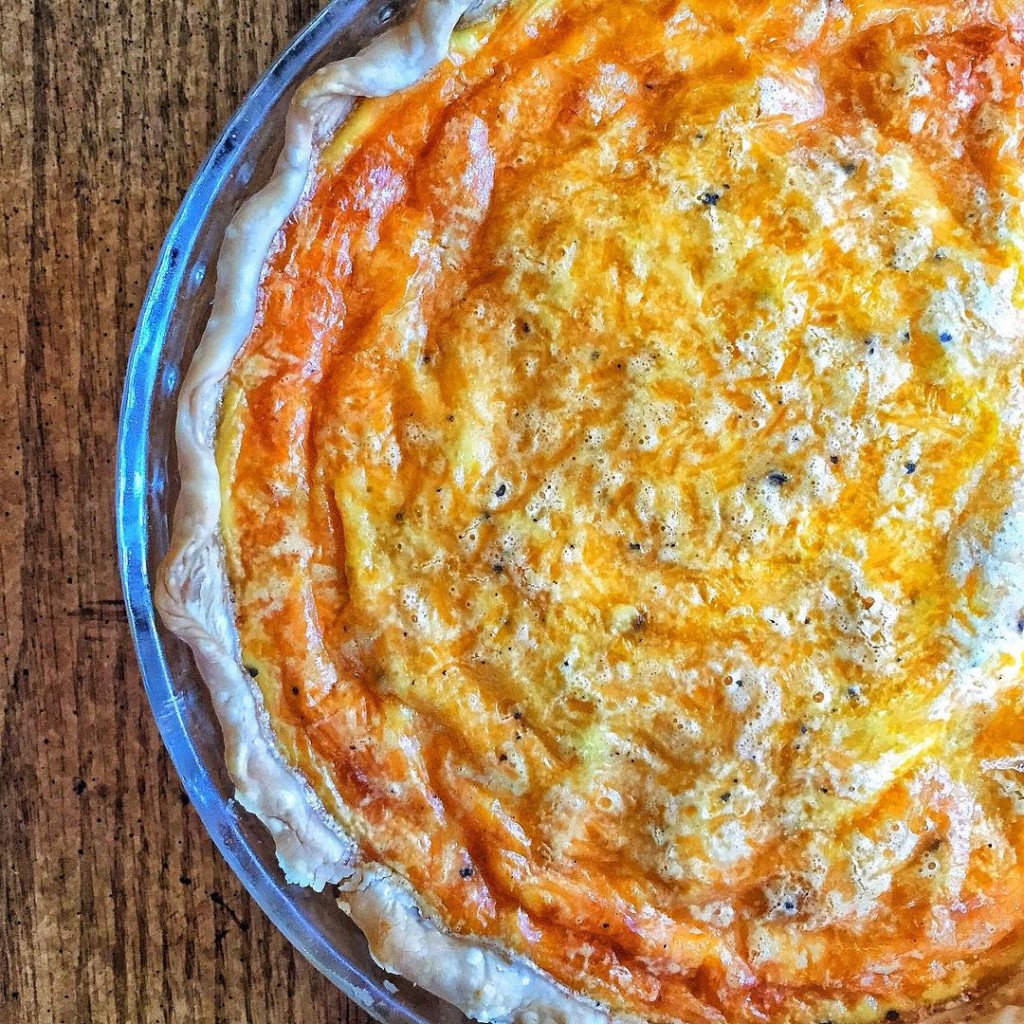 1 pie crust (see bottom of post for some of my crust recipe links, or…the only store-bought brand I recommend is the Pillsbury Refrigerated Pie Crust that comes rolled up in the box.)
5 large eggs
1 cup milk (I strongly disagree with skim milk in general but especially here…it produces a very watery custard.  I wouldn't recommend anything lower than 2%…and sure, you can always go the half&half route if you roll that way.)
little splash white, distilled vinegar
1 (8 oz) brick neufchatel cream cheese
2 cups shredded EXTRA sharp cheddar cheese, which is 1 (8 oz) brick (Even though the foodie in me says to stick to the white cheddar, the Southerner says go orange.  BUT, I gotta say… around the holidays, this is GORGEOUS if you make it with the white extra sharp cheddar and use half pimentos and half diced green chilies!!!)
1 (4 oz) jar diced pimentos, which is 1/2 cup
1/8 tsp cayenne pepper
a dash (or two) of your favorite hot sauce
a few fat pinches of kosher salt
Roll out your pie dough and press into the bottom and up the sides of a deep dish pie plate or quiche pan.  Crimp or fork the edges.
Pinch off the cream cheese into pieces and place all over the bottom of the crust as evenly as you can.   It will melt and spread a bit while cooking, but the idea is to have a layer of cream cheese on the bottom of the pie.
Set aside.
In a large bowl beat your eggs, add the milk and splash of vinegar and whisk until fully combined.
Stir in your shredded cheese and pimentos and season with the salt, cayenne and hot sauce.
Pour into your cream cheese covered pie crust.
Place on foil-lined baking sheet to catch any potential spills.
Bake in a preheated 350 oven for 45 minutes to an hour.
It's done when the center doesn't jiggle when you shake the pan.
…
I have a couple different pie crust recipes:  There's the All Butter Pie Crust, and My Gluten Free Pie Crust… And I would go to that gluten free pie crust post just to see my fun tips!
…
Thanks for readin', ya'll
XOXO, Abbey