My son is 8.  8!!!!  How in the….?!? I can't believe it.  This is probably the first year I've been able to look at it and say, 'wow…that's incredible that we've come so far!'
I remember when he was this…
This tiny head of magic that went through tremendous challenges to find his way back to me.  But now, he's just such a big kid.  And I'm so proud of him daily.  He's smart, he's kind, he's funny.  He's my big eight year old boy.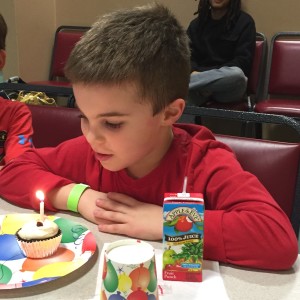 There he is eating his Double Chocolate Cupcakes!
This year we had his party (per his request) at a place with an arcade and bumper cars…
and laser tag…
He had such an amazing time with all of his friends.  Then a few days later we celebrated small with the family and ate homemade pizzas and carrot cake!
This carrot cake is my son's birthday cake every year.  Always has been, from year one…
And honestly, it's the best carrot cake I've ever, ever had.  I think the secret is the fact that I cut back tremendously on the sugar (which I do in all my dessert recipes)… and I know that sounds counterintuitive for a sweet recipe, but listen up-
If you add less sugar to something, you get to taste the 'something' a whole lot more.  When was the last time you ate a slice of cake and thought about anything other than 'sweet'?  I happen to think that we should be tasting every ingredient we're using.  Otherwise, what's the point?  And I really love the addition of pineapple in it.  I don't use nuts or raisins in mine because I feel the texture doesn't match, but the pineapple really works well here.  Plus, if you have MY cake, you get to eat it for breakfast and feel completely awesome about it.  I did.  It's even made with whole wheat flour!!!
So I totally encourage you to have my cake.  And eat it too.  Whenever the heck you want to.
Happy birthday, baby boy.  Keep up the good work. XO
PINEAPPLE CARROT CAKE w/ CREAM CHEESE FROSTING
In a mixing bowl, combine the following dry ingredients and whisk to mix well…
1 1/2 cup white, unbleached all purpose flour
1 1/2 cup whole wheat pastry flour
1 1/2 tsp baking soda
2 tsp kosher salt
4 tsp cinnamon 
Set aside.
In the bowl of your standing mixer, with the paddle attachment, add the following…
4 large eggs, beaten
1 1/2 cup light brown sugar
Mix well. Then add in…
1/2 cup vegetable/canola oil
1/2 cup unsweetened applesauce
2 tsp vanilla extract
Mix well.
Slowly, about 1/4 cup at a time, add in the mixed dry ingredients, while mixing.
When the dry ingredients are completely mixed in, add in…
5 cups shredded carrots, (about 6 large carrots)
1 (20 oz) can crushed pineapple, drained well
Mix until fully combined.  Pour your batter evenly into 2 greased, then floured round cake pans.
Bake in a preheated 350 oven for 40 minutes, or until a toothpick inserted into the center of the cake comes out relatively clean (no goop, but moist crumbs are ok).
Cool in the pans until easy to handle, then transfer to cooling racks to cool completely.
Frost with the following frosting…
MY CREAM CHEESE FROSTING
In a large mixing bowl, mix together (using an electric beater to make it easier!)…
3 sticks unsalted butter, completely softened
3 bricks, reduced fat neufchatel cream cheese, completely softened
3/4 cup powdered sugar
good splash vanilla extract
slightly smaller splash almond extract
pinch kosher salt
Mix slowly so you don't decorate your kitchen with powdered sugar, but beat until fluffy and mixed well.
To assemble your cake, (be sure your cakes are completely cool!!!), place one round cake, inverted, onto your cake pedestal or plate.  Cover with a large amount of your frosting (about 1/4-1/3 of the total amount), and smooth it out to almost reach the edges of the cake.  If you smooth it out to the very end, you will have some smush out the sides when you add your second layer.
Place your other cake round, rounded part up this time, evenly over the iced bottom cake.  Then frost the entire cake with the remaining frosting.  Begin at the center top and work your way down the sides.
Decorate however you'd like, if you'd like.  I just like to use a spatula and fluff it up a bit on the top.
But, my son every year on his birthday gets to decorate his own cake.  So you're more than welcome to follow his lead.