…because sometimes you want pizza at the same time you want pancakes?
Nah.  I really just made these up the other night for my kids as the words were coming out of my mouth.  I was on single mom duty (no worries, he was just away on business) and I like to give my kids a little vacation whenever it's just the three of us.  They tend to get a little spoiled when daddy's away.  And this idea just popped in my head.  Ten minutes later, they were sitting down to Pizza Pancakes in front of a movie. And they LOVED them.
You can take any pancake recipe you like, any one… scratch, boxed, it's your kitchen.  And then you just add the toppings you desire onto each pancake as they're cooking on the first side.  Flip.  Then you're done!  My favorite all-time pancake recipe is one that you can make ahead (days in advance, if desired) and contains yeast.
Click HERE for that recipe.
And HERE'S a really old recipe for a quick and whole grain pancake (emphasis on OLD…also, haven't tested that recipe in ages…)
But the point here isn't about the pancake recipe, everyone's got one of those they can go to.  It's about taking two things we love and make often, and smushing them together for a fun dinner idea.  (Mashup is the correct term, but I like smush better.  Smush is cuter than Mash.  Change Approved.) Plus, who doesn't love being able to eat homemade pizza in sheer minutes?
Not a body.
This is too easy.  And so much fun!!
I've made Pizza Muffins before… Waffle Brownies…  I'm sure there have been other smushups that my current tired brain can't seem to recall, but most of the time I think of these ideas when it's just me and the kids.  I don't think you're ever too old to play with your food, and being their mom helps me do that whenever I want to.
Now, go and play 🙂
PIZZA PANCAKES
Preheat your griddle to medium heat.
Prepare your favorite pancake batter.
Mix into the batter itself…
a handful of grated Parmigiano Reggiano
a good sprinkling of dried oregano
granulated garlic
crushed red pepper flakes (optional)
Stir well.
My griddle is very successfully non-stick, so I don't need greasing, but feel free to grease with oil or butter.
Ladle or pour about 3/4 cup's worth of batter for each pancake, per usual.
Sprinkle on the exposed, raw side…
shredded mozzarella cheese, enough to cover the surface (and/or provolone, etc…)
more parm cheese
a few pepperoni slices
(…and/or any toppings you'd like!  But I do recommend they already be cooked, as this is happens very quickly, so no raw veggies or uncooked meat, please.)
Press the toppings down lightly into the batter as it cooks.
Once the bubbles have popped on the exposed side, you're ready to flip.
Flip carefully, as the toppings can move a bit..
Cook on the topping side for a little less than the first side, and I always flip them back over to check doneness.
Serve warm with a side of hot marinara, if desired, a dusting of more parm and some fresh basil!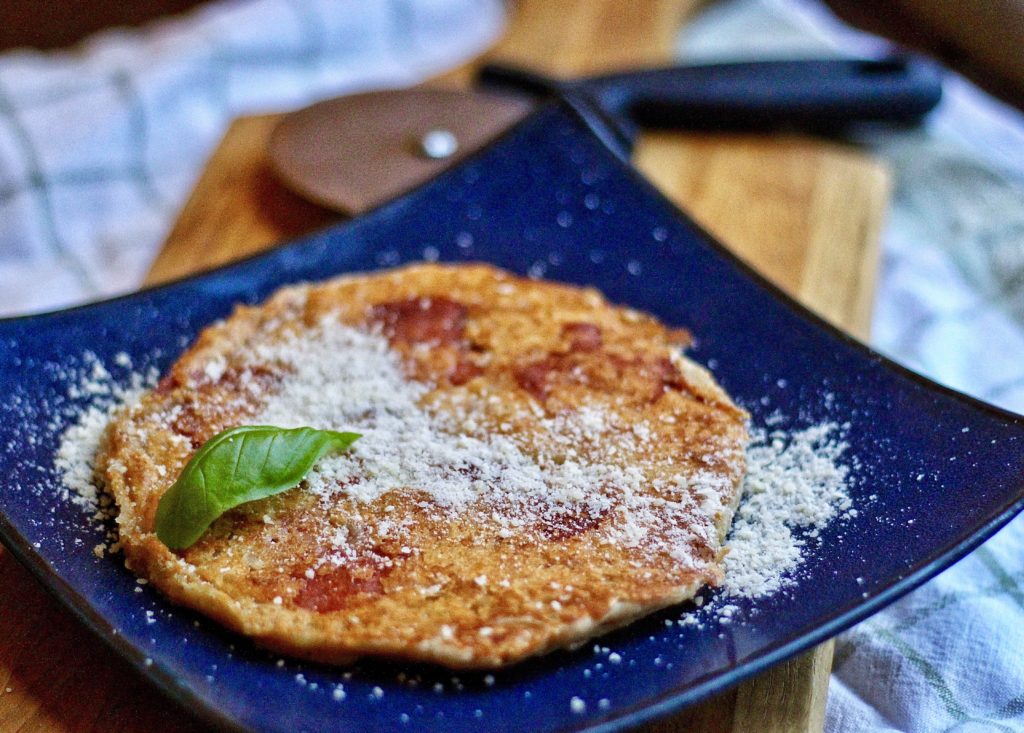 You can't mess these up.  Promise.  Just make it taste like your favorite pizza!  That's all.  This is hardly different from making blueberry or any other type of sweet pancake, you're just changing the idea of what you think a pancake is and making something fun and different.
And shouldn't we all step outside of the box and look at things a little differently more often?
Yes.  I do believe we should.
…
The day I made these was a delicious day that the three of us spent completely at home and in our PJ's.  It was the perfect meal to wrap up such a day.  And hours later, bellies and hearts full, this is how we said goodnight.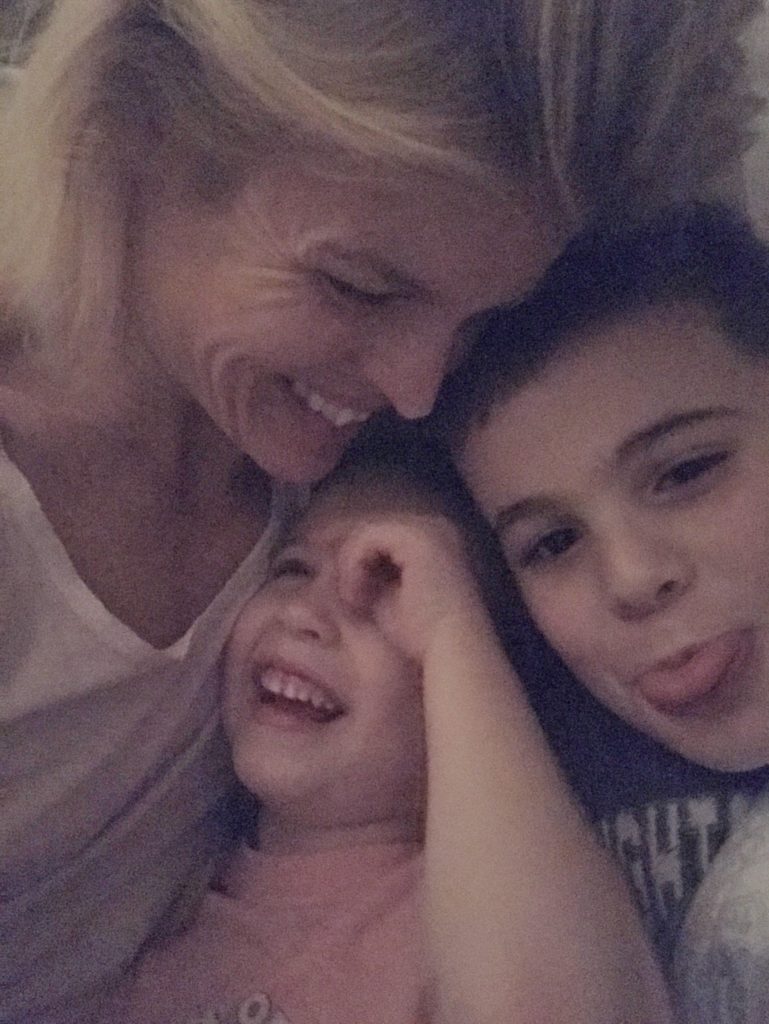 Just a bunch of happy faces and bellies smushed together in one bed.  My two little worlds.
I hope you get to smush someone you love today.  Thanks for reading, y'all. xo