You now me and weird pizzas.  Well, here's another one.  And it's wonderful!  Ever heard of cavolo nero?  Black Cabbage? Dinosaur Kale?  (Scared yet?) It's sooo delicious and the Italians have been using it for years, so why don't more people here know about it?  I learned about cavolo nero for the first time when I was working for Suzanne Goin in L.A. at her restaurant, A.O.C.  She taught me so many things…
It's hard to find cavolo nero in regular grocery stores in my neck of the woods but I got hold of some at the local gourmet food market last week and decided to turn it into a pizza.  The sauteed greens recipe is delicious on its own, but combined with the ricotta cheese scented with black pepper and nutmeg, it is heavenly.  I highly suggest you make your own ricotta because the taste difference is incomparable, but store-bought works just fine!  And make your own whole wheat pizza dough using my recipe if you'd like!
Enjoy!
*Pizza with Ricotta and Cavolo Nero
Too hungry for photography patience…
*For the Cavolo Nero: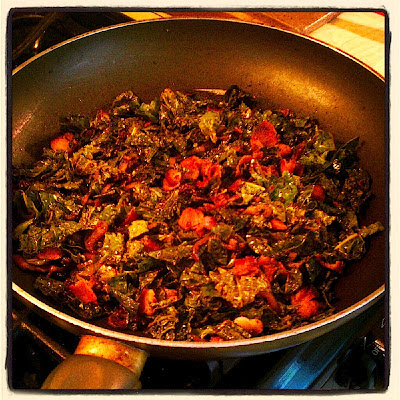 Can't find cavolo nero?  Sub standard kale or chard.
-Fry or bake up 8 ounces of your favorite bacon until very crispy (or pancetta if you have it…it would be just as delicious but you wouldn't have the smokiness in the background that is so lovely in this dish).
-Set the bacon aside to drain on a paper towel-lined plate and remove some of the bacon drippings if there is too much but save it so you can add more if need be.
-With the pan on medium-high heat, add 1 large or 2 small shallots, minced, to the bacon grease and cook until soft.
-Add 3/4 pound of cavolo nero trimmed and chopped.  Stir to coat in the fat.  Cook until the greens have wilted and begun to crisp up a bit.
-Add 1/3 cup raisins or currants and toss to combine. Allow the raisins to soften.
-Season with kosher salt, black pepper and some brown sugar to taste.
-Add several splashes of red wine vinegar and a couple pinches of crushed red pepper flakes.
-Taste and adjust seasoning if necessary.  It should be savory, a little sweet, smoky and slightly tangy.
-Set aside to cool or do this ahead of time and keep in the fridge.
*For the Ricotta Mixture:
-Mix 1 cup of ricotta with a good amount of kosher salt, black pepper and lots of fresh nutmeg.  Taste to check your seasoning.
-Do this ahead of time if need be and store in the fridge.
*Pizza Assembly:
Using whatever dough you choose (this recipe needs about 1 lb. of dough for a medium-large pizza), and whatever cooking method you choose, spread your ricotta mixture evenly over the stretched out dough and cover with your cooked kale mixture.  Top with a generous amount of grated Parmigiano Reggiano cheese and cook until your liking.
~~~~~~~~~~~~~~~~~~~~~~~~~~~~~~~~~~~~~~~~~~~~~~~
(My other 'weird' pizzas include Pizza with Proscuitto, Asparagus and Caramelized Onion-Peach Jam, Arugula and Proscuitto Pizza with Havarti and Caramelized Onion-Fig Jam, and Pizza with Roasted Grapes, Havarti and Caraway. (And here's a video of me making the Grape Pizza when I was pregnant with my second child!))