…
'Pretty as a peach'
'Peachy Keen'
'Life's a peach'
'Eat a Peach'
And my personal favorite,
'You can be the ripest, juiciest peach in the world,
and there's still going to be somebody who hates peaches.'
(Gosh that one's fantastic.)
The peach stars in a lot of things.  And every time it's being used, it's there because of its beauty, or as a symbol of perfection.  I don't know of any other fruit with such star power!  In Chinese culture, the peach even symbolizes immortality…
That's one powerful fruit.
And we're creeping up on the end of their season, it being September and all, and I don't know about you, but I wanna soak up all I can before they go away.  Because a perfect peach is just…perfection.  
And because I adore the peach in all its peachy perfection, I like to use it in ways that will allow it to hold onto its integrity.  I don't think it needs a lot of sugar, (if you're getting it at the right time of year), I don't think it needs a lot of spices… I just think the peach itself is just so so lovely.
I wrote this recipe yesterday when I was in need of a good picnic treat, and noticed the pretty Farmers Market peaches on my counter getting soft and extra juicified.  I wanted something handheld, something special but not junky, and something that just simply celebrated the peach.  I also decided to make these treats gluten-free…not because I needed them to be, but just because I wanted to test it out and see if I could (you know me and my love of challenges).  I have a lot of other gluten-free recipes out there (and you can see them all by clicking HERE), because I used to chef for a couple who preferred to eat that way.  And turns out, a lot of those recipes have become favorites of my wheat-lovin' family!
These treats are made out of oats and coconut flour, peaches, lemon, butter and a little sugar.  That's it.  So they're pretty damn healthy for a dessert, extremely high in fiber, naturally low in sugar, and simply delicious.
So I don't know about immortality, but I do know I'm happily on the peach bandwagon.  At least for a couple more weeks…
So make these delicious babies today while you still can!
And live to enjoy your beautiful tomorrow 😉
O A T M E A L   P E A C H   S Q U A R E S 
Filling:
In a saucepan, add the following ingredients…
3 peaches, diced (this is about 1 1/4 lb whole peaches)
1 lemon, zest and juice
2 TB light brown sugar
small pinch kosher salt
Bring the mixture to a boil and allow to simmer for 10-15 minutes, or until it thickens.  Mash the peaches a bit with a spatula or potato masher as it reduces, but leave some texture to it.
Allow to cool a bit while you make your crust.
(can be made in advance and stored, covered, in the fridge)
Crust:
In a food processor combine the following ingredients…
1/2 cup coconut flour
1/2 cup rolled oats
1/4 cup light brown sugar
1 tsp kosher salt
Blend until the oats break down to a flour.
Add in…
10 TB unsalted butter, cut into small pieces
Blend again to form a dough.
Add in…
3/4 cup more of rolled oats
Pulse a couple times to incorporate the oats, but not so much to break them down too much.  You want some whole oats in the crust for texture.
Assembly:
Reserve about 1/2 cup of the crust dough and press the rest into a greased 9×9 square baking dish.
Spread the filling over the dough, keeping about 1/4 inch border on the edges.
Drop and scatter the remaining dough over the top.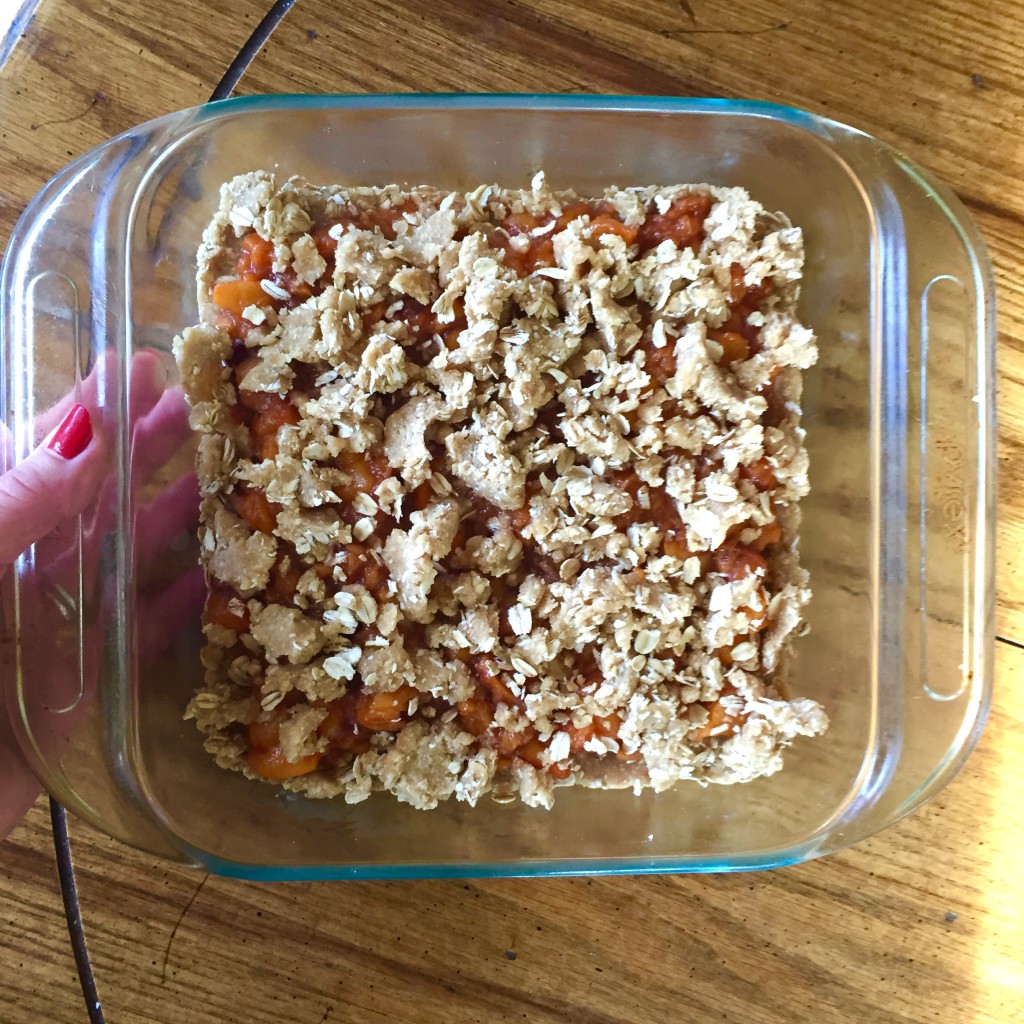 Bake in a preheated 375 degree oven for 20 minutes, or until you've got golden brown edges and bottom.
Cool.
Slice into 9 squares.
Serve either room temperature on its own, or warmed with some vanilla ice cream.
Either way, it's divine.
XOXO, Abbey