Husband's Birthday.  My Birthday.  Wedding Anniversary.  Halloween.  Brother's Birthday.  Thanksgiving.  Son's Birthday.  Christmas.  New Years.  Father's Birthday.  Mother's Birthday.  Daughter's Birthday.  Then break.  It all begins in August and ends in March.  That's a lot of celebrating things.  That a lot of smiles and toasting and present giving and present receiving and parties and cooking and eating and drinking and high heels.
Right now I'm hovering somewhere in between New Years and my Father's birthday and feeling a little bit hazy.  No doubt the Christmas through New Years marathon is an intense one.  I'm dehydrated, I'm sore, and a little dizzy.  I need a break from having to toast to something or someone.  I need a break from having to plan something, anything.  Someone I know better not have a baby or get engaged any time soon because I don't think I can take it.  I want my couch, I want my TV, I want my shows to come back on the air, I want a meal that doesn't involve a skewer or a toothpick or a tiny napkin, I want my kids to know a month without gift wrap and ribbons and bows, I want it to snow and I want to play in it with my family and then I want to not have anything to look towards for a really long time. What I really would love is to be bored.  Doesn't that just sound heavenly?
I'm worn out.  I'm happy, extremely happy, healthy, in love with what I do and who I do it with, but damn, I'm beat.  And what's funny is I did probably 1/4 of the work I usually do this year in the month of December.  So I'm not worn out in the same way I've been in the past.  Usually at this point I'm physically and mentally sick, have no urge to do anything or go anywhere and tend to resent the holidays a bit for making me so busy.  But I've gotten older and wiser and now know what really matters and what doesn't, I also take better care of myself than I used to.  I made sure to still exercise every day of the holidays and I slept well every night, which obviously makes the biggest difference… But this year I'm just ready for some normal again.
On New Years Day and we had plans of spending the day at my parent's house where we would eat the traditional Pork Shoulder, Black Eyed Peas, Collard Greens, Cornbread and Stewed Tomatoes.  We're a Southern family with southern traditions and this is one of them.  The New Years Day meal consists of these components for very specific reasons.  The pork symbolizes progress because the pig pushes forward and roots out what it wants, as opposed to the chicken that scratches backward or the lobster or shrimp that moves backwards, which means bad luck.  The black eyed peas and collard greens symbolize money and prosperity, the cornbread symbolizes 'the bread of life' meaning that your house will never know hunger, and the stewed tomatoes are on the plate because they just taste good.  And because my grandmother always made them when she was alive.  It's one of the best meals of the year.
We put my daughter down for her nap early so we could get over there and have plenty of time to celebrate with the family.  She took an epic nap and at about the 2 hour mark, my mother called to inform me that my dad was sick.  He had apparently caught the stomach bug that has been circling around us for weeks.  So, playing it safe, we decided it was best for us to stay home.  I'm superstitious so knowing that I wasn't going to have that meal and
the luck, money and prosperity to go along with it was a bit
unsettling.  But life sometimes throws you a curve ball and being able
to roll with the punches is something I have been working on lately.  If
I believed in resolutions, I guess that one would be on there.  (Little did we know that he would be up and feeling better after 4 hours, but it's always better to be safe than sorry.)  We all were dressed in fancy clothes, my daughter was wearing (and sleeping in) her gifted giant tutu and gold glitter shirt for oh, the, ninth time since Christmas.
I had on as many sparkly things as I could find a limb for, there were sequins on my shirt, my lips were glossy, and I even did the rare thing of putting my hair up.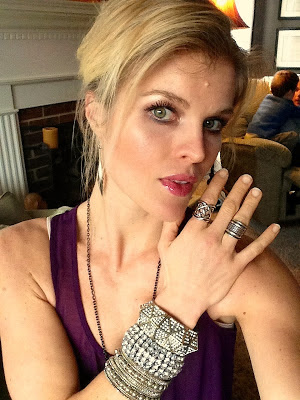 This is me pretending to be selling jewelry on QVC…lots of jewelry.
My five year old son was even wearing a sweater with an undershirt, and shoes without lights on them…which is even rarer.  So clearly, we were all ready to celebrate and were a little bummed that we didn't have anywhere to go anymore. So, never being one to let an opportunity to celebrate go to waste, I came up with a plan.
Once my daughter woke up, we kept our fancy clothes on, I grabbed a bottle of champagne and two plastic cups and we all headed out to the minivan for a private car party.  We bought this minivan a couple months ago and had never really taken advantage of the space it offered.  So when I say we had a private party in it, I'm not exaggerating.  Not only is the car enormous, but I keep (and have always kept) my car stocked with all sorts of 'just in case' supplies.  And I'm always looking for a chance for it to be of use.  I just drive around hoping to need something in there.  Oh, you're thirsty? How about a juice box?  A bottle of water?  Are you hungry?  Would you care for crackers, fruit snacks or squeezable applesauce?  Wait, you're cold, you say?  Here's a blanket, a jacket in 3 different sizes, and some hand warmers.  Or maybe you need to wash your dishes or clothes or brew some coffee?  I gotcha covered!  If my toddler needed to pee, I have a portable potty in there as well.  A picnic basket, plastic wine glasses, running shoes, extra changes of clothes for the family, wipes, toiletries, makeup… it's a little crazy what I keep in my car…(and my suitcase purse for that matter).  But again, I say, better to be safe than sorry, right?  So…I guess this means I'm fully prepared for the time to come when I need to roll with the punches this year.
The kids had the best time, they ran up and down the aisle, watched a movie, played with toys, tried out all the different seats.  And my husband and I just sat up front, sipped our champagne and watched.
We were just parked in a car and talked, nothing spectacular and yet it was extremely so.  We listened to the rain beating down on the windows and took in both the beauty and insanity that is our life.  Insane because we were having a party in a parked car, beautiful because we all enjoyed it so much.  We have a lot to be thankful for and were given a lot of gifts in 2012.  But I know for a fact that this new year will be even better.  We will continue to watch our son turn into a smart and special boy, continue to enjoy our amazing daughter more and more as she becomes a little lady and my husband and I will continue to grow closer and closer because we have now officially left behind us the years of having babies and raising babies.  Some of the hardest work we have to do has been done and I can feel a bit of relief setting in. We are both happy in work and home, we have nothing to complain about and everything to be proud of.
Turns out we didn't need that meal anyway.  All we needed was a minivan and a rainy day to remind us that we already have all the luck and money that we could ever need.
Happy New Year, everyone!!
~~~~~~~~~~~~~~~~~~~~~~~~~~~~~~~~~~~~~~~~~~~~~~~~~
My husband and I stay in and cook every New Years Eve.  It works for us because we are more of a 'stay-in' kinda couple and since we have small children, it's just plain easier that way.  So we always cook something extra fancy and a little different than the usual meal.  This is what we ate this year and it was delicious.
*New Years Eve Lamb
Place a 3-4 lb. semi-boneless leg of lamb on a roasting pan and season well with the following (listed in decreasing order of amount):
–lots of kosher salt, all over and in every crevice, covered completely.
–light brown sugar to cover as well, but not as much as the salt
–ground cumin all over, a light coating
–ground cinnamon all over, a light coating
–ground allspice (about 1/4-1/2 the amount as the cumin and cinnamon)
–ground ginger (ditto)
(this is not rocket science…there are no measurements here)
Place the lamb in the fridge, uncovered, for 2 DAYS before you plan on cooking it.  This step isn't absolutely necessary but makes the BIGGEST difference in flavor and texture so I HIGHLY recommend doing it.
Preheat your oven to 350 degrees and allow the lamb to sit at room temp for about 30 minutes before cooking.
Cook for 1-2 hours, depending on how you like your lamb.  We like ours to be roughly medium rare.  I don't believe in rare lamb.  Use a meat thermometer to help you, medium rare to medium is around the 150 degree point and you can count on roughly 25-30 minutes per pound for medium rare.  (Rare is 135 degrees if you must.)
Allow to rest for 15 minutes before carving and serving.
We ate ours with my roasted carrots with feta, cumin, honey and parsley and a simple pea puree.