I wanted to look at something pretty today.  So I mixed things in my new, pretty bowl (thank you, Cynthia Rowley*), baked them, then took their pretty picture.  It makes me feel good to bake.  It's something I know the end result of.  I know that if I mix a + b, then I will get a beautiful c.  It's something I can focus on. When the world seems fuzzy around me, I can zero in on my hands and let them take over. It's something I can make from various and different parts, all different shapes and sizes and colors and textures, mix them together in the right way, and create one united and harmonized being.
It's very comforting that I get something successful and beautiful every time, regardless of how it began.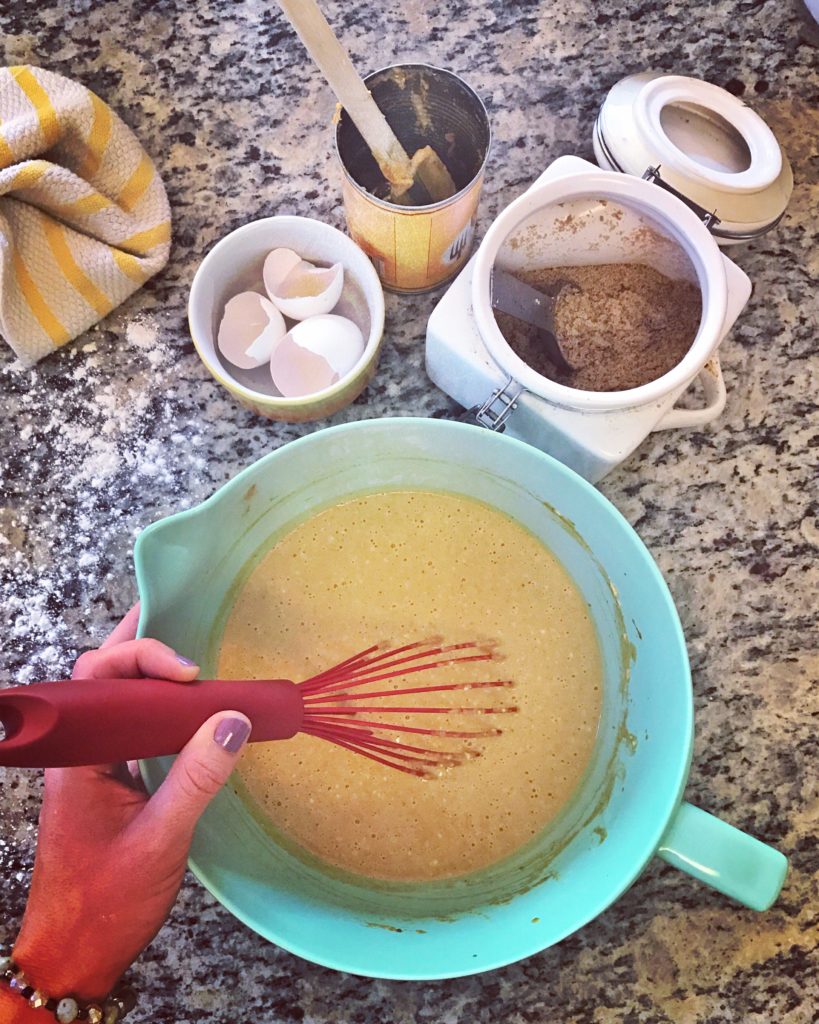 And I love taking pictures of the things I've baked.  I've taught myself photography over the past year or so and it's become one of my favorite things to do.  I'm still learning, but it makes me feel good when I create something beautiful. And looking through my camera lens, everything else around me doesn't matter.  My only job in that moment is to make whatever it is on the other end of that lens shine.  Make it be as pretty as it should be.  It reminds me that there is still so much beauty in our world right now.  Behind the pain and the silence and the noise, there is still beauty to be seen.  This time of year is when we get to be around more of that.  And it will be a good lesson for us all this year – finding the beauty with all the smoke fogging up the lenses.
This is most likely my final post before Thanksgiving, and I figure the very last pumpkin recipe of the year.  Poor pumpkin… we get so excited to see it, then just toss is aside after we've exploited the hell out of it.  This recipe is such an easy and delicious one!  It's essentially what you love in a pumpkin pie, but bite-sized (ish) and there's no pastry involved, and hardly any measuring.
So… this recipe is for you if you're perhaps more of a Pecan Pie fan, like me, but still want a little taste of pumpkin pie, because it just wouldn't be Thanksgiving without it.  You make the Pecan Pie, and you make these, have a little taste, and you're good to go!  It's also the perfect recipe if you're just not a big baker and don't want to deal with dough… maybe you're taking a dessert to a big pot luck this year and want something simple and different, but also familiar?  This is that thing!!!
The crust on these cute baby tarts is really quite fun and exciting…
It is merely a ginger snap cookie.
Yep.  That's all.  You just drop a cookie down into a paper-lined muffin cup, pour your custard in, and 20 minutes later you've got adorable pumpkin tartlets.  My kids loved these, like sang to me as they ate them for their after school snack, and are already talking about having them again after their meal on Thanksgiving.  They're just so fun and easy and yummy… I do hope you give them a try.
Now, go find you some beauty today.  You deserve it.
MINI PUMPKIN CHEESECAKE TARTS
In a large mixing bowl, beat (with an electric mixer if you have it) until smooth and creamy…
1 brick neufchâtel cream cheese (I prefer the tangy flavor of the reduced fat)
Beat in…
Once eggs have been fully incorporated, add in the following…
1 (15 oz) can plain pumpkin puree (NOT pie filling)
1 (14 oz) can sweetened condensed milk
good pinch kosher salt
1 1/4 tsp pumpkin pie spice
splash vanilla extract
splash almond extract
Beat this until smooth and creamy.
Place liners into 2 standard sized muffin tins.
Into each lined cup, drop in…
ginger snap cookies (you will need 22-24 cookies, one for each tart)
Place the cookies flat side down.
Pour batter in over the cookie to completely fill each cup.  I sometimes only get 22 if I've filled to the brim on each one…
(If you have any empty cups, pour some water inside to prevent uneven baking.)
Bake in a preheated 350 degree oven for 20-25 minutes, or until the centers are firm.  Use a toothpick to test one if you're unsure- it should come out clean.
Allow to cool in the pans on racks until room temperature.
Serve room temperature or chilled.
And make sure you get the first taste 😉
(*Cynthia Rowley turquoise melamine batter bowl not available online, but currently at Home Goods for $20)