These little treats are so delicious and incredibly easy to prepare. They're perfect to have around for a sweet snack and are excellent cocktail party desserts. Part of what makes them so easy is that the crust isn't a standard buttered cookie crumb crust, it's simply a ginger snap cookie dropped into the bottom of a muffin tin. You can whip up a batch of these goodies in less than half an hour total. We love them around here, I hope you do too!
(recipe yields about 30 tarts)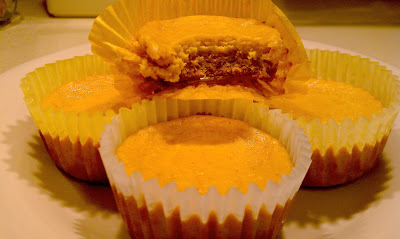 –In a large mixing bowl, add the following…
-1 15oz can plain pumpkin puree
-1 14oz can sweetened condensed milk
-1 brick neufchatel cream cheese, softened (I always use low fat, but use whatever you have around)
-2 eggs
-2 tsp light brown sugar
-good pinch of kosher salt
-1 1/4 tsp pumpkin pie spice
-splash of vanilla extract
-splash almond extract
–Mix well with an electric beater until smooth.
–Line 2 un-greased, standard 12 cup muffin tins with papers, (have another muffin tin handy, because you may need extra space. If you only use a few cups of a muffin tin, fill the other ones with some water before baking to ensure even cooking.)
–Drop a ginger snap cookie into each paper-lined muffin tin, rounded-side up, (the cookie will not completely cover the bottom of the tin, but it will serve as the perfect sized crust because the custard will shrink a bit once baked.)
–Pour some cheesecake mixture over each ginger snap.
–Bake in a preheated 350* oven for 25 minutes.
–Allow to cool and enjoy at room temperature. Refrigerate any leftovers.
–Serve immediately if possible because if these sit too long in the fridge, the cookie crust will begin to soften.