Ok, so I took liberty with the term 'Marble Rye', as it's nothing like the classic Marble Rye Bread.  But… artistic license is totally a thing still, right?  It's made of rye flour.  It's totally marbled.  What's not to approve?
And lookie!  Another loaf! Told ya.
But also… my first pumpkin recipe of the season!  Hoorah!  I love pumpkin bread (who doesn't?), and make a few different kinds… Whole Wheat Pumpkin Apple Bread… Gluten Free/Refined Sugar Free/Dairy Free Pumpkin Bread… but this time I felt like making something a little different.  And yes, with rye flour again.  I just can't get enough of the rye, y'all.  It has so much rich flavor, it's so healthy and I love the dark molasses-like color it brings to everything!  (Which makes it perfect for not only quick breads in general, but particularly pumpkin quick breads)
When I started making this (just making it up as I go, per usual), the idea came to me to make it a cream cheese swirl bread… but then I took it one step further and landed on goat cheese.  Because yum.  So I essentially made a pumpkin bread batter using rye flour and then a goat cheese frosting of sorts, and swirled the two together.
So much yum.
This bread, apart from being super cute and all, is supremely healthy for it's kind.  It's incredibly high in fiber, low in sugar and delicious to boot.  What's not to love?  This is the first recipe I've developed using all rye flour and it's definitely hearty and dense because of that, but it really works here.  It's just so wholesome and comforting and flavorful.
In a sea of overly sweetened pumpkin stuff out there right now… things masquerading as bread and muffin but really cake and cupcake… I hope this one brings a little health and love to the mix.
Because you know I always have your back there 😉
PUMPKIN CHÈVRE ( MARBLE ) RYE BREAD
Combine the following wet ingredients in a large mixing bowl…
1 cup plain pumpkin puree (NOT pie filling)
1/2 cup (unsweetened) applesauce
1/2 cup light brown sugar
2 large eggs
1/3 cup extra virgin olive oil
1/3 cup plain (full fat, preferably) yogurt or (full fat) buttermilk
Use either a whisk or an electric beater to combine until smooth.
Add to it the following dry ingredients (for quick breads, I don't bother to premix the dry before adding to the wet, it doesn't make a big difference to me to be perfectly honest)…
2 cups rye flour
1 tsp baking soda
1 tsp baking powder
1 1/2 tsp kosher salt + pinch
1 tsp ground cinnamon
1/2 tsp ground, dried ginger
pinch grated fresh nutmeg (if you only have ground, that's fine!)
pinch ground cardamom
pinch allspice (perhaps this is equivalent to ~1/8 tsp each)
Whisk or use the electric beater to combine all the dry with the wet.
Set aside.
For the goat cheese mixture, combine the following in a small mixing bowl…
8 oz chèvre, or young goat cheese – softened, at room temperature
4 TB unsalted butter, softened/ room temperature
1/2 cup powdered sugar
pinch kosher salt
splash vanilla extract
Grease a standard sized (9x5in) loaf pan.
Pour half of the pumpkin bread batter into the bottom.  Spread evenly and to the edges.
Pour goat cheese mixture over the top.
Pour the other half of the bread batter over.
Take a butter knife and make swirly patterns into it all.  (There's no right or wrong here- no technique necessary! Yours will come out differently than mine, depending on how you swirl, and that's what's so lovely about this.)
Bake at 350 degrees for 45 min-1 hour, or until a wooden skewer inserted into the center comes out with moist crumbs.
Allow to cool in the pan until safe to touch.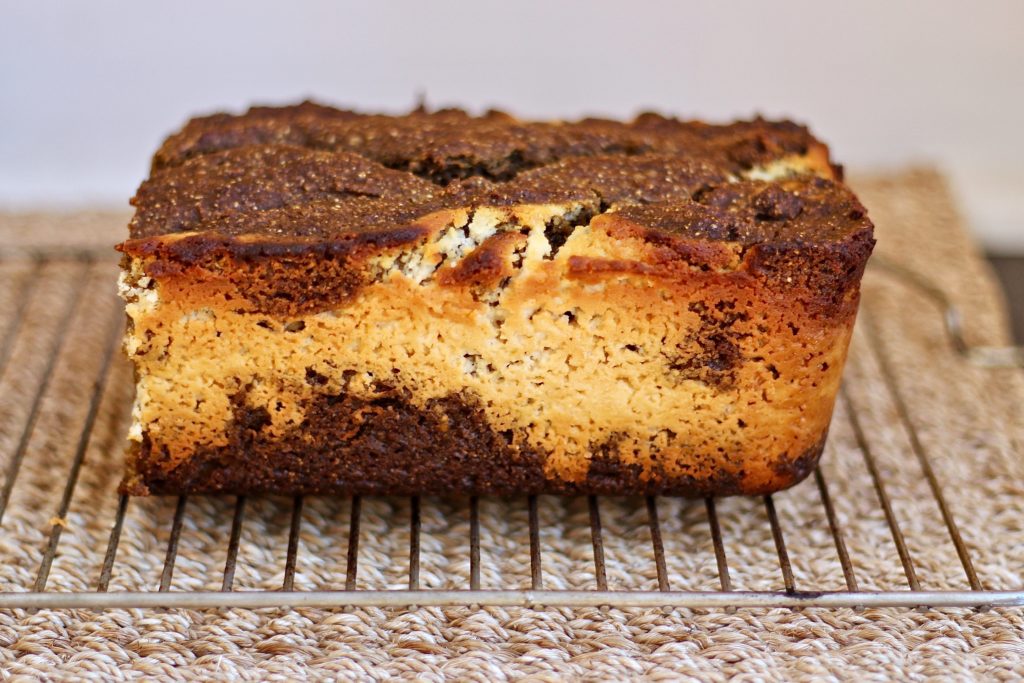 Transfer to a cooling rack.
Slice and eat warm…
or room temperature…
My kids have eaten this as an after-school snack and also for breakfast… it's just a really solid recipe.
This will keep stored at room temperature for 2 days if air tight-sealed, and in the fridge for 5 if sealed properly as well.  And like all quick breads, it freezes beautifully!  Just wrap in multiple layers of plastic wrap, then in foil.
…
Thanks for reading, y'all!  Enjoy your Saturday! xo