Yes I just said that.  Me.  After all the mess I just went through, it may come as a shock (even though if you follow me you already knew it), that I actually have vegan recipes.  And raw ones.  And paleo ones.  And gluten free ones.  And all sorts of other types of recipes to satisfy your dietary desires.  I'm full of surprises, folks. And even though I love my Pumpkin Pie- animal style, this pie is AWESOME!!!!  It really is!  And you can trust me on that because I'm not vegan.
Don't ever trust someone who's never eaten bacon when they tell you it tastes just like bacon.
So I've posted this recipe before, but it was ages ago and frankly, the photos were hard to follow.  As was the whole post, I'd imagine.  I didn't know what the hell I was doing back then, on the photo front especially, so you never really got to see what this beautiful pie looked like.
This Pumpkin Pie has a crust made out of nuts and coconut… a filling made mainly out of pumpkin puree and softened, raw cashews, sweetened with only dates… and is topped with whipped coconut cream.  You eat it chilled, and it's delicious.  It could even be a breakfast.  (It has been a breakfast…) It's made from 100% natural ingredients and is so nutrient dense that it could double as a meal.  My husband loves it, my kids love it, I love it…
So if you follow a raw diet and don't wanna miss out on the dessert fun this Thanksgiving, give this a try!  Or if you just want a completely healthier option… or if you're like us and want to keep it around for healthy snackin' this time of year, GIVE THIS PIE A TRY!!!
Don't worry, you can trust me.
PUMPKIN PIE WITH COCONUT CREAM
(RAW. VEGAN.)
First, we place 1 (13.5 oz) can of full fat coconut milk in the refrigerator overnight, or for at least 8 hours to firm up the top cream for whipping later.
Then we soak some nuts.
Soak 2 rounded cups of raw cashews (doesn't matter if they're whole or in pieces, as long as they're raw) in enough purified, cold water to cover them in a ceramic or glass bowl/container.
Allow to soak at room temperature, uncovered, for 8 hours.
Drain off the water, and what you're left with are softened cashews that when pureed, become 'creamy'.  In the vegan world, this is referred to as cashew cream.
For the Crust-
In a food processor, combine the following…
1 rounded cup raw walnuts (pieces or whole)
1 cup unsweetened, natural coconut flakes/shredded coconut
3/4 tsp kosher salt
Puree this until you get a gritty paste that comes together when you squeeze it between your fingers.
Press this firmly into the bottom, and along the sides, of an un-greased pie plate.
Set aside.
For the Filling-
In the same food processor (no need to clean it), add the following…
your 2 cups soaked, raw cashews
1 (15 oz) can plain pumpkin puree
1 rounded cup packed pitted dates (if you're using the smaller, Deglet Noor variety this is about 20-25 dates and about 7-8 ounces… if you're using the larger Medjool dates, the number of them would be smaller, but just be sure it's in the same ounce range)
1/3 cup coconut oil
a good splash vanilla extract
smaller splash of almond extract
3/4 tsp kosher salt
1 TB pumpkin pie spice (OR make your own by using 1/2 TB ground cinnamon, 1/2 tsp ground ginger, 1/2 tsp allspice and 1/2 tsp ground nutmeg)
Process this until smooth. This will take awhile, so be patient. You need to puree it until the dates have broken down and are no longer brown specks in an otherwise orange mass.  Take breaks and stop, scrape down the sides and puree some more until it's all completely mixed in.
Spread this evenly over your crust.
Refrigerate for at least 1 hour before topping with the coconut cream.
For the Coconut Cream-
Remove the cold can of coconut milk from the fridge.  Open can.  Scoop out the firm white stuff, the 'cream', at the top of the can into a mixing bowl, leaving the coconut water/juice in the can.  (Only get the white cream.)
Add a splash of vanilla extract.
Using an electric beater, whip until light and fluffy.
Spread this onto the firmed pie filling and place back in the fridge to firm up- about 8 hours is recommended for optimum texture.
Garnish with a sprinkling of ground cinnamon if desired!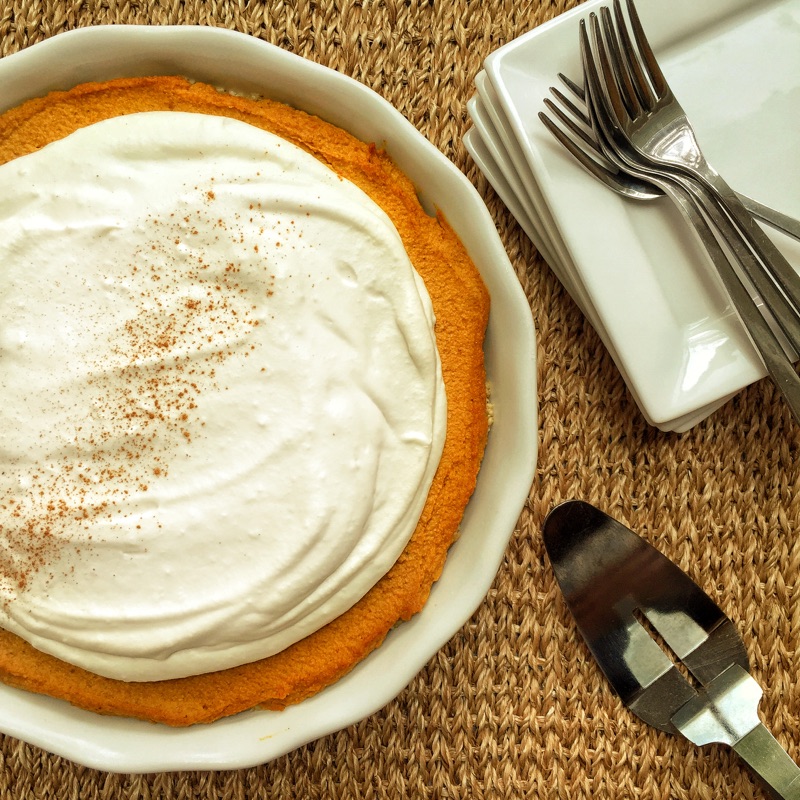 Slice and serve chilled.
(store leftovers in the fridge, covered)
Enjoy!!!