Those of you who've followed me and my food for years are quite familiar with my scones.  And probably pretty familiar with the Pumpkin Scones.  I just can't seem to stop tweaking the recipe.  But also, I'll admit my photography skills have gotten better throughout the years, so once I look up one of my old recipes and see what the post looks like… I get this giant urge to shoot them again.  So, yeah.  That's what I did today.  I made these for Thanksgiving morning (will freeze them once they finish cooling) and I  did a little bit of cleaning up while inside the recipe (classic Abbey move).  Nothing too major… I  just added some rye flour, took away some sugar and switched it to brown.
And they're even better!
I may have eaten a lot of dough.
So much dough that I'm a little cracked out.
Will calibrate with beer and tequila in a bit.
Balance.
So I make scones for several family holiday mornings…  Christmas morning gets Coconut Scones and Cranberry Orange Scones, Easter gets Carrot Cake Scones, birthdays sometimes have scone appearances… And these right here will be happily consumed this Thursday morning with my family and lots of spiked coffee for the hubs and me.  Y'all should make these now and you'll have them ready to pull out the night before!  If you're entertaining a lot of guests, scones are also the perfect breakfast for houseguests, because they're eaten at room temperature and there's something so fancy but also homey about a scone… they're just so darn comforting.  I know I generally have a batch cooked up whenever we have people staying with us.
This week is about to get even crazier than the last, as I'm not only cooking for my family but a lot of other people this time of year as well (currently covered in various forms of dough).  So if I don't get back here before the holiday… I wish you all a supremely happy Thanksgiving!
Eat well, be kind, have fun. xo
WHOLE GRAIN PUMPKIN SCONES
In the bowl of your food processor, add the following dry ingredients…
2 cups unbleached AP flour
1 cup rye flour
3/4 cup brown sugar
1 TB baking powder
1/2 tsp rounded kosher salt
2 tsp pumpkin pie spice
Pulse to mix.
Add in…
1 1/2 sticks (12 TB) unsalted butter, diced and very cold (I place mine in the freezer when I begin making these)
Pulse again until the butter has completely broken down into the dry.
Add in…
1/2 can plain pumpkin puree- roughly 1 cup (

not

pie filling)
Mix again until the pumpkin is mixed in well and a dough has started to form
Slowly, while mixing, pour in through the spout…
1/4-1/3 cup very cold half&half, cream or whole milk 
Go slowly, as you don't want a wet dough, but just so it's come together to form one when you press it together with your fingertips.  If you add a little too much, it's not a huge problem, it will just be a bit sticky and they won't hold their shape well when baking.
Turn dough onto lightly floured surface.
Shape into a disk and slice into 8 triangles, as if you're slicing a pie.
Place 8 scones onto an UNGREASED cookie sheet.
Bake ON THE TOP RACK of a preheated 375 degree oven for 20 minutes.
Allow to cool on the pan over a rack until safe to touch.
Eat warm or serve room temperature.
Store any leftovers in an airtight container at room temp for 2-3 days, in the fridge for about 4, or wrapped tightly in plastic, then in a freezer zip bag for a couple months in the freezer.
I do hope you give these a try… and if you're close to me, I'm sure to have one or two in the freezer with your name on it 😉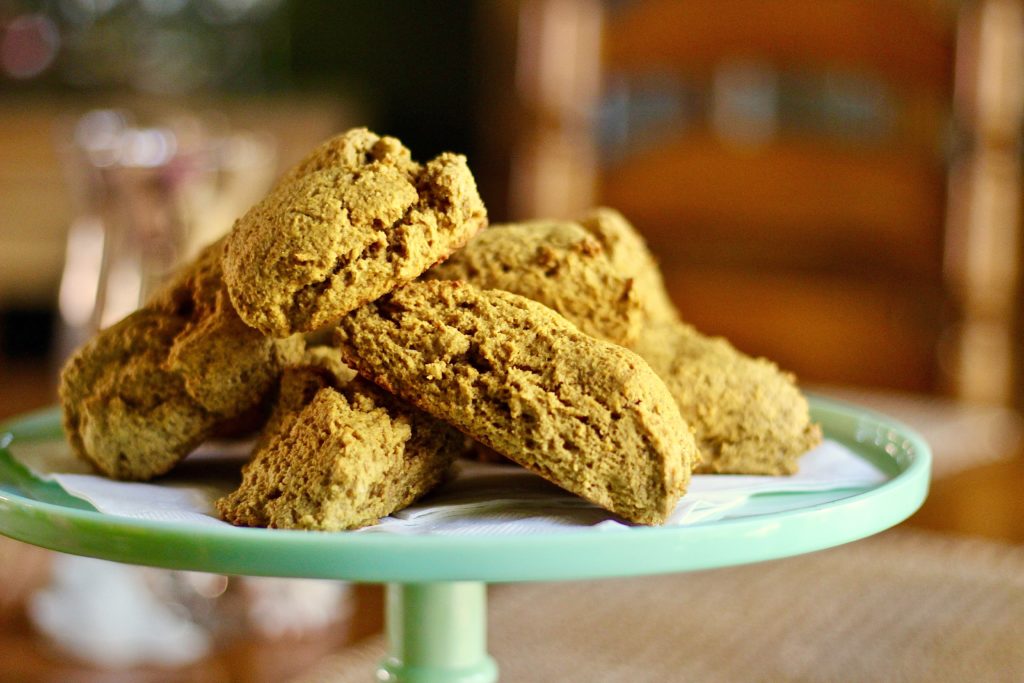 Thanks for reading, y'all! Enjoy your Saturday! xo