Nope, I'm not vegan.  I think that's pretty clear.  (But, ooooh… remember that time the vegans came at me like…well…animals?  Good times.)  I like dairy, I like wheat, I like standard desserts… I write a lot of them.  But I'm also a very healthy person by nature, and one that loves all types of food and food styles.  I don't discriminate when it comes to real food.  And I love experimenting with desserts made using only raw and natural ingredients to see how close I can get to the 'real thing'.  (It's totally a challenge for me.  And dangit, I love a challenge.)  And a lot of times, I find I make them again and again because they're that good.  Or I'll get family requests for them…  That's a pretty great feeling, right there.  When my family will actually ask me to make the healthier version of a dessert?  I love that.  Challenge WON, y'all.
This Chocolate Pie happens to be one of the favorites I make.
It's wheat and gluten free, dairy free, sugar free (apart from fruit), vegan, and somehow through the magic of my weird brain comes out tasting like thick, chocolate pudding set inside a chocolate cookie crust.  It's so full of healthy and satisfying ingredients, that it could (and has been) a meal.
I made it for my husband for one of his Valentine's Day gifts and both he and the kids had it for a mid-day snack.  It's serioulsy one of my husband's favorite things that I make.  And I make A LOT of things.  I use dates for a sweetener, nuts for the crust base, coconut cream and cashews to make it rich and creamy… it's really amazing what few, natural ingredients can do when you put them together in the right way.
So, even though I love an old fashioned chocolate pie, and you'll see more of that soon enough, (did you catch the last few?…The Chilled Chocolate Torte with Walnut-Pretzel Crust and the Triple Dark Chocolate Cheesecake with Sour Cream Ganache) there's something to be said about eating a dessert that's actually, and sincerely, good for you.
Also?  Just the filling itself makes an excellent healthy chocolate mousse or pudding… or it's really good frozen too 😉
Now I'll stop and get on with the pie.
RAW . VEGAN CHOCOLATE PIE
To make this pie you need an odd sized pan.  It's made in a small, 6 1/2 inch springform pan, with a 3 inch rise, but if you wanted to make a bigger one, just double the recipe and use a larger pan.  I've never done that, but don't see how there would be a problem doing so.
Crust:
In a food processor, combine the following…
1 1/2 cups raw walnuts (I've substituted pecans before with great results, but they're more oily than the walnuts, so you'll have a bit of residual oil around the pan if you use them, and it will be a little more moist than if you use the walnuts)
5 large medjool dates, pits removed (these are the ones you'd find in the grocery store produce aisle with the pits inside.  If you only have the smaller, deglet noor variety, that can work… just use 8 instead of 5… yes, I realize this sounds odd but trust me.)
2 TB cocoa powder (dark, unsweetened, plain cocoa powder)
1 tsp kosher salt
Process until you have the consistency of moist cookie crumbs, it will take a bit to get the dates fully mixed in and broken down, so take breaks to scrape down the sides and mix again.
Press this into the bottom and up the sides a bit of  a small, ungreased 6 1/2 inch wide and 3 inch tall springform pan.  If you have a tart shell that happens to fit those measurements, use that.  Or like I noted above, you can possibly double this to fit a springform pan or tart shell in the 10-12 inch range.
Set aside while you make your filling.
Filling:
In the same food processor bowl, (no need to clean), combine the following…
Just the white, thick, top cream of a can of full fat coconut milk (you will not need the leftover coconut water for this recipe, so… drink it!)
1/4 cup raw cashew butter (or heaping 1/4 cup raw cashews if you have those on hand instead)
13 large, medjool dates- pits removed (or, again, if you only have the smaller deglet noor variety, use 18)
2 TB cocoa powder
1/2 tsp instant espresso or instant coffee
1/2 tsp kosher salt
splash vanilla extract (or 2 inch piece of vanilla bean, flesh scraped in)
Process this until silky smooth.  (And taste to check the sweetness level… as dates differ in sizes.  Add more and process again if you want yours sweeter.)  It will take awhile, the dates especially can be stubborn.  But if you keep scraping every so often and process it repeatedly, it will eventually become thick and smooth and creamy, just like pudding.  There mustn't be any lumps whatsoever.
Pour this into your prepared crust.  Smooth the top to make it even and purty and refrigerate for at least 4 hours, but overnight is best.
Lick the spatula before you wash it though.  Obvi.
Once it's firm and chilled, remove the sides of the pan and plate it up.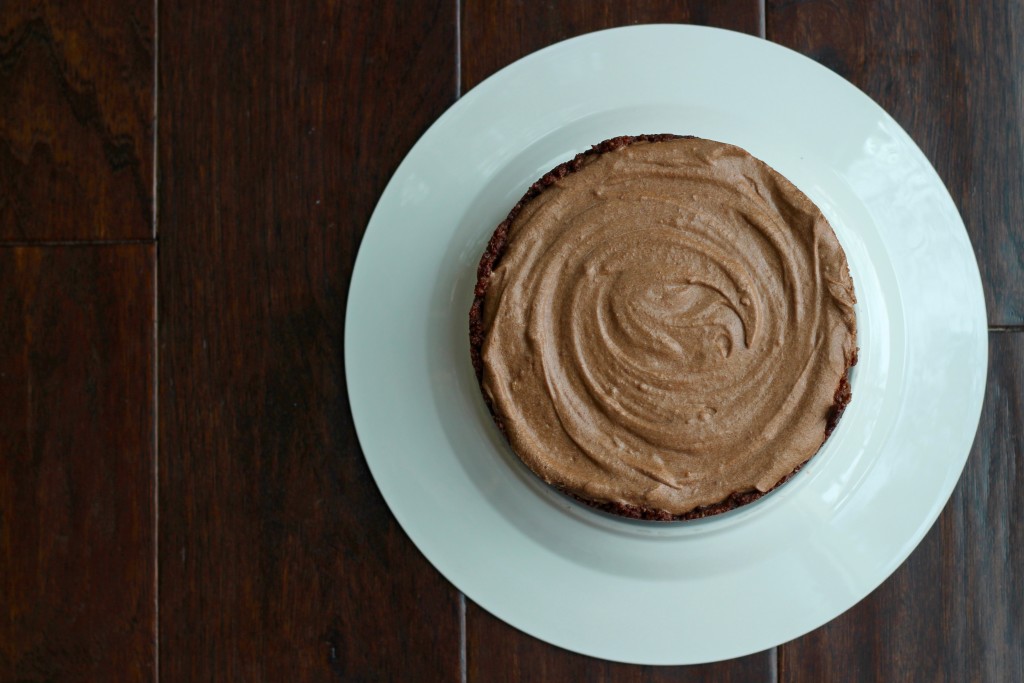 Then slice and serve chilled.
Beware of drooling onlookers.
For other raw and vegan dessert options, check out my Chocolate (and Avocado) Pudding, Pumpkin Pie with Coconut Cream, Chocolate Pudding Pops, and Coconut Lime Tartlets.