Happy Birthday, Mama!!!
Ok. So. I have a LOT to share with you all, and have decided to break it up into a few posts. This one here will be sort of the prep and landing post… followed by the finished product beauty shot + adapted recipe… followed by the birthday dessert…
Deal?
But first, let's back up a bit.
My mom requested Steamed Pork Buns for her birthday dinner this year.  Every year I/we cook for her and sometimes she picks a meal, and sometimes we surprise her.  But it's been our thing for several years now.  She doesn't have anyone to cook for her.  Like ever.  (Frankly, we'd all fear for her safety if daddy started to try.)  I recognize I'm lucky that I have that in my home.  My husband is a great cook and I know I can count on him to cook me something awesome if I'm not able to.  I also recognize I perhaps sometimes take that for granted…  (Thanks, boo!!)
And this year mama went big.  Smart girl put in her order in, like, May.  She requested Pork Buns like the ones she had that time at Momofuku in NYC, (founded by Chef David Chang).
Which meant I had to follow a recipe.
I hate following recipes.
But. I love my mama.  And we wanted her to have exactly what she wanted. So… here we go!
…that time we made steamed pork buns…
(It should be said that we had just gotten back from LA and had to jump right in with the meal, because it is that involved.  We decided to include kimchi in the evening, because that's what you often get before your buns at Momofuku.  And although I'm not including that in this particular post, just be generally aware than kimchi should take at the very least 1 week to ferment.  We had exactly that…)
My husband and I decided to tag team the entire meal.  And thank goodness we did.  Thank betterness he's capable and awesome at it.
He tackled the pork belly…
First you gotta order it.  And we went with the good stuff.  The real good stuff.  Kurobuta / Berkshire Pork from Snake River Farms.  We ordered 11 pounds.  It showed up the week of the party in a giant box packed with dry ice.  And I wish I had a picture of the belly.  It was Abbey sized.
See Chang's recipe /method here on his Lucky Peach website.  Hubs followed that, (but omitted the black pepper).
There are a lot of steps involved here.  So don't ignore his words before the recipe…
'…plan in advance, or no pork for you.'
Husband first broke it down into 3 chunks so it was easier to handle (my idea).  He heavily salted/sugared each chunk / a.k.a a dry brined – equal parts salt / sugar.  Those chunks then went into large, stackable plastic containers with lids (my idea) to be refrigerated for about 24 hours.
Then came the roasting…
(see his Instagram post on it if you want a visual)
Pork fat rendered and saved… (more on that later)
Then the chilling down completely…
Then the slicing into bun-sized pieces…
(Note- We are not plastic glove cooks, but his hands had been pork fatted so much that he was just sick and tired of washing them over and over again to attempt to remove it.)
Then when you're ready to eat your pork buns, you sear those pieces…
BUT you must time out that searing to occur at the exact time buns have been removed from the steamer…
And that's where I came in.
I tackled the steamed buns…
So, I could have done these in advance, frozen them, then re-steamed them…. but I honestly had a crazy week and couldn't make it work.  Plus, I knew the buns mama had in NYC were steamed to order.  So.  I set aside my entire day for bun dough!  And timed it to have them almost at the finish line when everyone arrived… I also knew it would be fun for her to see what it all looked like, and maybe we'd have a bun-rollin' party!
See Chang's steamed bun recipe HERE on his LuckyPeach website.  (Although I used his Momofuku cookbook).
First I followed Chef's instructions for cutting out 50 (4 inch) squares of parchment paper for the buns to perch on whilst steaming…
I was not in love with David Chang at this point.
Oh, I was not a happy camper having to do this step.
I love my mommy .  I love my mommy . I love my mommy…
Look.  I feel like this step can be omitted, to be honest.  I think the 4 inch size used as a guideline for the bun size when you're rolling them out later is fine, ok.  But it was unnecessary to have so many squares.  And the project just felt silly to me (Sorry, Dave). The purpose of the squares is to rest the dough upon them, and then to easily transport to the steamer, but…
Here's my recommendation: OR just cut out a circle of parchment slightly smaller than your steamer surface area, but one that will fit inside, and keep it in there for each round of buns going in to steam.  My steamer is 2 levels, so I would have used 2 large parchment circles to keep over each steamer level.
First the dough is made in a standing mixer, and it rises in a bowl per usual yeast dough method…
(I would like to add right now that this dough contains the rendered pork fat from the belly…. holy . crap.  I had some store-bought lard on hand in case hubs and I couldn't get our timing right, but thank goodness we did.  That fat is killer.  Such good flavor there.  I want it on toast all the time.)
Then, it gets punched down and turned onto a clean surface, per usual…
And eventually cut into 50 ping pong ball sized balls…
50.
fifty.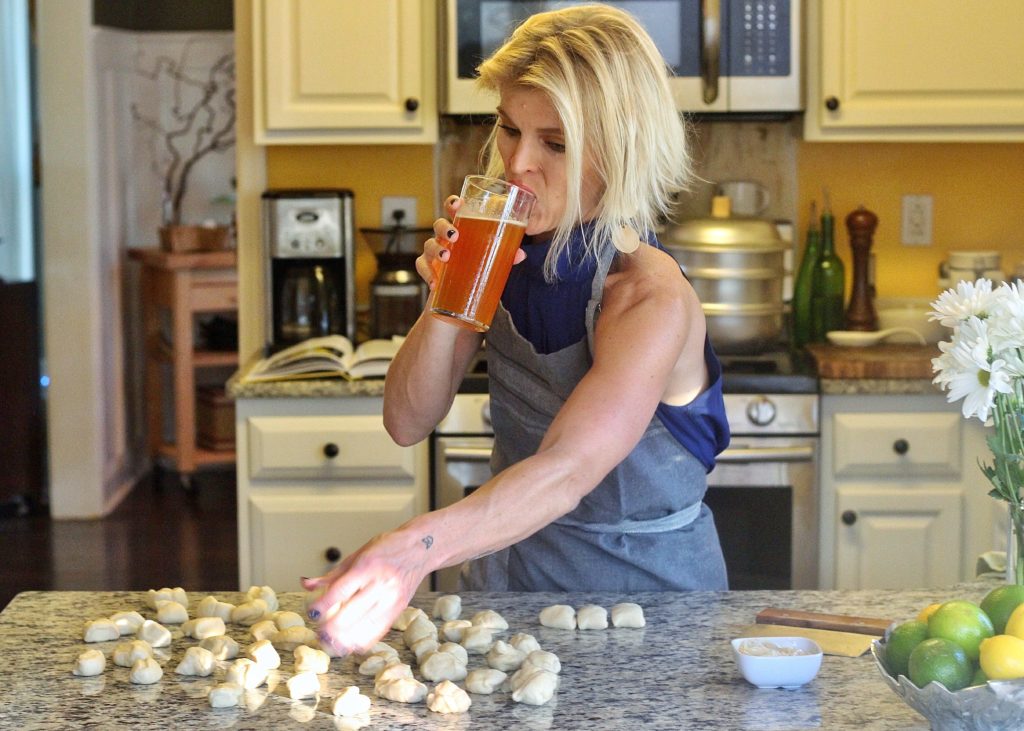 beer break.
5 x 10.
five – o
 bare feet make me do better stuff.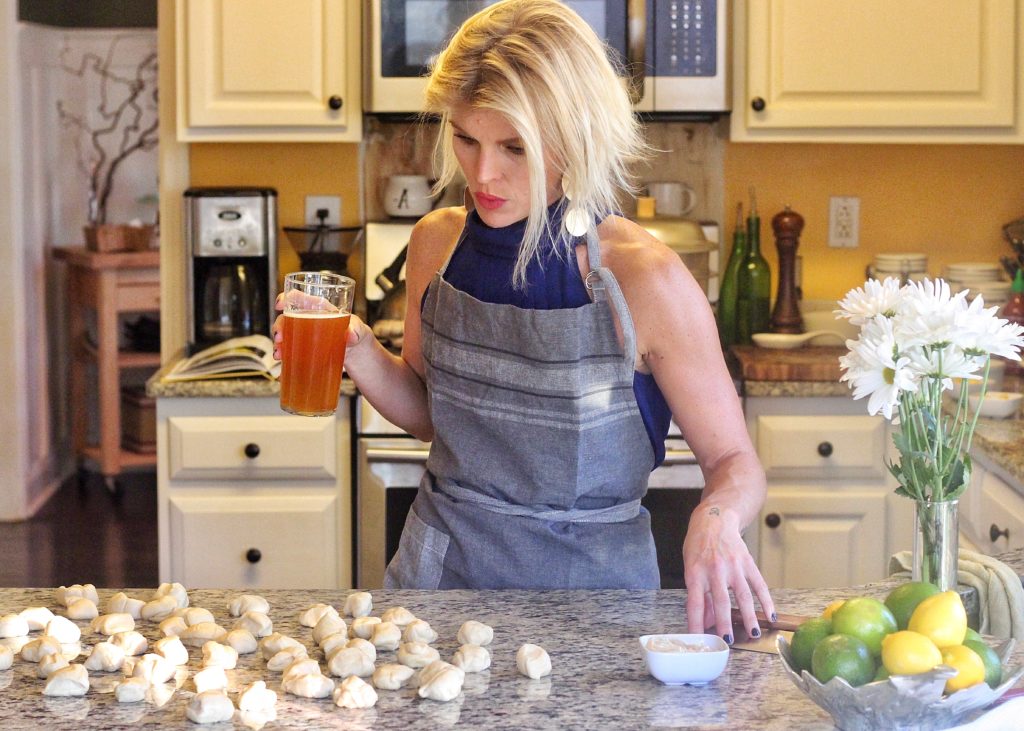 beer break.
They were then set aside to rise a bit under some plastic.
So the dough seemed to be too tacky when I first started working with it, which made me a little nervous (being an avid dough handler) but it did not stick at all.  There is no bench flour needed… it is not that type of dough.  The pork fat in it keeps it from sticking to anything.  It was a beautiful dough to work with.  Felt wonderful in my hands.
Then, at this point in the evening, people started to arrive…
Look how excited she is!!
And I put them right to work.  Obviously.
Earn yer keep!!
and mom started changing the rules immediately.  now you know where i get it from.
best little helper.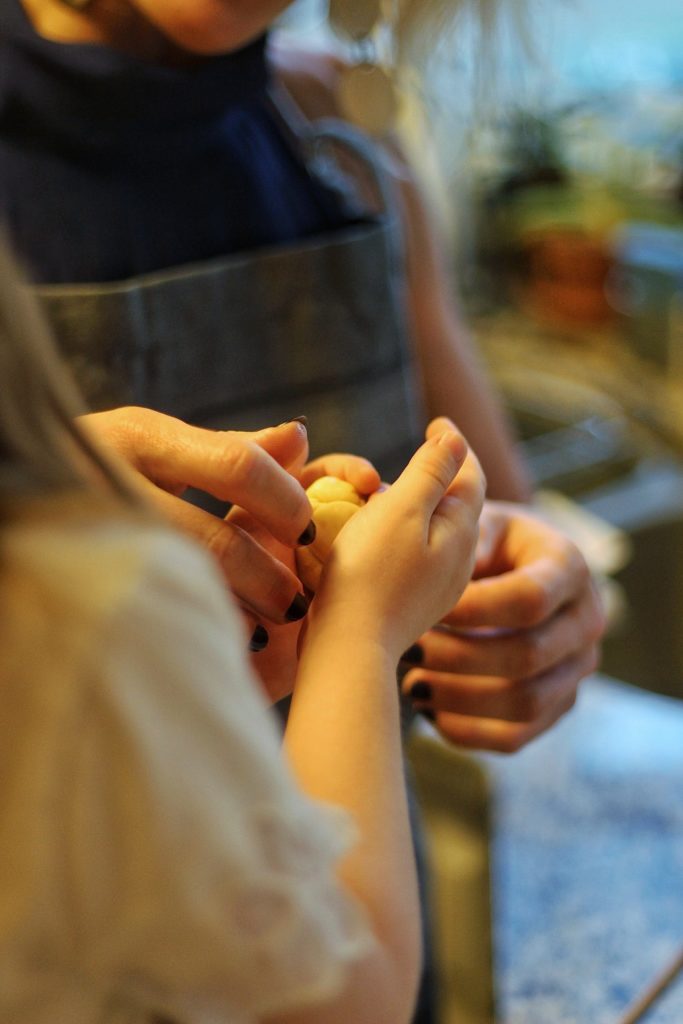 those tiny hands melt me.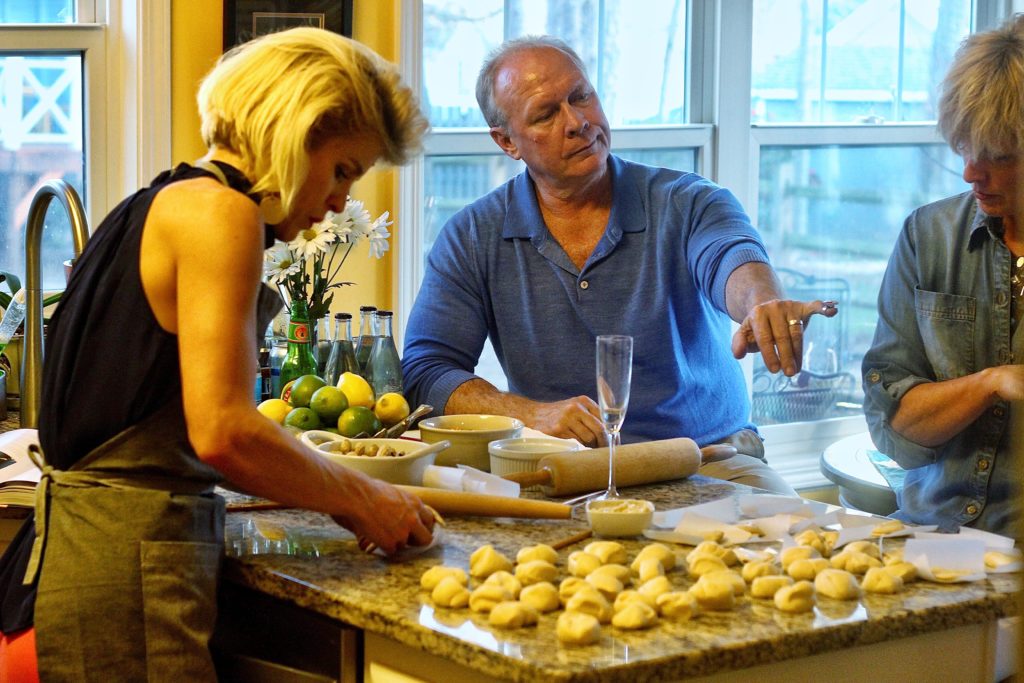 yeah, dad did nothing.
We had to roll out each ball into a 4 inch oval shape, fold each in half over a pork fat-greased chopstick placed in the center, remove chopstick, and carefully place onto the parchment squares.  Then cover with plastic and let rest for a bit.
That just seemed like a lot (Sorry, Dave)… so…
OR roll out flat, using the parchment squares as rough size guidelines (we actually found a wider circle was better than the recommended oval shape… and found ours were too small, so I would recommend getting your dough circles as close to 4 inches in every direction as possible), grease down the center of the flattened dough with your greasy fingers (the grease step is to make the steamed buns easy to open for filling), fold over, and place to the side… over some plastic wrap or a large sheet of parchment to prevent sticking to the counter.  
Bubble break!!!
was not aware you could see my joyfulness on the outside,
but this is how it feels on the inside whenever i pop a bottle.
louis bouillot crémant de bourgogne brut – $19 at total wine. delish and a steal.
maybe i get from her?
also look at my beautiful mommy
We sipped our bubbles, rolled our buns, laughed, talked, became super hungry, and once they were ready to steam, my husband crisped up the belly pieces.
Your timing has to be exact here.  Once those buns are done steaming (10 min), you better make those sammies and eat 'em up quick or they'll stale up on ya.  And only 8 could be done at a time…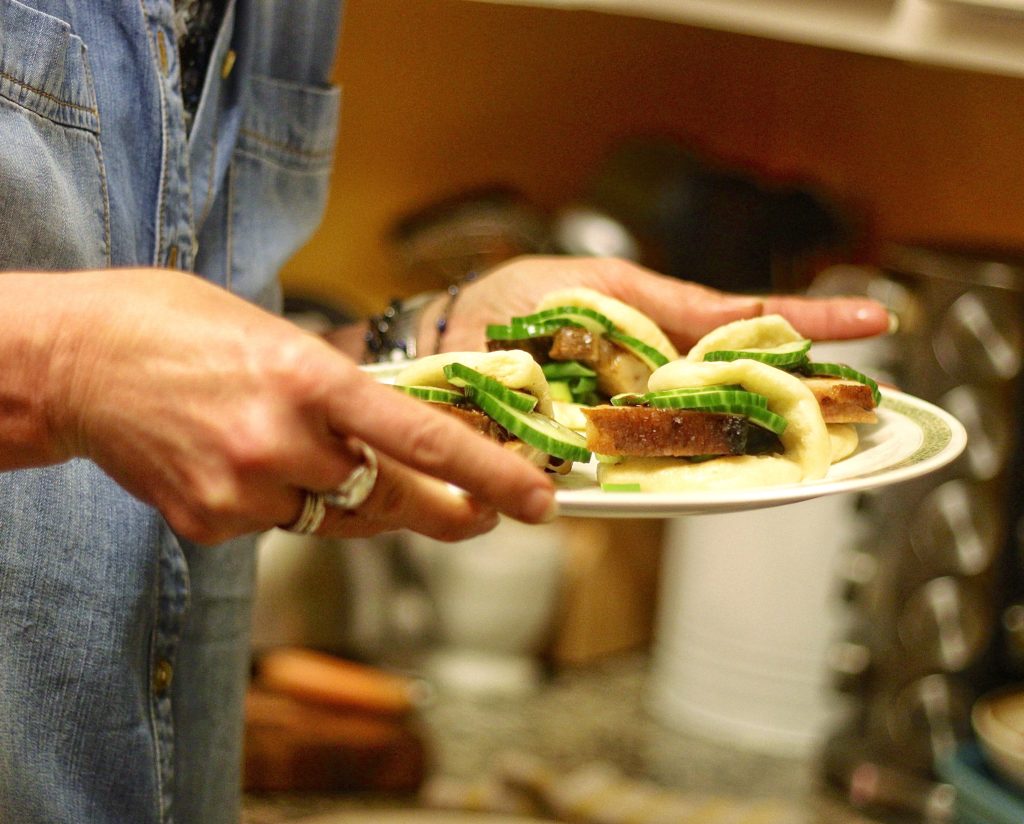 So we worked in batches… which doesn't lend itself to normal dinner party rules, but who cares.  Hubs and I steamed and crisped while the rest of the gang ate in turns… then we got to shove a couple in our mouths (they.  were.  amazing) before sitting down to enjoy the crew.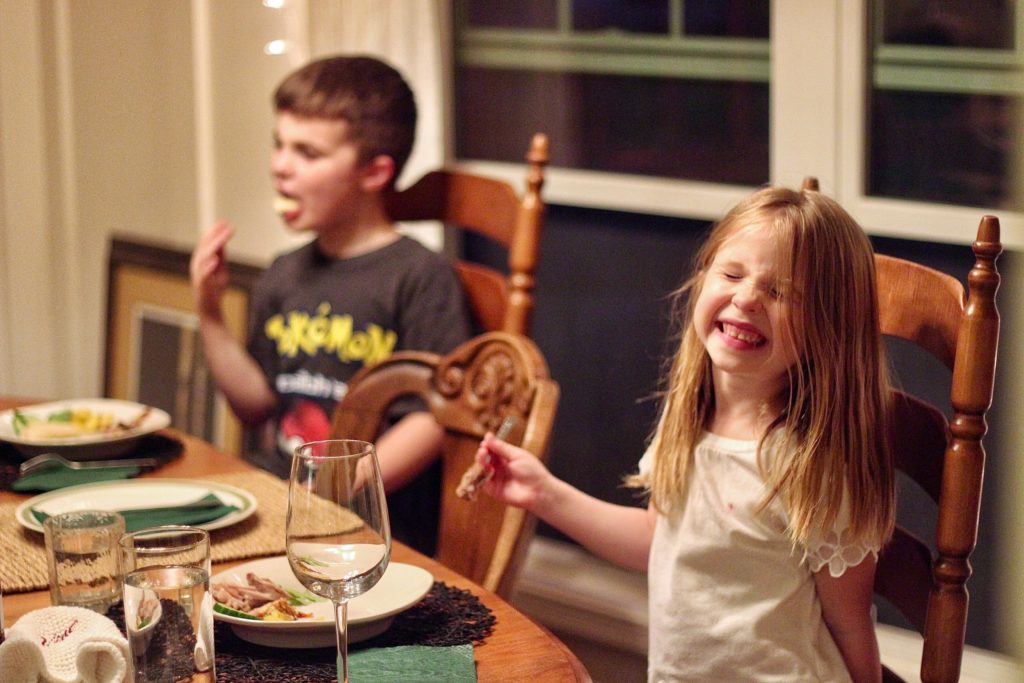 Everyone was happy.  Well fed.  Loved.  Just how I like people to feel in my home.  If I cook for you, it's my way of showing you how much I care for and love you.  I put so much into the food I make in my home.  It's an outside expression of an inside feeling.  It's genuinely one of my favorite things in life.  And being able to watch all those shiny, happy people eat this food that took my husband and I so long to pull together… was such a gift.
All that hard work paid off just by watching the looks on the faces of everyone as they took their first bite.
Beautiful stuff.
Also… it should be said that I made dessert… It was a birthday celebration, after all.  But frankly, not a single person had any room left to eat it.  However, I do have pics and a recipe to share… But that's another story for another day 😉
Before I go… one of my favorite things of the night was giving her one of her presents…
You know I love you hard when I give you pork fat.  Oh, the possibilities… (I saved some for myself…stay tuned 😉 )
I think she felt loved.  I know she was.  And that was the point.  This is something I probably can confidently say I won't do again… I think my husband would concur… but I am oh, so very happy I did.  I want to do all the things before I leave this earth.  I want to check off every box I can and fill my life with experiences and feelings and touch things and go places.  That's what life is.  And when you get to do all of that with people you love?  Man.  That's about as good as rendered pork belly fat.
…
Thanks for reading, y'all.  I'll throw more posts out at you from this beautiful night, with recipes and completed food shots.  But for now, I am going to continue to sit down and try so very hard to not get back up again for a very long time.
much love. xo
…
P.S.  You may have noticed I'm wearing an apron.  I never wear aprons.  People give them to me and I think they're beautiful but I cannot be bothered by such a thing.  Aprons slow me down.  However, I absolutely love this one is from DIIAmazon.  It's called the Country French Stripe Chef Apron and you can buy it online by that link.
x