This dish, like any lasagna, is a bit time consuming to prepare but nothing about it is too complicated. I love lasagna, any way I can get it, but I really love playing around with the ingredients, depending on the season and my mood. I love a standard meat lasagna, I love a white vegetable lasagna, and I really love a seafood lasagna with fresh shrimp and scallops. In the summer, when the corn is sweet and juicy I make a delicious Sweet Corn and Basil Lasagna. But today, since the weather is cold, I found myself looking at the remnants of my Thanksgiving-inspired table display filled with butternut squash, assorted pumpkins and spaghetti squash. So I decided to make this version that I will hopefully remember to make next Fall. (If you're not a meat-eater, this is just as delicious if you omit the sausage.) We served ours tonight with a simple Arugula Salad with sliced onions, orange segments and a fresh orange vinaigrette (using the orange I zested for the lasagna).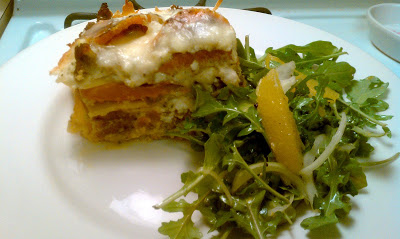 I hope you enjoy it as much as we did!
*Roasted Butternut Squash Lasagna with Sausage, Sage and Orange
*For the Squash …
-Peel 2 small butternut squashes (1 lb each) and trim off each top. Slice in half, separating the 'neck' and the bulb end containing the seeds. Scoop out the seeds from the bulb end (reserve these to be roasted just like pumpkin seeds for a snack!) and slice each end into 1/2-3/4 inch disks, (the bulb end will slice into O's because you hulled out the seeds).
-Place each squash 'disk' on 2 greased cookie sheets (I usually line my sheet in foil first so the clean-up is easier) and season one side only with kosher salt, freshly cracked black pepper, 2 TB or more of sugar (pure maple syrup is an excellent replacement), and good pinches each of cinnamon, nutmeg and allspice. Drizzle olive oil on the face-up, seasoned side.
-Roast the squash at 350* for 30-40 minutes, until tender and caramelized on the edges and top. Allow to cool, but leave the oven on for baking the lasagna.
While you're roasting your squash you can go through the steps below…
*the Noodles…
-Boil 9 standard lasagna noodles, (I like using whole wheat when I can) in a large pot of heavily salted water until just before al dente. Reserve 1 cup of the pasta liquid before draining and cooling the noodles.
*the Sausage…
-Brown 12 ounces of lean, bulk sausage (any kind will do) in a skillet and season with some extra crushed fennel seeds and ground, dried sage to bump up the flavor. Allow to cool in a bowl, but reserve the skillet for making your bechamel.

*the Cheeses…
-In a small bowl, combine 15 ounces of ricotta cheese*, 1 egg, a couple pinches of salt, a handful of fresh sage leaves, minced (or 2 tsp of dried), the zest of 1 orange, and some freshly grated nutmeg. (I always recommend waiting until you taste to check your seasoning before adding your egg.) Mix well, set aside.
-Grate 12 ounces of mozzarella, set aside.
*the Bechamel…
-In the same skillet you browned your sausage in, melt 2 TB of unsalted butter and add 2 TB of flour, whisk to combine. After 30 seconds or so, whisk in your reserved pasta water and enough milk to make a slightly thick cream sauce. Season to taste with salt, more freshly grated nutmeg, orange zest and fresh or dried sage. You will end up with 1 1/2-2 cups of sauce. Set aside.
*the Assembly, Baking and Eating…
-In a greased 9*9in, deep casserole dish, spread 1/3 of your bechamel evenly over the bottom. Then place 3 of your noodles down, side by side, then 1/3 of your ricotta mixture, then 1/3 of your sausage crumbles, 1/3 of your roasted squash disks, then 1/4 of your mozzarella. Repeat until there are a total of 3 layers and top with the remaining 1/4 of your grated mozzarella.
-Cover with foil and bake at your already preheated 350 oven for 45 minutes, then remove the foil and bake for another 10-15 minutes, or until bubbles are rising from the bottom, and the cheese is gooey and a little browned around the edges.
-Allow to cool 10 minutes or so before slicing and eating!
(*I have also made this using a combination of 1 10 ounce container of plain, Philadelphia brand 'Cooking Cream' and 1 5 ounce container of Goat Cream Cheese because I didn't have any ricotta on hand. It was amazing, and quite possibly better tasting than the ricotta version..but I always recommend using whatever you have on hand!)
(Because I always use these TIPS, this meal tonight, (including the arugula salad), which will feed 4-6 people, set me back only $7)