Heeeey y'all!  Holy moly it's already been Christmas and New Years, and I think Thanksgiving was in there somewhere, and it's freakin' mid January now??  What the whaaat?? I hope y'all had a great holiday, one filled with everything on your list and more.  Mine was absolutely perfect – incredibly hectic and insanely busy and fulfilling as hell. (= perfect) Life is still busy for me – loving every unpredictable minute of it – but I found a time pocket of 14 minutes before my first child is predicted to come stumbling in for a cuddle, so I had to take it to come see all of yoooouuuu!
i miss you. how are you. let's catch up soon, yeah? coffee? cocktails? lunch? you could come over and we could sit in my dressing room and drink pink bubbles by the twinkle lights if you want.
I'm sitting in bed, about 1/4 way into my coffee strong enough to fight you, and the house is quiet.  This is my favorite time of day.  The 'ole ball and chain is out of town, so I've been on double (triple? quadruple?) duty, but I've been able to still have the best time with those little muppets. Working in a job that takes me outside of the home for the first time in my mothering life, and also still playing the role of stay-at-home mom (housekeeper/chef/therapist/production manager…) has been a slight adjustment around here… and it's a little harder when that role switches to single stay-at-home mom with the hubz away… but honestly?  Guys- it's been damn awesome.  The adjustment you think would have occured- maybe some sort of battle of the spouses over who now does laundry (still me), who cooks (still me, but baby- you know you rock the weekend HARD), who cleans (both), and who parents (both)…never happened.  My guy and I just have this unspoken dance that occurs and we always have.  We just don't step on each other's toes and it's something very cool and very rare. Since I started my new job, I haven't felt like I've had to sacrifice anything at home.  Sure, I don't have as much free time for socializing as I once did, but to me that never has felt like a big emptiness… because I happen to really love the people I live with and the home I live in, so spending time with them when I'm off of work fills that desire. And I guess I just haven't felt under-socialed.
I could not have made this life transition without being married to the exact man I'm married to.  He's absolutely the finest specimen of man.  He seamlessly stepped in to do things I normally did when I couldn't, and I never once felt any guilt or stress because of it.  We have always been a good team, always.  He's capable of doing anything and everything around here and I cannot stress enough how fortunate I am to have him, especially being more busy than usual in life.
*pause for daughter attention. she's awake now and is very smushy and flushed and her hair is doing this wonderful floopy static thing and she needs me*
*…writing continued the following morning at 4:30 while the house is sleeping, this time in my special chair by the window that overlooks the creek and the woods.  this is my favorite space in my house.  this is my favorite time of day.* 
If I were to try to think about why we work so well together, my man and I, I guess I could break it down to meeting in the theatre department in college.  When you work in theatre, regardless of your role, you are working together on every production as a team, inside a culture where every job is as important as the other – with the end result being a complete group effort.  Onstage, backstage, tech, costumes, props… every job is important.  And if you signed up to be a part of that department, you signed up to work as a team.  I met him when I was 17, the first day of college.  I am now 37.  That's twenty years of knowing each other, falling in love, getting married, traveling across the country – twice, becoming parents, switching careers, dreaming big, living small, sharing tears, throwing punches and parties, traveling to different countries, laughing, learning, moving, raising children, senile dogs and badass cats. And twenty years does not seem like an adequate amount of time to do all the things we have done together, nor does it seem like the correct amount of time we have been in each other's lives.
(nor does it seem like it's possible for me to not be twenty anymore, frankly. But thank goodness I'm not.  Thirty seven can kick twenty in the tatas.) 
We've both grown up a lot since then, but we never grew away from each other and have never stopped supporting each other.  Not once.  Not even for a second.  We have never stopped treating each other with respect and kindness first.  We are polite to one another.  Always.  Still.  We say please and thank you and would you mind…
*pause for cardio time.  if i don't get on the bike now, then it interferes with the morning, and everyone waking up requiring me to be present for them.  i have to grab the time i can to make sure i have my me time.  (side note- buying a peloton bike and membership has changed my world.  highly suggest it. totally worth it. all of it.)*
*…writing continued the following afternoon sitting outside with the rare january sunshine on my face.  this feels wonderful and like medicine.*
I think the fact that my husband and I never lost ourselves in the parenting process has helped us tremendously.  We care about looking and feeling good.  We care about pleasing the other.  We care about fun and all the things we used to care about.  Having children only made us a complete family.  It made us better and happier and stronger.  And we actually like our kids. They are incredible people.  We parent them like we're building humans in society.  We do not parent them like they are beneath us.  We do not baby them.  We teach by example and focus on manners and being present and the golden rule and respect.  We have rules.  And we have repercussions for breaking those rules.  But we hang out with our kids and they see us interacting as grownups. We feel that's the best way to teach kids how to be humans in society.  They learn and observe and absorb, and we are there to guide them as to the rights and wrongs of it all.  We are honest and so far, it seems to be working.
When I first started writing this post, I didn't have a clear vision on what I wanted it to be.  I only opened my computer, like I do every day, and instead of going to work on the usual things that take my time, I found myself looking at an old open tab with my logo on it.  And I wanted to come by and check in and see how things were over here.
And here we are.
Life is so complicated.  It's filled with interferences and pushes and pulls and it can become hard to stay focused on what your vision is.  But I've found that in my last several months of being pushed and pulled in more directions than ever, having a solid foundation to come back to makes it all ok.  We can't please everyone, we can't be everything for everyone and we can't control shit.
The only thing we can do is be present wherever we are, be respectful to those who are there, try our best, and do unto others as we would have them to do unto you.
…
And a little snack and cocktail ready at the door when your traveling husband comes home won't hurt either 😉
The recipes below are what I made for him after his trip, and they've been family approved.  (Kids didn't get martini privileges)
I've got Roasted Chickpeas seasoned with Dukkah and sea salt.  Dukkah is an Egyptian condiment made of spices, herbs, nuts and seeds.  And it is my jaaammmm. There are many different variations on the recipe out there, and I'm certainly not Egyptian, but after lots of research, I found my preferred way to make it.  It's incredibly simple – as long as you're able to grind seeds and whole spices, etc… you're just toasting and grinding and mixing!  The scent it puts off is intoxicating and the flavor is just so rich and deep and warm and stupid good.  You can flavor meat with it, grains, mix it into yogurt for a dip… you can't go wrong.
I'm using it here to flavor some roasted chickpeas that are your new best friend.  It's soooo darn simple to make.  Also healthy. Also satisfying.  Also gluten free if you need it to be!
The other recipe is for a Martini with a Meyer Lemon Twist.  It's a classic martini in style, and it's that way on purpose.  I feel like it's important to revisit the classics… and maybe put a little special twist on it 😉
ROASTED CHICKPEAS WITH DUKKAH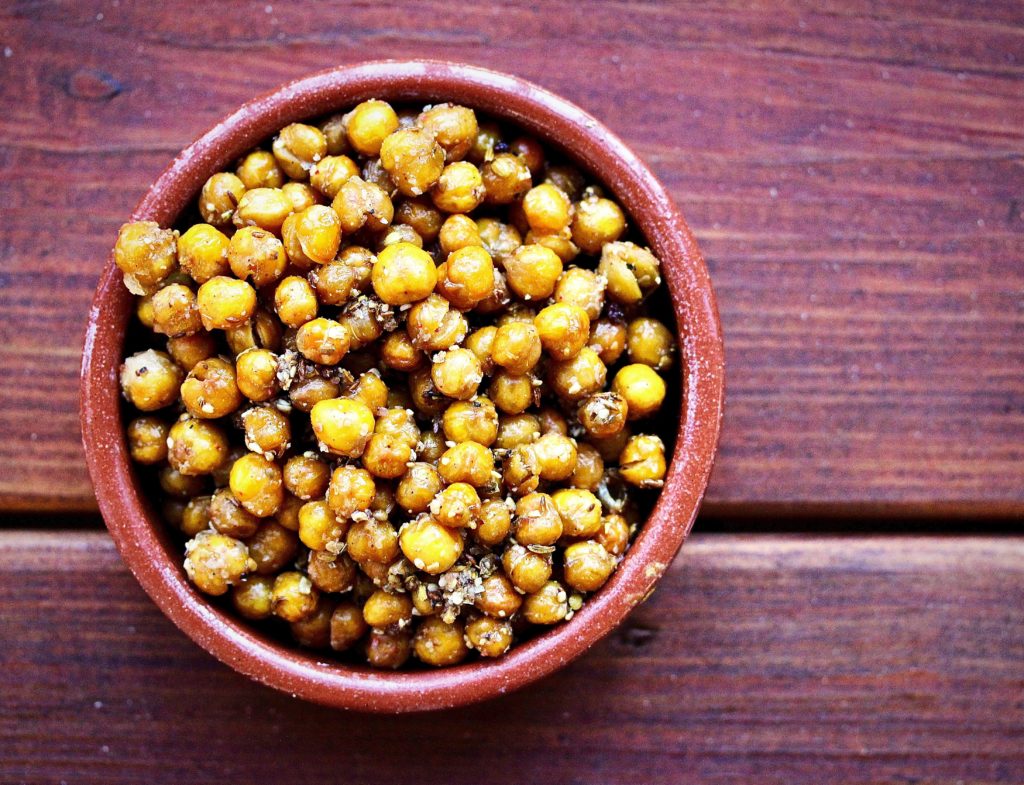 Start by making your dukkah!  (And you can make this, like weeks in advance.  Just be sure to store in a cool, dry place tightly sealed!)
In a dry skillet, add the following…
1/4 cup sunflower seeds
2 TB sesame seeds (I prefer the white for this)
2 TB coriander seeds
1 TB fennel seeds
1 TB cumin seeds
1 TB pink peppercorns
1/2 TB black peppercorns
2 tsp kosher salt
Toast everything on medium heat, shaking the pan once it's hot, and continue to toast until you get a solid waft of amazingness. This takes about 2-3 minutes or so once the skillet is hot, depending on your range.  But you'll know when it's all good and warm and you can smell everything.
Then you just grind everything to a coarse mixture.  This can be done in a spice grinder, or you can go old school like I did with a mortar and pestle.
Now make your roasted chickpeas!
Drain 2 (15 oz) cans of chickpeas / garbanzo beans in a mesh strainer and rinse well with water.
Pat dry using dish towels.  Pat as dry as you can.
Add to a baking sheet big enough to not have them overlap.
Toss to coat in olive oil / vegetable oil.
Season with kosher salt to lightly cover.
Sprinkle enough of your dukkah to lightly cover them.
Roast at 350 for 30-50 minutes (mine took 45-50, but I don't know your oven)
They're done when they are toasty and crispy and you can't stop eating them even though you burned your tongue twice.
Season again with some flaky salt, like Maldon, and more of the dukkah to amp up the flavor.
Taste and adjust as necessary.
SORTA CLASSIC MARTINI WITH A MEYER LEMON TWIST
Recipe for 1 martini:
First you must begin with chilled spirits and chilled martini glasses.  If you want to make one now and have not done so, fill your glass with ice and then water and chill it down while you mix.
As for the spirits, you'll think ahead next time 😉
In a shaker, combine the following:
2 oz botanical gin (I prefer either Hendricks or Uncle Val's – thanks, ma!)
1 oz dry vermouth (you should be keeping this in the fridge anyway.. it's wine, so once it's opened…)
Add ice to the shaker and shake til you hurt.
Remove the ice water from your glasses and pour the cocktail right in (ice strained).
Peel a fat piece of rind from a meyer lemon and squeeze it over the glass to get some of those oils in the drink.
Sip thoughtfully and happily.
..
thanks for reading, ya'll.  it's been a pleasure.
also?  follow me on instagram! AND tomorrow I'll be taking over the summit coffee stories and talking about my wine philosophy and approach to changing our wine menu in the shop 🙂
come by and say hi!
love