Hi! I haven't caught my breath since Thanksgiving, you?
I found a pocket of time to take a photo of our dinner and wanted to share it with y'all. Ok – to be honest, I felt pressure to share it with ya'll. The want was still there, but it was driven in the car by the pressure. I haven't had the time to post in forever, and I do think about that a lot. I won't apologize for it… but I do think about it a lot and sometimes it weighs a bit heavy on the old brain. I cook every day of my life, lots of old favorites and lots of new things. I always have things to say… I could be sharing a lot more here, but… frankly?… life has changed so much that it simply isn't my priority these days.
And since I'm the boss here, I know I'm able to make this be whatever I want it to be… whenever I want it to be. I do hope you all still want to stick around. And if you don't? That's cool too. But what I've learned (one of the MANY things I've learned) over the past 2 years is that putting pressure on myself to be anything for anybody else doesn't do anything good for me. And it takes away from the things, and the people, who matter most to me. So instead of running to my computer, or my phone (talking to you, insta) to share something I did, or thought of, or created…. I'm sharing, doing, and creating that stuff with and for the people who matter most to me.
And then sometimes, I happen to find a tiny pocket that allows me to also share it with those of you out there who also greatly matter to me.
So.
On that note!
This recipe is an oldie in my house, one that I created before my daughter was even born. I shared a sloppy post of the recipe back in 2010, which I have used ever since as my guide whenever I make these for the family. But today (thanks to that time pocket) I was able to finally get a pic and make it official.
This really is the best version of a stuffed pepper we've ever had. Anyone who's tried it can attest. It's not a hard one to do, and can be done days in advance if need be before baking the night you're ready to serve it. I always prep this in the morning and then pop it in the oven for dinner that night. They travel well, are perfect for meal deliveries to anyone in need, and are easy to adapt to certain dietary needs. So feel free to change things up as you need to, while keeping the amounts as close as possible to make sure they end up as perfect for your crew as they are for mine.
Sausage and Rice Stuffed Peppers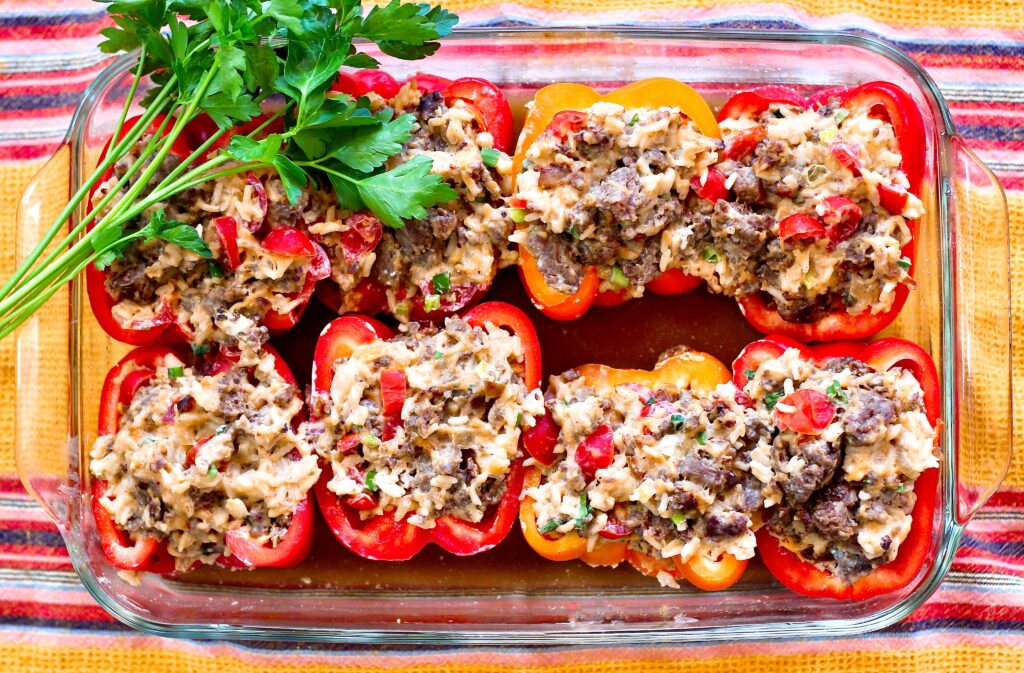 You will need :
4 large bell peppers – color of your choice
1.5-2 lbs. bulk sausage (select type depending on your spice tolerance, meat preference, or meat substitute preference. I tend to stick with Mild Italian Pork Sausage with the youngest in the house very spice phobic)
1 medium or 1/2 large onion, diced
3 cloves garlic, minced
1 cup cooked rice (use leftover if you have it! But this is 1/2 cup dried rice boiled to equal 1 cup cooked rice… I have also use brown rice and quinoa with excellent results)
1 tomato, diced (I have used a small can of diced tomatoes when I didn't have fresh)
1 cup shredded extra sharp cheddar cheese
1/2 cup sour cream
1 beef bouillon cube (or 1 tsp beef base paste such as "better than bouillon")
3 green onions, chopped
1 TB low sodium soy sauce
1 cup beef broth
You will do :
In a large skillet, brown your 1.5-2 lbs sausage and your diced med. onion.
Add your 3 minced garlic cloves once it's close to being cooked through.
Once browned, fat rendered, and cooked through, turn off the heat and stir in the following (draining any grease that seems like too much to you) :
1 cup cooked rice
1 diced tomato
1 cup shredded cheddar
1/2 cup sour cream
1 beef bouillon cube
3 chopped green onions
1 TB soy
Let the boillon dissolve and everything come together well.
Set filling aside to slice your peppers and prep your landing.
Slice your peppers in half and remove all seeds, ribs and stems.
Lay flat in a 9×13 inch baking dish. They should all fit snugly.
Scoop enough filling to be tightly mounded into each pepper half (sometimes I have leftover filling and just snack on it the next day).
Pour your 1 cup of broth into the bottom of the baking dish for a flavorful steam bath.
(If you're prepping this far in advance, allow to cool before covering.)
Cover the dish tightly with foil.
Bake at 425 for 30-45 minutes (may need longer if you started with refrigerator-cold peppers).
They're done when the peppers are fork tender.
Garnish with fresh cilantro (or parsley if you're cilantro phobic), and more green onions if desired.
And dinner is served!
…
thanks for reading ya'll. much love x