I didn't make this up, it's an Italian thing… But all I had was my memory of seeing someone make it on TV a while back to get me through the recipe so I guess this is my take on Pasta alla Formiana… I'm still trying to find new ways to use up all these garden veggies (tomatoes in particular) so this was a really great way to do that. It's really a very cool recipe- you're baking uncooked pasta in tomato sauce, in a baking dish lined with raw tomatoes. It's such a great concept! The finished product ends up tasting pretty much like any great tomato-sauced pasta dish but it's the method and presentation that allows this to stand out in a crowd.
Here's what I did..and I urge you to follow my baking notes so your smoke alarm doesn't scare your child.

You can either puree 1 28oz can of whole tomatoes or cook your own tomatoes and peel them like I did, (did I mention I have a ba-zillion tomatoes?). But either way you do it, you need 28 ounces of tomato product. Place that in your food processor with 1 large clove of raw garlic and puree until completely smooth. Pour that into a large bowl and add several TB's of oregano, a handful of minced, fresh basil, 3 ounces of grated Asiago or Parm cheese, a pinch of crushed red pepper flakes and a few pinches of salt and pepper to taste.

Stir and add to that 1/2 lb. of any short-cut, whole wheat pasta (I used penne, and the whole wheat is essential unless you want mushy pasta…) and about 1/3 cup of extra virgin olive oil (yes that is a lot of oil for one of my recipes but it really needs it). Set aside.
Butter a deep 9*9in glass baking dish and line it with thick slices of large, fresh tomatoes. Line the bottom and up all the sides.

Pour your pasta mixture over the raw tomatoes in the dish. Spread evenly and be careful not to disturb your tomato-'crust'.
Top with another layer of thick sliced, raw tomatoes. (It is OK to overlap here, remember the tomatoes will shrink in the oven.)

Place your glass dish on a foil-lined cookie sheet (*this is that important no-smoke alarm part) and bake in a pre-heated 450* oven for 1 hour. Remove from the oven and allow to cool just as you would a lasagna before serving.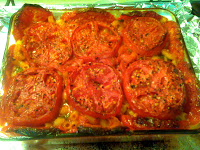 The pasta cooks and soaks up all the tomato sauce and the raw tomatoes become adorably shrively on top. I think next time I'll top it with a layer of fresh mozzarella half way through the cooking time…a nice goo-factor would be nice here. But garnish with more grated cheese and basil if you'd like. Enjoy!