I just checked and, yeah, I too noticed that the last post I threw at you was also a cocktail.
It's summer and I'm a busy grown person. Leave me alone.
Really, though. A lot has happened since the last post – I've done and created more things since then (not always cocktails!), and maybe if I cared more what people thought or being the perfect kind of publisher, I would have spaced the two boozy posts out a bit more… thrown in a pasta or salad or two… but I just found the pics I took and remembered how much I liked this recipe.
So there.
Hiiiya! How are things? You settling into your summer break yet?
(ha. summer break. remember those? A break implies you get some time off to decompress, get bored a little, relax a lot and stretch out a bit. Grown people don't get summer breaks. Grown people get summer bends.)
summer benders?
couldn't help myself.
Sparkling Summer Sangria
1/2 cup cognac
1/4 cup orange brandy (such as Grand Marnier or its budget friendly friend, Gran Gala – both made from brandy and bitter orange)
1 lemon, sliced and seeded
1 kiwi, peeled and sliced
1 apple (preferably green), sliced
1 bottle of dry sparkling wine (preferably cava.. try Berberana Brut, Borrasca Brut, or Segura Viudas Brut)
All of the ingredients: cognac down to the apple (everything but the bottle of wine), I like to refer to as the 'sangria concentrate'.
For parties, or relaxed atmospheres, I prefer to make the sangria concentrate mix first, and then serve the sparkling wine on the side to mix each serving per order… that way the wine doesn't become flat. You're aiming for roughly 2 ounces of the concentrate to every 4 ounces of sparkling wine… but I don't judge.
If you're planning on pouring out the entire batch of sangria into glasses right away, mix it all together!
Either way, I also prefer to make the concentrate a few hours beforehand, so all the flavors meld. But, please don't open the bottle of bubbly to pour into you're ready to serve.
Gotta protect those bubbles, baby.
Isn't she purty? It's a really great alternative to your standard sangria and although I created it in the summertime, you can make and serve this drink year round!
And you can change out the fruit depending on what you have around / what's fresh… but my advice is to always mirror the flavors in the wine when choosing your fruit / herbs /spices for sangria.
It's safe to say a white brut sparkling wine will have some apple and lemon notes (any citrus works), stone fruit can be nice, green grapes are fun although they don't do much but look cute… honeydew is great… pineapple! mango!
Wanna do this with a sparkling rosé? Great! Go with raspberries and / or strawberries, plums, watermelon, grapefruit… and any of the above fruits would also still work.
And please, by all means, choose a bottle of wine under $10 retail for sangria. It shouldn't be swill, but it should be dry and fun and light and even a little on the boring side.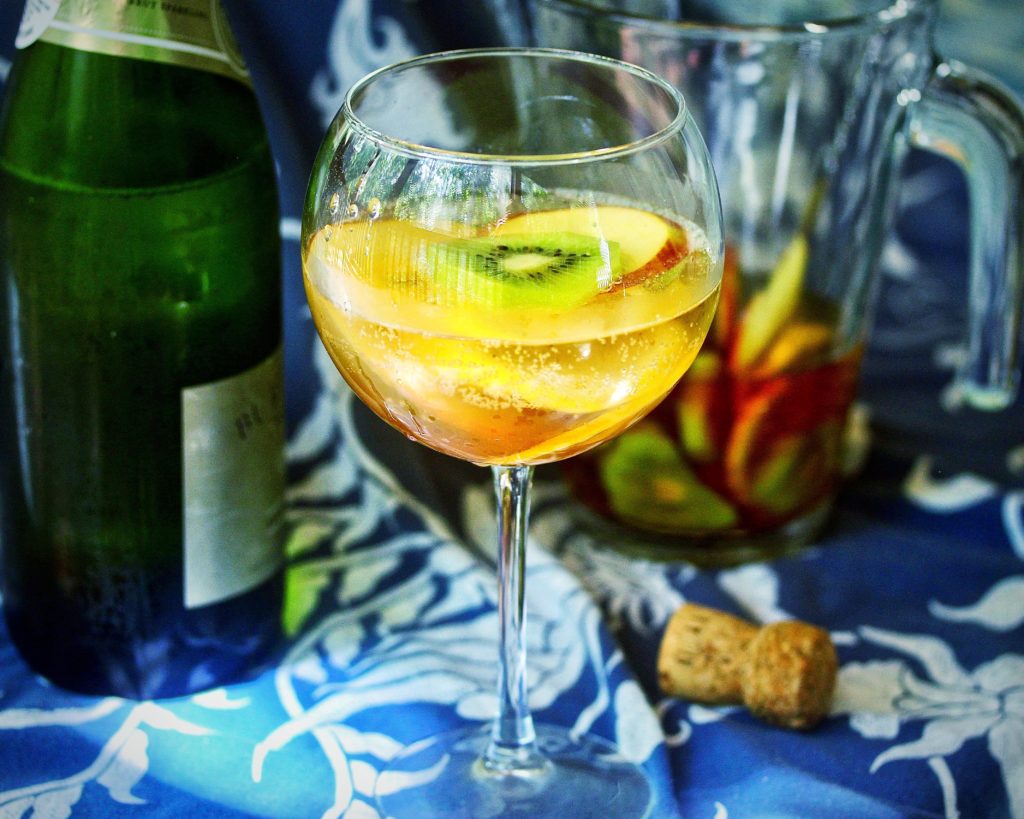 Kinda like how your summer should be.
thanks for reading, ya'll. much love xx