If you haven't noticed… it's Spring! Or maybe you noticed the snow in the sky the other day and got confused. Either way, it's totally Spring now. Technically speaking, and also finally weather-speaking! The only downfall Spring has for me is keeping up with the pollen. I spent most of my morning cleaning my screened-in porch from all the yellow dust it had accumulated recently.
That's the part you don't think about when you dream up your perfect screened in porch – cleaning the pollen off of it. It's not like you can hose it down like you would an outside porch. It's tricky. But I handled it.
Next up I gotta switch out my closets.
Yeah… I have a seasonal rotating closet.
Don't you?
Spring has always meant newness, freshness, clean starts… it's when things start to come alive again. And it's when the sun shines its pretty light on some of the things that went dingy on us over the winter :-/
One thing I happened to have the pleasant luxury of spring cleaning this season is my teeth! I received a cariPRO ultrasonic electric toothbrush by Smile Brilliant and I've had the most fun brushing. *nerd alert* Truth be told, I've never minded brushing my teeth… I'm one of those weirdos who do it way more than the minimum.
Especially after coffee.
I'm convinced my teeth are brown after I finish my coffee and have to de-brown immediately.
Yeah… I travel with toothbrushes in everyday life.
Don't you?
And once I got an electronic toothbrush, the game changed for me. I've been using one for about 10 years now and always loved it. I never shopped around for another one… I was just fine with the one I had. An electronic toothbrush is an electronic toothbrush, yeah? Then I got the Smile Brilliant and realized they're all different!
Also, this one is half the price of the one I've had, so….
yeah.
I took it on my recent trip to New Orleans (I had just gotten the package the day before and don't you love playing with new toys RIGHT AWAY??) and if you follow me on Instagram, you may have seen the story of me using it for the first time…
…I had just spent my first whole day and night in New Orleans and… it's quite the spectacle… I sort of insist that you go watch it… just so we're all aware that it exists in the world.
(you can still catch it in the NOLA highlight reel on my home page 😉 )

But I was all bright and white smiles the whole time, thanks in part to Smile Brilliant, and my NOLA Annie who I've missed so…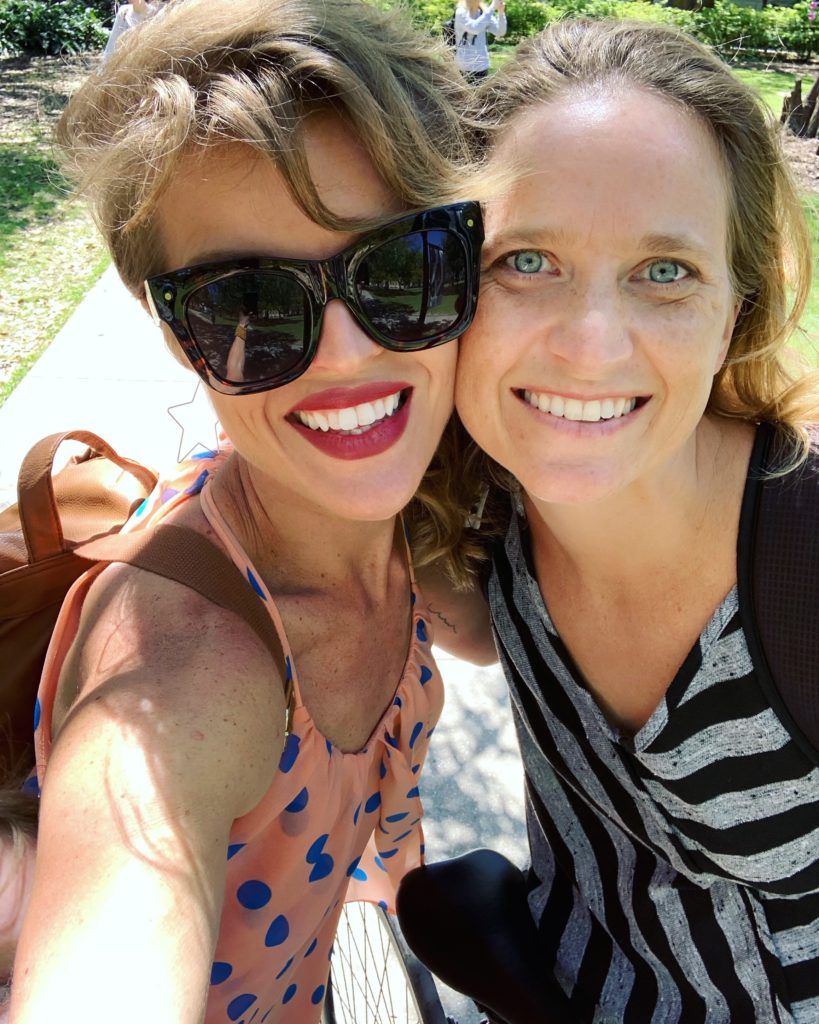 …and also maybe baby gators.
There are 5 different settings on the cariPRO, and I've been playing around with all of them – they're all so different. If you have sensitive teeth, there's one for you… if you need to pay more attention to gum care, there's one for you… if you're a freak who wants your teeth massaged, there's even one for you too.
It's great. It's got a lighter touch than the one I'm used to, but I have had a problem brushing my teeth too hard in the past, so I really think this will help me! (we wait for dentist confirmation next month…)
Ok, so. Why am I rambling on and on about a toothbrush?
Because you guys get to win one! If you want. If you enter. Why would you not enter. And you also can receive 20% off an order with my discount code!
electric toothbrush
So. Here's the link to the exact toothbrush I have :
Here's the link to replacement heads :
And here's the link to the FAQ if you had any questions I didn't answer for ya :
And… if you want to enter the giveaway for a free toothbrush (why would you not), here's that link :
ALSO, if you decide you just wanna buy one, here's my discount code! Just copy and paste to use on the site :
myeverydaychampagne20
Oh. Also also- did I mention it's a pretty sexy lookin' jamma?
I've never owned a non-steril white electric toothbrush before. It made me silly excited.
I have also never modeled with a toothbrush before. Equally as exciting.
So, don't forget your 20% off discount code:
myeverydaychampagne20
And the link to enter to win a free cariPRO ! :
Isn't she lovely?
take care, y'all. happy spring xx