The best way to get over something is to… Get a kicky haircut and twirl around in colorful clothes.
Duh.
I cut 4 inches off my hair, 3 days ago, during my post-show mourning.  I didn't plan it.  I just walked into the bathroom, eyes puffy from tears, body finally allowed to be tired from being overworked and underslept for months, and started snipping.
It felt amazing.
And that g 'n t? Tasted amazing.
With the season changing, and this girl in desperate need of a change herself, I decided to raid my closet and put together some new Spring outfits for those of you who think you have nothing to wear.  (…Not at all talking to myself there… 😉 )
Nothing in this post is new except for the $15 jumpsuit that I literally ran into when I took my daughter to the mall for her birthday last week.  When I say 'ran into' I mean the mannequin that was wearing the jumpsuit came to life and stepped in front of me and threatened to knock me down.  Good thing I have cat-like reflexes and am magically coordinated.
Truth.
Ok, that's not true.  The $17 sneakers I'm wearing in one look are new too.  I actually had to rush out and buy some the morning of Strike Day at the theatre.  Because, the only flats I ever wear are running shoes, flip-flops, and my bare feet.
Truth.
But everything else has been mine for months and sometimes years.  I just decided to look at them in a different way yesterday.  And why not?  They deserve being given more than a couple chances to shine.
We all do.
Spring, simply put, is for finding new beauty in things that have just maybe fallen asleep over the past few months.  This is the season we get to look out our windows and see these beautiful, new blooms on the trees we've been staring at for months.  All this newness and difference, the new beauty… it isn't really a change, it's an alteration… a make-over, if you will.  Because if you look deep down, you're seeing the same things you've always seen.  Those trees are still rising from the same soil, their roots are as strong as they've ever been, but those blooms they're showing us right now give them a new energy for all the world to absorb.
Don't forget to let your flowers bloom, y'all.
It isn't about changing, it's about looking at what you already have and figuring out a new way to present it.  It's about altering the way you think about things.  About yourself, about others, about life.  Just deciding that you deserve a little new color in your life.  Because once you allow yourself the permission and the freedom to bloom, your roots will thank you.
XOXO
…
Look #1:  Spring Leather.
Take those leather leggings you wore all Fall and Winter and adapt them to Spring.  Pair them with some heeled sandals, a bright tank, sleeveless blazer and a straw fedora.
Hat: Forever 21 (similar one found here)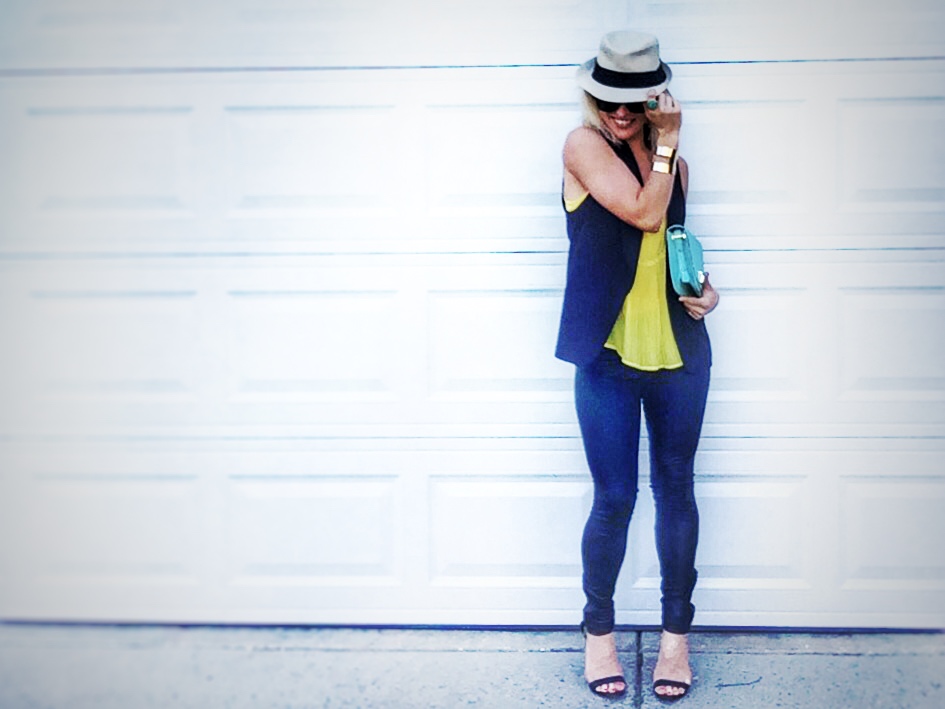 Accessories:  Gold cuff- Forever 21 (similar one found here)
Turquoise cocktail ring-  Handpicked (specific item not found online)
Clutch (technically a bag that I cut the straps off of)- Forever 21 (item not found)
Black 'RayBan style' sunglasses: Honestly? Left by drunk girl at bar.  She was incredible rude to her server.  I showed her.
Shoes:  Target (similar ones found here)
Sheer, yellow tank:  Forever 21
Sleeveless blazer:  Target
Faux leather leggings: Forever 21
…
Look #2: Spring Floral.
Pull your hair halfway back, take that summer floral mini and colorful tank and pair it with your neutral Fall / Winter booties, some fun jewelry and a pair of aviators.

Teal tank (it's actually almost mini dress length and is very versatile): H&M (specific item not found).
Skirt: Target.
Accessories:
Light brown/gold aviators- Payless Shoes (when they sold accessories).
Coral faux stone drop earrings- Target.
Layered beaded necklace- gift from brother 🙂
Yellow painted wooden cuff- Goodwill, no label (similar one by another retailer found here).
Oversized orange faux-croc clutch: Pink & Blue Boutique (local) (similar one by another retailer found here and here).
Faux suede booties:  Target (Sam&Libby) (similar ones found here).
…
Look #3: The jumpsuit.
You can wear a jumpsuit through any season.  (A shorter style would be more late summer appropriate)  And I love a classic black jumpsuit for a dressy evening look, but this one is perfect for Spring or Fall, for either day or night.  I styled this one to go in either direction with a sophisticated boho feel to it all.  And you can add a cropped blazer if the evening is a cool one.
Long statement necklace, camel belt (crucial for cinching in the waist on anything monotoned), double brown leather cuffs, a suede fringe clutch, oversized tortoise shell sunnies and some leather, open-toe wedges.  Hair down and free 😉
Jumpsuit:  Forever 21.
(IT HAS POCKETS!! swoon.)
Accessories:
Necklace- Charming Charlie (item not found online.  Don't know them?  KNOW THEM.)
Leather cuffs- both gifts.
Leather belt- another gift.
Oversized, rectangular, tortoise shell sunglasses: Target (similar ones found here).
Suede, fringe bag: Chico's.
Shoes: Marshalls (similar ones by another retailer found here)
…
Look #4: Chambray, Sundress 'n Sneaks.
Take that summer dress you can't really wear on it's own yet, top it with that Chambray button-down you wore all Fall and Winter, pair it with some sneakers, some colorful accessories and a pony.  Done.  Daytime Spring fun.
Button-down: Forever 21 (similar one found here)
Coral eyelet sundress: Target (similar one by another retailer found here)
Navy and white canvas sneakers: Target.
(Look, ma!  I'm wearing flats!)
Accessories:
Turquoise collar necklace: Forever 21 (similar one found here).
Turquoise ball studs: FiFi's Fine Boutique (specific item not found)
Tortoise shell round sunglasses:  Forever 21.
Yellow clutch: Charming Charlie (similar one found here).
That's it.  All I did was take a bunch of past and future season items from my closet and mix 'em up.  Now it's your turn.  Go!