It's no secret I make a lot of egg things.  (Proper name: Egg Thing)  On any regular day, for my second breakfast after the gym, I will just make a 2 egg + extra egg white omelette topped with avocado.  But when I have good leftovers (and especially on the weekends when I have more time), I will mix whatever it is I have with en egg or two.  It's incredibly fun to see what kinds of different meals you can come up with just by adding an egg.
I've combined leftover French Toast and Roasted Veggies with eggs…
I've combined the fixings from a Brazilian Steak Night (plantains, black beans, pico, etc.) with eggs…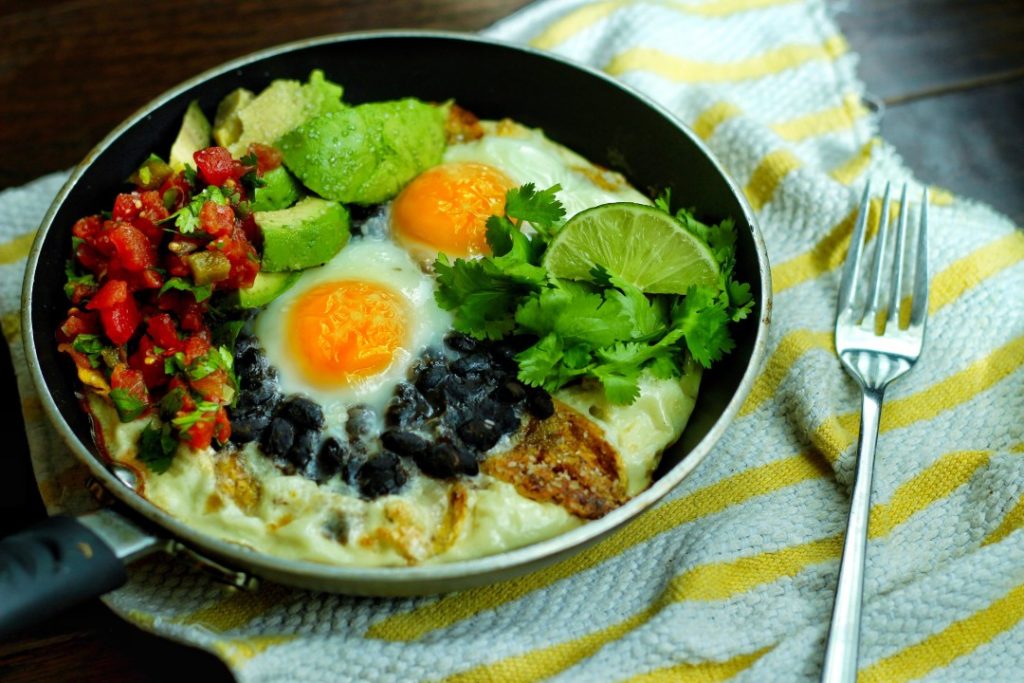 I've even taken leftover Meatloaf and Mashed Potatoes and changed it up with an egg…
…and so much more.
But perhaps one of the greatest eggy combinations that exists would be the classic Steak and Eggs.  My husband and I make a lot of Steak and Eggs for dinner, and it's usually with a side of asparagus and sprinkled with tarragon and a squeeze of lemon.  It's such a simple meal to prepare, takes no time at all.  And it's an incredible flavor combination…the flavors of the tarragon, lemon and egg reminding you a little of Eggs Benedict.
And this weekend's Egg Thing was simply damn delicious.
SKIRT STEAK W/ PURPLE SWEET POTATOES,
ROASTED ASPARAGUS AND A FRIED EGG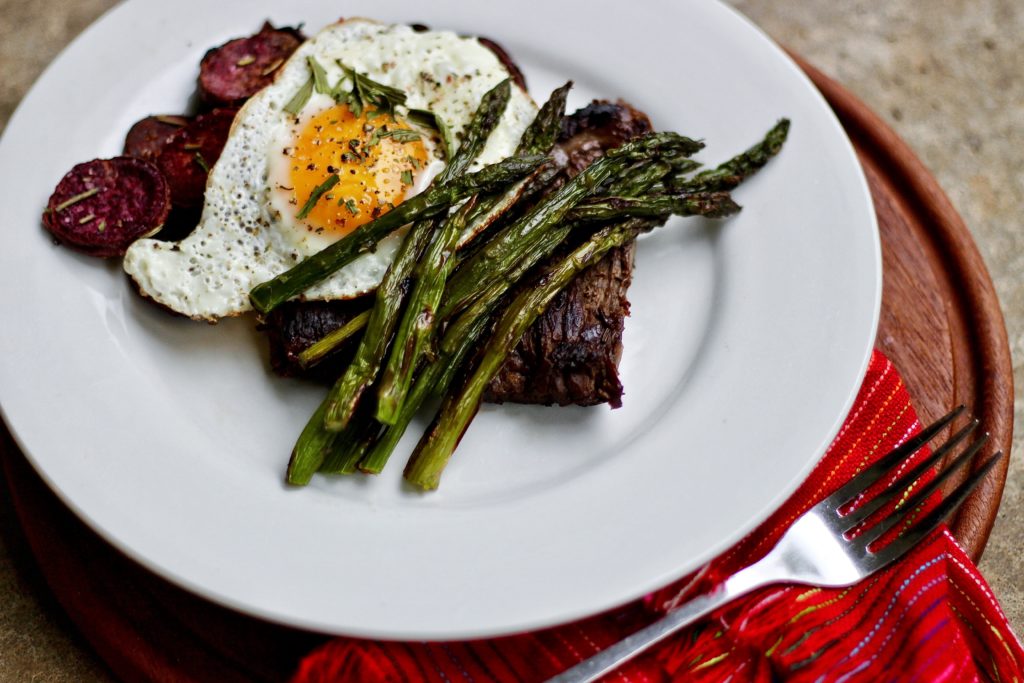 (No recipe… just an idea for you!)
I had leftover skirt steak from a couple nights back, along with leftover roasted asparagus and some roasted purple sweet potatoes with rosemary from another meal.  And all I did was reheat the steak, asparagus and potatoes in one skillet while I fried up an egg in another.
(Tip- to get the perfect over-easy/medium egg, once the whites have begun to set, cover the pan with another pan to create steam inside and allow the top of the yolk to cook more evenly.)
Then I topped it all with some of summer's dried tarragon and a squeeze of lemon.
And less than 5 minutes later, I had my second breakfast.
Enjoy your Sunday, y'all!  Eat well 😉