Exactly six years ago my husband and I packed up all our belongings into my Honda Passport, the cat in my lap, dog in his, and headed back east to North Carolina, the place we used to call home.  We left because we wanted to start a family and the 2 year long Los Angeles 'vacation' had grown stale.  The 'Disney' had worn off of our playing house there and we were in need of normalcy.  Normal is something that doesn't often exist in Los Angeles…the place where dreams come true.  Or is that Disney?  Either way, both places are kinda the same.  Only in LA, the people in the furry costumes aren't always getting paid to be in them.  It's just a fashion choice.  We loved living out there…until we didn't.  We wanted to have a house with a yard and children, and we didn't want to do that around Hollywood.
So flash forward six years and we now have a beautiful home, with a yard and two amazing children, that we left behind last week in order to go visit that place we once called home.  It took me a long time to pack for this trip.  Mainly because I couldn't find the time to do it, but also because I wanted to bring so many things.  I knew I would be shopping in LA so I wanted to save room in my suitcase for the new items, but I also wanted to look my best when I got there.  I had more outfits planned than days to wear them.
Six years ago I didn't know who I was.  I was a young, chubby girl still suffering from an eating disorder and self esteem issues, desperately wanting the approval of casting directors and agents.  And now, at 31 years of age, I finally know who I am and am Super comfortable in my own skin for the first time.  I wanted LA to see that.
After I finally found the time to put my clothes in my suitcase, it looked like this…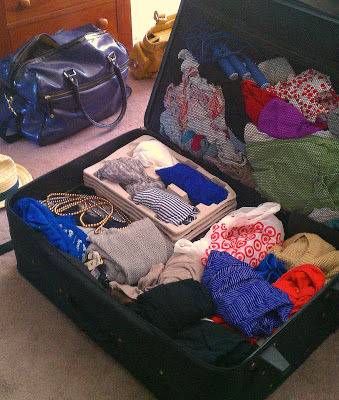 Not a whole lot of extra room in there.  And then I went through it all, day by day, piece by piece, spending about an hour stripping it down to only the necessities.  After all, I did want to make room for all the retail therapy I would be doing there- both wine and clothes shopping.  And this is what I came up with…
One shirt.  One sad, yellow, gauzy tank that I felt wasn't worthy.  That's it.  Everything else simply had to go.  Then I felt sorry for the yellow tank and added him back in.  When we went to the airport to check our luggage the next day, my husband's bag weighed 23 lbs and mine weighed 45.  It's like my suitcase ate his suitcase.  Now, had I known then what I know now about airline weight limits and luggage, I would have packed differently.  I mean, my platform pumps alone must weigh 7 lbs a pump.  (For those of you who don't know, the weight limit for checked baggage is 50 lbs.  And I was planning on buying multiple bottles of wine, plus clothes…you do the math.)
This would be the first time I had been on an airplane since I was pregnant with my son, so I was a little out of the loop. We made it through security with amazing timing and got to our seats with just enough time to snap a photo to send to our 4 year old son before take-off.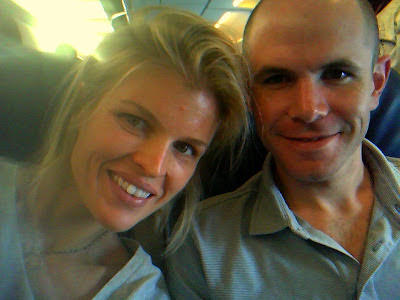 Our little guy was Super excited that mommy and daddy got to fly on a real airplane!
And as the airplane headed down the runway, I began to freak out a little.  I kinda had myself a mini nervous breakdown.  Something about being on a plane, now a mother of two children whom I just kissed goodbye for the very first time, turned me into a crazy person.  Tears began to well up and I clenched the armrests so tightly that blue veins were popping out of my hands.  I was shaking my head and refusing to listen to my husband trying to reason with me, like Shelby in Steel Magnolias when she has the diabetic meltdown.  I am not a religious person, but the St. Christopher that hung around my small, terrified neck became my soul companion.  I held it tightly, as if that tiny, metal circle could save my life.  Once we got into the air, I calmed down and remained cool for the rest of the flight.  It's weird what changes once you become a mom.
I also may have quickly calmed down because the man sitting next to me just kept staring at me and pulled my focus a bit.  Like, he was just staring.  And he showed no signs of stopping.  About 2 hours into the trip, after I had become a little squirmy about it, I reached down to pull out another magazine I had brought for the flight.  I had just put the one I finished into the seat pocket in front of me to save for the flight attendant.  As I sat back to open my new one, I looked down to find this strange man's hand reaching in between my legs, slowly grazing my knee, and into the pocket of the seat in front of me to the magazine I had just placed inside.  He was Japanese and didn't speak any English so he just took it, looked at me, like 'I'm gonna take this now' and began to read my 'Good Housekeeping'.  IN ENGLISH!!  My husband and I were trying so hard not to laugh that we had snot coming out of our noses.  From then on, I was scared to take anything else out of my bag in fear that he would take it.  I had this vision of me putting on lipgloss and he snatching it before I could put the lid on.  My gum?  He would just pull it out of my mouth and chew it.
Once we touched down in LA, we were Super excited to have gained 3 hours in our day.   So we now had plenty of time to go pick up our rental car, find our old favorite sushi bar, 'check-in' to my brother-in-law's apartment that was to be our home for the first half of our trip, go for a long run, and enjoy the day a bit.  The car, a shiny silver convertible, was a lot of fun…
…except for the ant infestation.  We ended up buying traps and they eventually began to work, but I felt bad for the valets every time they got in the car and would see bug bait and empty prescription bottles on the floor (totally legit, harmless meds, no worries…we'll get to those later).
The salmon sashimi and uni were like cold butter, melting in my mouth, and my Other Brother's apartment in Los Feliz was interesting, adorable,…and so very him.  Here's the note we found on his couch once we managed to open the door:
'Welcome!  Hope you had a great flight & got in the front door.  Please enjoy the apartment, various pics of me in period garb, and all the food – eat!  The new sheets are already on the bed w/ towels.  The neighbor in the back is named Richard – he's nice but occasionally has a drunk Drabbey girlfriend who hangs out in the driveway – NO joke.  If it's a problem, call Melinda or just enjoy her.  She always asks where Jennifer is.  Have fun!  There's also a neighborhood minstrel who plays the lute throughout the day.  Free music!  You can use my stove, although I have no idea how it works.  And I apologize for my nasty costume room.  I'm 35.  What else… here are some good places in the hood.  Call me if you need anything! X'
And then he drew us a map of his neighborhood.  He's amazing and I love him dearly.  Sadly, we never met Richard, Jennifer, or the minstrel, but fell in love with his neighborhood.  His apartment, like every other one in LA, has no A/C…and it was Super hot while we were there.  So it definitely wasn't awesome getting out of the shower, putting on make-up and a slinky dress while sweating, but it's just how it is there.  Every morning we walked to breakfast one block away and saw banana trees, pomegranate trees, tangerine trees, avocado trees, lime trees, and the most beautiful fig tree I have ever seen.  All in people's front yards.
Look at this Super sized fig!
That's what I love about LA, the beautiful fruit trees on every corner.  When we lived out there, we tried to grow avocados and limes on our patio and it didn't turn out so well, but everyone else seems to know how to do it very, very well.  It was incredibly tempting to reach out and grab a pomegranate but I resisted…cupping this fig was as close as I got.  Another thing I love about LA is that you don't have to go to an all-star, expensive restaurant to get amazing food and beverages.  Our breakfast spot, 'Home', around the corner of the apartment, was the equivalent of a simple breakfast diner we have here in NC, only you could get a damn good cappuccino,
and the basic breakfast looks like this:
at no additional charge, mind you.  I was a happy girl.
The previous night, our first night of the vacation, we went to Michael Voltaggio's restaurant, Ink, on Melrose.  It was inventive, unique and incredible, much like Chef Voltaggio himself.  I met him and what impressed me most about him is that he was actually there.  On the line, on a Friday night.  A top chef does not need to be actually working if he doesn't want to.  He can simply sign and receive the checks.  But he was working and it was very cool to see that.  We ate (among other things) house-cured, Berkshire ham with manchego biscuits and marcona almond butter, brussels sprouts with ribbons of crispy pig ear, the most delicious pork belly I have ever tasted, and egg yolk gnocchi that was simply egg yolks seasoned with salt and pepper and cooked in such a delicate way that when you bit into each little dumpling, the center revealed a soft cooked yolk that coated your mouth in a sexy, velvet cloak. We left 'Ink' that evening with bellies full and continued on to meet one of my best friends who is now the GM at Rick Bayless' Red O, which was just down the street.  There, we sampled some lovely ceviche and sipped on a Cucumber-Honey Dew Margarita and this Super spicy-sweet, chili-powder rimmed margarita that was just so damn cool.
On the first morning of our stay, after the Home breakfast and cappuccinos, we went for a hike in Runyon Canyon, something we used to do a lot when we lived there.  It's about a 3 mile hike, filled with bumpy, rocky steps and such high altitudes that even if I wasn't on antibiotics and steroids, I would have still felt a bit dizzy.  The hike up the mountain is so steep that you sometimes need to use your hands to grasp onto a dusty stone to keep your balance and the walk down is more like a clumsy trip.  We had gotten shots of wheat grass after our breakfast and before the hike, and I don't know if you know anything about wheat grass but, apparently if you take it after eating it can cause nausea, dizziness and vertigo.  All three of those were also symptoms of the medicine I was taking because of the bad sinus infection I left home with.  So I felt downright awful on that hike.  And awful, dizzy and nauseous are not things you want to feel when you're at 1,300 feet, overlooking all of Los Angeles with no fence.  But the scenery was beautiful, we made it to the top without turning back because I am one stubborn lady,
and with the help from some Gatorade and a reclined and windy nap in the convertible, I was able to feel a little more like myself before Prosecco and pizza at Mozza and power shopping at the Grove.  Later that evening we went to my old workplace, A.O.C. and sat at the wine bar that was once my school.  This place and the Superwomen who run it are the cause for my passion in everything food and wine.  Suzanne Goin and Caroline Styne taught me so much and going back there was such a treat.  Another best friend of mine still works there and treated us so well.  Both of us couldn't believe that so many years had passed since we both shared that bar.  If you ever go, you must sit at the wine bar and ask for my friend, Elisa.  Tell her I sent you with love.  And you must have a cheese plate.  Have her pick the cheeses for you and simply sit and sip and nibble for as long your heart desires.
After our dinner we went to a wine store and I bought 3 bottles of bubbly to bring home.  There are certain bottles of wine that aren't available to me here in NC so I needed to stock up a bit…within reason, of course.  And the people of LA love their wine…there are even Wine Hotels where you can 'check in' your wine to sleep at the perfect temperature while you're away.  (I totally want to stay at the Wine Hotel.)  The next morning we walked to 'Home' again for another lovely breakfast, did some more shopping (part of it at a used book store with (no joke) books stacked from floor to ceiling and in a maze throughout the store so that you could not actually walk, but rather hurdle, over piles of back issues of Maxim magazine and multiple copies of Rachael Ray cookbooks, owned by a very large, sweaty man who had arguments with himself as he 'organized' his store), picked up my Other Brother from the airport, and headed downtown for the next chapter of our trip.  My husband was to begin his work conference that evening and we were checking into the J.W. Marriot for the next two nights.  When I say this place was nice, I am completely under-selling it.  This place was incredibly nice.  Super nice.  Fancy.  Snazzy, if you will.  The elevators had a voice.  The showers and closets in the rooms had sliding doors with automatic lights, the lady on the room service line knew who I was before I even told her…not just that it was one of us, but that it was specifically ME, the gym handed out complimentary headphones, fresh fruit and instead of a water cooler, there was an electrolyte water cooler.  An espresso bar was in the lobby, along with so many bars and restaurants I thought I was in a rich people food court.  Crazy, I tell you.  And the craziest part of it all was that the Primetime Emmy's were held next door.  Like, 'hey look out the window!  There's Ryan Seacrest' next door.
Taken while I was sunbathing by the pool.
Our hotel was Emmy homebase.  So while my husband was in his meetings Sunday evening, I sat down in the lobby bar, sipped champagne and watched people come and go.  So…I kinda got front row seats to the freakin' Emmy Red Carpet.  Now, I've met a lot of 'famous' people in my life, it kinda goes with being an actor and living out in L.A., but there's something different about seeing them all dolled up for something that I have watched all my life.  Sorta freaky actually.  For instance, Mario Lopez looks like the wax figure of himself.  He's so shiny.  Tuxes and sequined gowns filled the hotel halls and lobby like it was prom, we were in elevators with actors, producers and writers all evening. Insane-ness.  And, turns out my Other Brother happened to know our concierge (he knows everyone, he's kinda like the unofficial mayor of Los Angeles) so when my husband and I headed up to our room after a Super long evening of champagne and glamour, we found this by our bedside.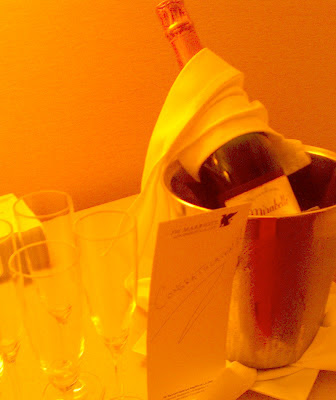 It says 'Congratulations!' as in 'Congratulations on your Emmy!'  That poor bell hop thought he was in someone special's room.
So that definitely added a certain level of fun to the trip.
The next day was a day I had all to myself.  My husband was tied up with work from sun up to sun down.  I slept in, ordered room service (from the peeping tom-room service lady), had another electrolyte-filled sweat in the gym, took my sweet time showering and getting ready, and took the convertible back into town to the eight story mall that is the Beverly Center.  It was my first time driving in LA since I lived there and it took me some getting used to…red lights are merely a suggestion out there and speeding is totally OK.  The LAPD have bigger fish to fry than pulling me over.  I didn't even care that it took me 30 minutes to get there and another 30 to get back.  I just enjoyed being in a car by myself.  I sang at the top of my lungs, top down, along to my satellite radio the whole way.  I did that thing you do when you pretend you're Britney Spears in a video, driving and singing and looking fabulous at the same time.  Don't act like you've never done it.  I shopped, slowly, for me and my husband, got some things for the kids, it was great.  And for the first time since before I was pregnant with my first child, I bought a bra.  Three, to be exact.  Now, think about that for a second, ladies.  I nursed both my kids for a year +, so…I wasn't fitting into ANYthing bra-like I had anymore.  It was Super sad.  What's also sad is the size I am now.  Seriously, training bras are bigger.  But I finally feel like a lady.  (As much as possible, I suppose.)
As I was leaving the mall, heading to my car, I had a quick chat with my new pal, Steven Tyler.  You may have heard of him.  No?  He's in this band called Aerosmith.  They're kinda a big deal… I have always had this crazy, cosmic connection to him and I could never explain it.  It's like he was my father in another life.  Seriously.  I've had dreams about it, so, um, you know it's true.  And to finally get to meet him and talk to him was like I've known him for years.  He is Super amazing, kind, generous, sweet, loving, and all of those things all over again.  We just had a conversation and then went about our separate ways.  Insane-ness.
That evening I joined my Other Brother for dinner in his neighborhood.  And I left my hotel room wearing something new from head to toe.  Every single thing I had on I had purchased within the last couple of days…that hasn't happened since I don't know when.  We went to dinner at one of his favorite places, Litte Dom's, and I wasn't really expecting much out of it, to tell you the truth.   I just figured we would have a fine meal, but more importantly, I would just get to spend some time with him.  But, this was honestly the best meal I had during my trip.  Seriously.  No famous chef, no trends, just honest, good food.  It was the kind of meal that you ate slowly and thoughtfully, all the while thinking, I don't want this to end.  I want to eat this again!  They handmade their pastas, sauces, fresh squeezed their juices, their wine list was impeccable.  I had the burrata salad with haricot vert, parsley and hazelnuts and the fresh corn ravioli with basil.  I sipped on one of my west coast favorites- the Topanga Syrah.  And we drank these crazy bell pepper and fresh peach cocktails the bartender just happened to make up on the fly.  It was such a cool place.  We sat up at the bar, the place was packed and it was so wonderful.  I will always remember it.
We checked out of our hotel bright and early the next morning.  I finally managed to squeeze all my stuff into my suitcase, but only after I sat on it, bounced on it, took a hanger to it and then asked my strong husband for his help.
It all got in there, and cost us an extra ninety bucks to get it home.  Remember that airline weight limit?  Well, this time I think I was about 20+ lbs over.  I had 4 bottles of wine and a TON of clothes and jewelry.  (you do the math…)  I had no idea that even was a thing, the weight limit on suitcases.  But I do now.  My husband was not too happy with me.  But I kinda think I got off the hook a bit because he was just so ready to get on the plane.
And the plane ride was fine, no freakouts this time, no crazy, Japanese man stealing my stuff, only an even crazier American woman in a cape, talking to herself and writing notes on how to find a man.  She sat next to my husband.  So I got crazy there, he got crazy back.
We were happy to be going back home.  It was time.  We were in need of some old fashioned normal again.  I was ready to be back where I was doing things for others again, where I could cook again, where a poo-poo on the potty deserves an award ceremony.  The 'Disney', once again, had begun to fade.  We had a Super amazing trip, I loved every minute of it, but it was a great place to go, knowing I had a home to go home to.  I will probably visit LA again, I don't have a need to do it any time soon, but it will probably happen.  And by that time, I'm sure I'll be ready for it.  But now I am happy where I am.  I got everything I wanted out of this trip.  Some time away from the kids and from my job, some time alone with my husband, some time with friends I hadn't seen in years, some time to relax, shop, and do things for myself I never get to do anymore.
Six years ago I was desperately trying to fit into something.  To a certain size, a certain style, a certain personality type.  What do you want me to be?  I'll be whatever you need me to be!  I spent so much time and energy trying to be someone that I wasn't, that I never figured out who I really am.  But what's funny is that it took me becoming a mom, having the floor drop out from underneath me, never having time to treat myself to all those things I convinced myself I deserved so many years ago, like expensive meals and fancy bottles of wine and shopping sprees and big vacations, to finally discover what's inside.  I didn't even know if I liked who I was back then.  But now, after raising two wonderful children and giving myself to them every single minute of every single day, I finally know.  I'm SuperCalifragilisticexpialidocious-ly awesome, thank you very much.
*Goat Cheese Stuffed Figs with Honey and Thyme
This is my favorite thing to do with fresh figs besides eating them.  I don't have a picture of these, but now I wish I had stolen that fig from that tree and made these in LA.  They're amazing little party bites that are Super easy to make.
-Take a fresh fig and snip off the tip of the stem if it's still attached.
-Cut down halfway through the fig at the top with a criss cross, making an X.
-Press gently at the fat bottom of the fig and open it up a bit.
-Stuff the insides of the exposed fig with enough goat cheese to fill the cavity and come out of the top a bit.
-Top the goat cheese with a good drizzle of honey and a few fresh thyme leaves.
-Repeat.  A lot.