We make these at home a lot and everyone loves them. Taco Salads used to be my favorite thing to order at (ahem) Taco Bell and now that I know a thing or two about food, I know that just because you call something a 'salad' doesn't mean it's healthy. But when you make them at home like I'm about to show you, and use lean and fresh ingredients, they will actually be healthy!
Use whatever you like in yours, our fillings are always different, but I like to definitely have a salad-like part to these so, depending on what I have on hand, that could mean shredded or torn lettuce or thinly sliced cabbage. And I always toss it with a light dressing of some sort because nobody likes to get to the bottom of a big, exciting salad and find dry lettuce. Boo.
All you do to make these is take a burrito sized tortilla (the really big ones) and mold it over any oven-safe crock on a cookie sheet that you've sprayed with cooking spray. The size of your crock is up to you. I use the ones I make my French Onion Soup in, which are round and roughly 4 inches in diameter.
But use whatever you have, as long as the tortilla can easily drape over it to resemble an inverted bowl. Sometimes using a bit of water on the tortilla will make it easier to mold. And don't worry if the tortilla is a bit stubborn and stiff, once it begins to bake, it will get heavier and become more bowl-like. Then once you have it shaped onto the crock, spray the outside of the tortilla with more cooking spray.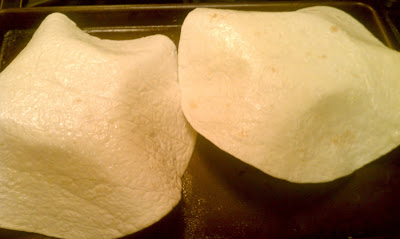 Bake on the cookie sheet in a preheated 375 degree oven until golden brown and crispy..could be 10 minutes, could be 20… So check often.
Then, allow to cool a bit on the crock before inverting and filling with your favorite taco salad fillings!
(note-when we make these at home, I use the smaller sized tortillas for my kid's salads. I shape them over my small ramekins that are usually meant for creme brulees and such and it's a perfect fit.)
Homemade fast-food is super fun!