My husband is out of town on business, which means I get special kid time and kids get to feel like they're on vacation.
I picked them up from school after my day in the city…
…and we went straight to my childhood ice cream spot.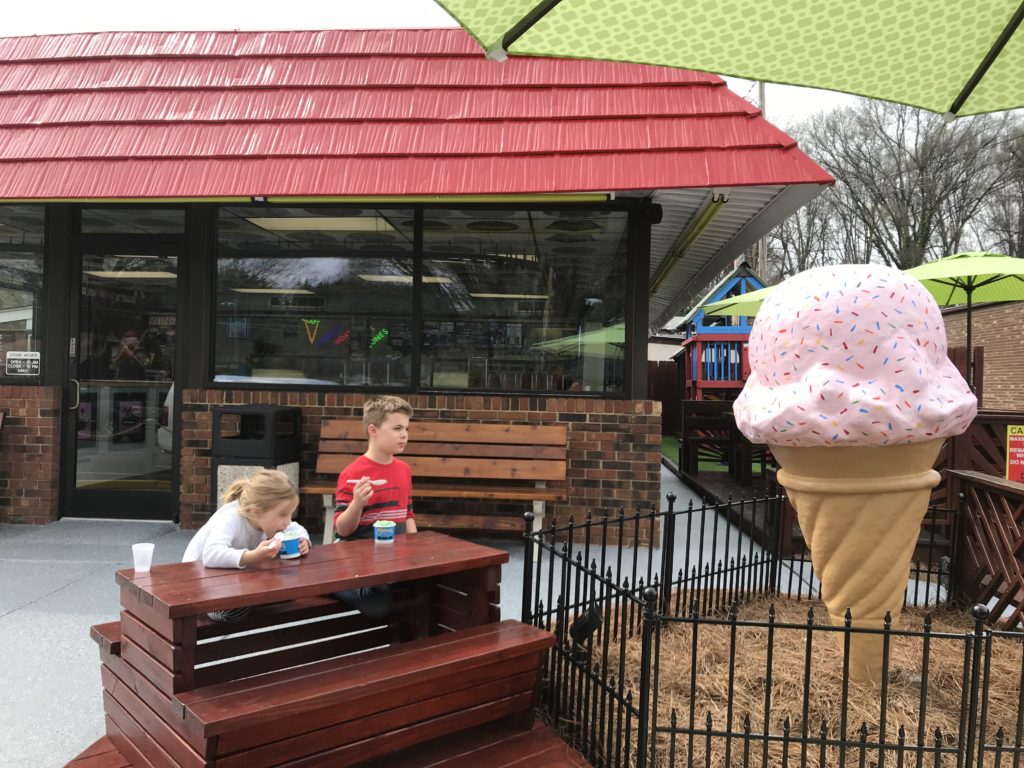 Carolina Cones.
Ahhh… It's been right down the road from the house I grew up in for as long as I can remember.  And every time I take my babies there, I can't stop smiling.  It's changed a bit… you can't also rent VHS tapes there anymore… but it's still got its charm.
My daughter ordered her first ever ice cream that was not 'smooth chocolate'.  Guys. This is a big deal.  She does not do chunks.  And she was very happy with her 'birthday cake' flavor.
She fell off the seesaw 5 minutes later and got the wind knocked out of her and added a few scrapes to her body…
But that's not the most important part of this post.
(She was fine 2 minutes later after she got to pick where our 'special dinner' would be and back playing on the playground, so no worries 🙂 )
I started this tradition of 'staycationing when daddy is away' a few years ago and it really makes their time a lot better.  And mine too 😉
He was out to dinner tonight before all his meetings begin tomorrow, texting me his cocktail and dinner details as they came in.
Meanwhile, I just got back from Wendy's – with damp hair and elastic pants, wiping mustard from my face.
But that's not the most important part of this post.
He had told me earlier his cocktail was… and I quote:
'Tequila. Strawberry. Campari. Lime. Mezcal.'
A little time passed… and then damnit. I wanted a cocktail too.
I asked him:
'What kind of cocktail should I make?'
Immediately, his response:
'Tequila. Strawberry. Campari. Lime. Mezcal?'
So, I just sort of put together what we had in the house that made sense to me.
I don't love mezcal.  I don't even like it really.  I wish I did, because it's super cool and stuff but.  eh.  I'm ok with it in particular recipes when you can properly balance out the smokiness, and make it make sense in my mouth… but smoky things in general are just not my bag.
So I came up with a really delicious cocktail, based on what my husband was sipping on so many miles away, that I'm more than happy to share with you all!
It's muddled strawberries and fresh mint mixed with tequila, campari, sweet vermouth and lime juice.  It's a pretty fruit forward drink, without the cloying sweetness I can't tolerate in 'sweet cocktails', with a bright tartness and delightful bitterness from the campari… and then it's all rounded out by the sweet vermouth.
It's really, really good.
Lots of cool stuff going on.  Very happy with it.
But look. If you're gonna come at me about how strawberries aren't in season yet… save your energy.  I know they aren't, I'm aware how seasons operate.  But I still have some.  Because I want to.
And also don't mess with me this week.
Tequila Red
In a shaker, muddle the following…
4 large strawberries, stems and leaves removed and sliced
handful fresh mint leaves, torn
Muddle until you have a minty strawberry sauce… you can go as chunky or fine as you like here.  It's really a matter of texture preference (we know what my daughter would choose 😉 )
Add to it…
2 oz. tequila (I prefer blanco with this, but use what you have!)
2 oz campari
1 oz sweet vermouth 
the juice of 1 large lime
Add some ice and shake, shake, shake for a few seconds.
Pour into a rocks glass, or something similar.
You can drink it over ice, or without.  I tested it both ways and preferred navigating the mint and strawberry pieces without the ice 😉
…
It should be noted that somehow I broke our citrus juicer with the regular force one would apply to such an instrument.
Then, in trying to still make it do the thing it is supposed to do, I cut myself… but didn't realize it until I was taking photos in a mad rush because I was losing light and noticed my finger had a new pulse…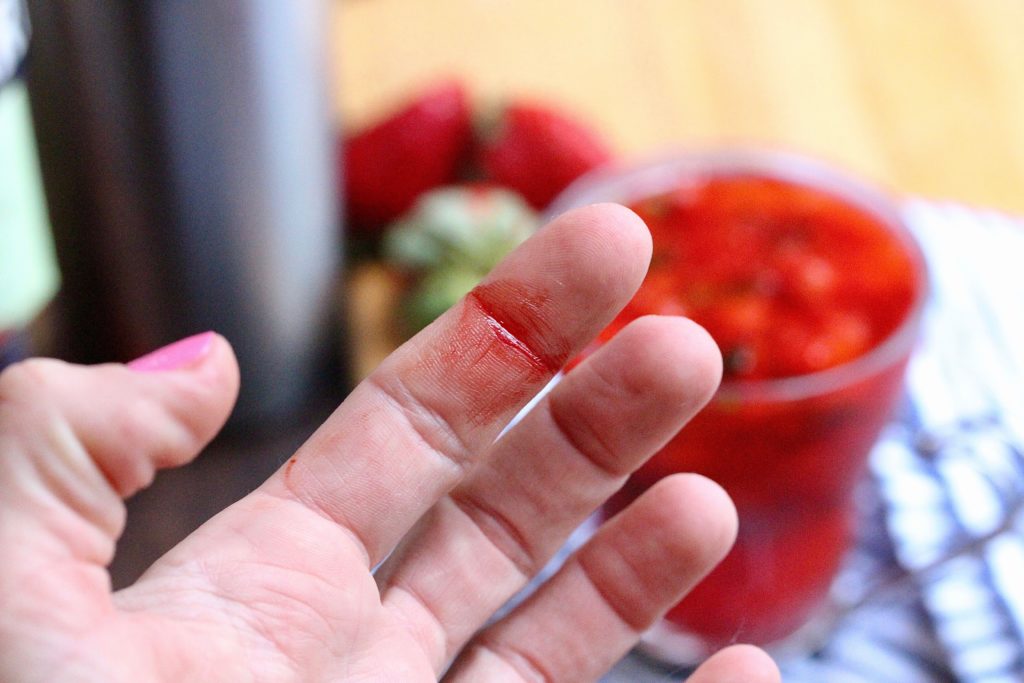 the cocktail helped.
As did my daughter, who bandaged me up perfectly before I tucked her and big brother into bed
right. on. time.
mommy win.
…
Hope y'all are well!! It's been one crazy week so far after a bazillion others that came before.  But I am good and grateful and thankful for so many things.
love y'all. x