Hey ya'll!  Since it's that time of year when you're either baking things to give as gifts or paying someone else to bake things to give as gifts, I thought I'd share with you the items that I sell and how I wrap 'em.  Many of you know I share my goodies but maybe there are some of you who don't.  Maybe this post will give you some ideas on how to wrap your homemade goodies this year, or simply show you how nice and purty something of mine is when it shows up on your doorstep!  My order page is being worked on, but if you're in my local area and would like to order any of the goodies you see below (or any others… I do take requests) then shoot me an email at info.everydaychampagne@gmail.com and I'll give you any information you need.
*Avocookies and Cheese Shortbread
'Brown paper packages tied up with strings, these are a few of my favorite things.'
My avocookies are deceivingly heart healthy.  They are made with avocado in place of some of the butter and I use whole wheat flour.  And the shortbread disks are little sweet and savory, cheesy 'cookies'…kinda like cheese straws.  They're great for cocktail parties.  Everyone loves these, trust me!  When ordered at this time of the year, these goodies are tightly sealed inside the package along with a business card with the name of the baked good written on the back.  The package is actually a brown paper lunch bag, folded over and around itself, with the opening of the bag on the bottom.  I take some kitchen twine and wrap it like a present and thread the kitchen twine through a simple note with a hole punched in the corner.  I like to put a sprig of fresh rosemary (from my garden) underneath the twine or some Christmas tree cuttings (which you can kinda find for free anywhere this time of year!).  It always puts a smile on someone's face.
Avocookie Flavor Options:
-Chocolate Chip
-Dark Chocolate Crystallized Ginger Oatmeal 
-Oatmeal Raisin Cranberry
Cheese Shortbread Flavor Options:
-Cheddar Chive
-Rosemary Romano
*Scones
My scones are probably my most requested item.  I make a ton of different varieties but the ones pictured above are my Coconut Cake Scones. When you order the scones, each are tightly wrapped and neatly stacked on top of a decorative plate before tied up in a pretty bow.  However, when I give scones as a gift, I usually only include 3 (there are 8 to a batch if you're ordering) and then I simply stack them on top of each other in a small, clear gift bag and tie with a simple bow. Not pictured is the label card that I place in the top flourish of the cellophane.  Simple and elegant.
Scone Flavor Options:
-The list with links to each variety are found on the Pumpkin Brown Sugar Scone page. But I would say the most popular flavors are the Coconut (linked to above), Carrot Cake, Rosemary Cheddar-Nut, Brown Sugar Strawberry and the Goat Cheese Pistachio Date Scone.
*Mini Savory Cheesecakes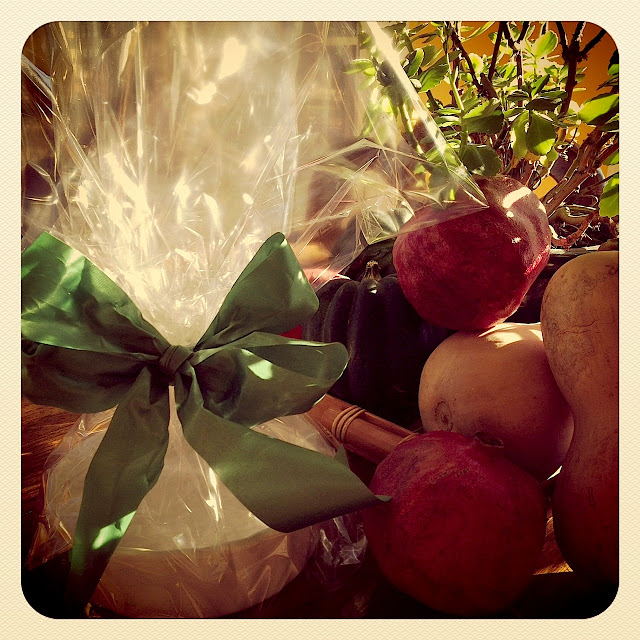 These things are always a hit at cocktail parties!  Each 6-inch savory cheesecake is placed on a plate, with or without crackers and cocktail spreader (depending on the order) and then wrapped with cellophane and tied with a bow.  And again, a label card is placed in the top of the gift.
Cheesecake Flavor Options:
-Pimento Cheesecake
-Gorgonzola Cheesecake with Balsamic Fig Compote 
-Goat and Gouda Cheesecake with Pecan-Fruit Topping
*Cupcakes
I don't generally sell my cupcakes, but sometimes the request comes along and when I do, this is how they will come to you.  It's also how I give them as gifts.  Each cupcake is placed inside of a small, clear, plastic cup and the cups are placed on a decorative plate.  Then the plate is wrapped with cellophane and tied in a pretty bow.  This ensures that no cupcake gets smushed!
The Most Popular Cupcake/Cake Flavor Options:
-Dark Chocolate-Red Wine Cupcakes with Cream Cheese-Kahlua Frosting
-White Chocolate Blueberry Cupcakes
–Pineapple Carrot Cake (made into cupcakes)
Or maybe you're interested in Meals in a Basket or Desserts in a Bag as a gift option.  Either way, I hope you got some ideas and again, if you have any questions regarding an order, email me at info.everydaychampagne@gmail.com and I'll be happy to assist you.  And remember, the order page will be finished soon!
Happy Holidays!