I love trying new things. I get bored very easily. Whether it's clothing, makeup, meals or wine- I really love change. Sometimes that change allows me to find new favorites and sometimes I'm stuck with something just plain awful. So I also really love 'coming home' to the things that never let me down.
If we're talkin' red wine- my (and my husband's) current favorite is the 2010 Invetro by Renieri:
It's a Super Tuscan, this one being a blend of Caberbet Sauvignon, Merlot and Sangiovese. It's $15 at Total Wine and we always like to have a couple bottles around when we want something we know is fantastic.
Look at him there, just waiting patiently til Friday…
This wine is beautiful. It has notes of violets, tobacco, plums and what can only be described as Tuscan dirt. I can smell it all day. And sip happily on it for hours and hours.  
Best part about this wine? Ok- not the best part. The best part is the wine, itself. But what really makes this wine extra special and cool is the glass cork: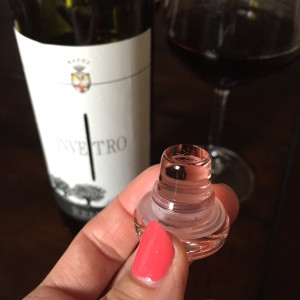 So go out and buy you some!! But please leave some for me, I'll be out after Friday.