Doesn't every father have their own little jokes that they say over and over again? They don't even have to be funny (and often they're not), but they are always said time and time again in order to get a laugh. I think even the unfunniest father has a couple recycled jokes up his sleeve. I wouldn't know anything about unfunny fathers, mine happens to be hilarious. It's not so much that he says funny things or is good at telling a joke, it's that he's just plain funny. He's a tough, strong, often scary man who cannot stop laughing when he starts. Period. And if you're on the phone with him when something sets him off, sometimes you have to put the phone down while you finish folding your laundry or baking your cake until he dies down.
When I was little my father used to have this saying, or recycled joke if you will: My brother and I would ask what's for dinner and he'd say, without fail,
'
kumquats and rutabagas
'.
I still, to this day, have no idea why he would say that. We never had kumquats or rutabagas for dinner, but it was my funny father's joke. And he would laugh at himself every single time. I've been waiting all day for him to ask me what I'm making for dinner so I can recycle at least half of his joke.

*Twice 'Baked' Rutabagas with Goat Cheese
-Peel and chunk a 1 1/2-2 lb Rutabaga…looks something like this right here:
He's an ugly fella but he
has a dark secret…inside, he's absolutely delicious. (Be careful cutting this beast; as ugly as he is, he's twice as stubborn.)
-Place chunks in a medium saucepan with a handful of salt, 1 bay leaf and 1 cinnamon stick and pour a mixture of half chicken or vegetable stock and half milk or cream to almost cover the vegetables, (half way-3/4 of the way up).
-Cover the pot and bring to a boil. Turn the heat down to low and allow the mixture to simmer, covered, until the rutabaga chunks are fork tender, 20-30 minutes.
-Remove the cinnamon stick and bay leaf. Take out and reserve a good bit of the liquid and using your potato masher, mash the rutabaga until you get a somewhat smooth mixture, a few lumps are completely acceptable…remember what we started with here! If your mixture is too thick, add some of the liquid back in.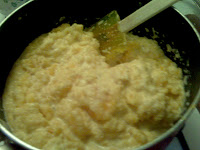 -Crumble 4 ounces of chevre goat cheese into the hot mashed rutabaga and stir to combine.
-Add the zest of half a lemon, a good pinch of white pepper and check your seasoning. You will probably need to add
more salt.
-Pour into a greased casserole dish.
-Top with a good layer of grated Asiago cheese, about 1 cup, and bake at 350* for 30-40 minutes until golden brown and bubbly.