I wanted to make her Cornbread Coffee Cake with Fresh Figs and Walnut Streusel.
It was a rainy Tuesday.  It had been a busy week, I was freshly recovering from a back injury… so I hadn't been grocery shopping quite as regularly as one would like.
…we had begun to tap into the rations.
But I wanted to make her Cornbread Coffee Cake with Fresh Figs and Walnut Streusel.
I'd been fig tree sitting that week.  My parents had been out of town, and whenever that happens we're in charge of garden picking, fig getting, and egg gathering. We have two fig trees of our own, growing from cuttings of my mama's tree.  But they're little babies, and every day in late summer we're gifted a sweet handful of figs that we eat as soon as we pluck them from the branches.
But mama's tree is cinematic.  It's craggy and large and beautiful and I just love being inside of it.
It's also fertile.
As hell.
Her tree doesn't gift you anything.  Mama's tree says,
"I find it adorable that you think you have a choice in the matter"
In one 24 hour period, you can find yourself with gallons of figs.  GALLONS. POUNDS. MULTIPLES OF TENS OF POUNDS.
It's incredible.
So on this rainy Tuesday in August, all I had were my mamas figs, a (newly discovered and resented) corn allergy, my (in dire need of restocking) pantry, the great desire to stand barefoot in my kitchen and bake as many things as I could bake, and the most beautiful cookbook I've ever laid eyes on.
Deep Run Roots: Stories and Recipes from My Corner of the South
 by Vivian Howard has been our coffee table book ever since I bought it last year.
And before I continue to rave about the book, the author, and the show that started it all, I need you to understand I am not crazy and do not have any outstanding restraining orders.
I just really emphatically adore what this woman represents. I also just never shy away from giving praise when I feel strongly about something. I'm the person who tells you that shirt makes your eyes dance when you're beside me in line for coffee. You don't know me. I don't know you.
But it's important that you know your eyes dance when you wear that shirt.
I started watching Vivian's show, A Chef's Life on PBS years ago per my mama's suggestion.  I was late into it and had to catch up, but I was hooked.  It was the kind of show I always dreamed of making, the kind of show I wanted to watch always, and I just felt so overwhelmingly proud that it was coming from my state of North Carolina.
It gave me hope.
I had been (still am) so sick and flat out bored / disappointed with the 'cooking' shows that bigger networks had been putting out, having recently been chewed and spat from the mouths of that one network on top.  (won't name names, because I'm a lady).  I felt like I had to pretend to be someone I wasn't for them. Because I didn't fit into a perfectly square box.  Because they 'couldn't figure out where to put me'.
Then this show came around, on the lovely station that is PBS and woke me up and made me stand up straighter.  It's so beautifully shot, the people you see are so real you feel like you're sitting next to them, it gives such great respect and appreciation to the town and the ground from which the ingredients grow. It is the 'front porch rocking chair, bourbon in hand, watching the sun dip down over the top of the trees' of television. It is inspiring, breathtaking, raw, real, funny.
It is all the things.
I had doggy-eared the page with Vivian's recipe for Cornbread Coffee Cake with Fresh Figs and Walnut Streusel back in January while I was in Blowing Rock, knowing I wanted to make it the next time there were figs on the tree.
Deep Run Roots
 is large, alluring, intentional, bountiful.
It's the mama's fig tree of food books.
And literally the book I brought to read in the mountains. I couldn't put it down. I was captivated.  I was reading someone's words that sounded so very much like my own.  I felt every letter, absorbed each sentence like it was my nourishment, folded down page after page with such childlike excitement.  I spent so much of that trip in the big leather chair, legs hanging out the side, and that big book in my lap with the snow whispering beside me.
And then it became August – hot and sticky, rain took the place of snow, and I wanted to bake.
Mama's fig tree had provided us with enough figs to freeze by the gallon, a great few to snack on, and more than enough to make the cake. I had the day off at home with the kids and hadn't had an all-day cooking moment since my personal cheffing days. I made chocolate chip cookies, two loaves of bread, this cake, and the chicken and fennel ragout for our pasta dinner.
I took my time.
Baking and cooking bring me such peace when I can carve out a day to do it.  And hot dammit I needed some peace that day.
I heard my daughter behind me when I was grinding the oats for flour.  That's always been her favorite part about making cookies with me.  She had heard that old, red coffee grinder from upstairs and came running down like it was Christmas morning.  Her eyes lit up, asked if she could help, and ran to grab her step stool.
We listened to music… danced, talked and sang our way through that rainy Tuesday.
My kitchen smelled like a hug.  Flour and oats and butter covered us both.  She sampled the brown sugar and ate half the figs.
It was a best day.
Right.  So, the corn… I am allergic to it now. It's some evil trick someone somewhere is playing on this Southern girl.  No corn on the cob in the backyard, no tortilla chip into the guacamole (now I merely spoon it into my mouth.  people stare.  it's ok), no cornbread… I've had to replace my grits with homemade 'cream of wheat', which sounds devastating and pitiful, but it actually is really good and works.
Alas, it is not grits.
Notice the name of this here cake begins with 'CORNbread'.  So I clearly knew going into it, I had to make at least one substitution.  But I don't let anything stop me from getting what I want.  You will not defeat me, corn!
So I decided, instead of using cornmeal here, that I would use semolina.  I knew the texture would be different, but I figured it was one of my best bets in my pantry.  Using a nut flour seemed too dangerous for texture and moisture reasons, so I didn't want to stray away from it being a grain of some kind. Semolina has a coarse texture similar to cornmeal, yet it softens more than cornmeal once baked.
But it was my choice.  And I am now quite happy with it.
Oh yeah… and remember my pantry wasn't as plentiful as usual, so there was that.  But, ya'll… I didn't wanna leave and go buy more things.  It was raining and I was home and comfy and barefoot with no pants on.  I'd figure it out, I figured.
Then we have the buttermilk.  Ya'll.  I always have buttermilk in my fridge, like any respectable Southern woman.  It's the only thing I use in my pancakes, which I try so very hard to make every weekend but just now realize it's been a minute (*makes mental note*). Plus biscuits, duh. But that morning I opened up my carton and gave it the sniff test.
It did not pass.
So I needed 1 1/2 cups of buttermilk and could have made my own by mixing 1 1/2 cup milk + 1 1/2 TB lemon juice or vinegar, and letting it sit for 5 minutes… OR I could have done the laziest thing.
I did that one.
I just mixed 1 cup of full fat, plain Greek yogurt with 1/2 cup milk and a couple splashes of vinegar.  No sitting and waiting.  I tasted it.  It tasted buttermilky.
Then there's the issue of nuts.  Vivian calls for walnuts.  They're in the title.  duh.  But she writes that any nut would work… and I almost always do nut swaps based on accessibility… (cashews for pine nuts in basil pesto has become an indefinite swap for me after refusing to pay pine nut prices years ago).  So I used the pecans I had in my freezer leftover from the Thanksgiving Pecan Pie.  I also didn't have any apple cider on hand, but stole some apple juice from the box my daughter was slurping.
Everything else was as Vivian intended.
Oh.  Eh.  I'm pretty sure I used so many more figs and didn't follow chopping protocol.  I can't be certain… it's all a barefoot, giggly, musical blur.
But ya'll.  This cake is one of the best things I have ever tasted.  Or seen.  Or made.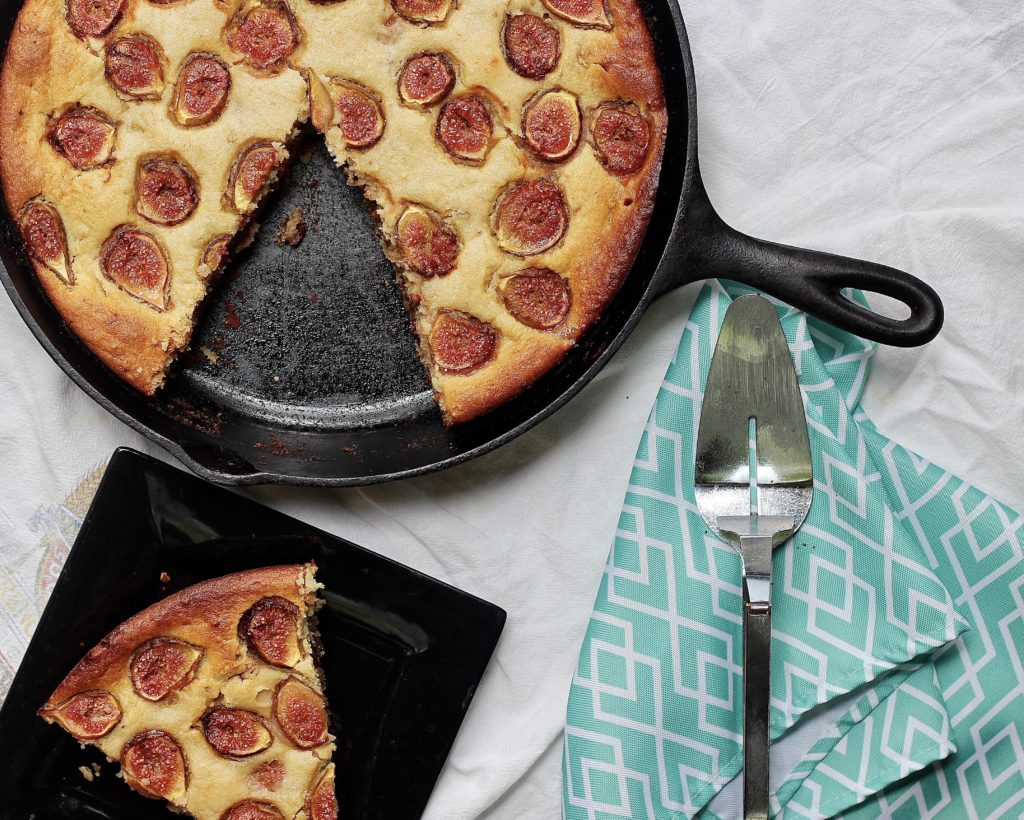 It is addictive.  And I've found myself just telling people about it.
I am this cake's agent.
The other day I even had some of it in my car, just so I would be prepared in case I saw someone who hadn't had it yet.  I've found myself weaving it into conversations.
"That's so interesting you say that, Marie.  I've never thought about pencils in that way.  But have you tried Vivian Howard's Cornbread Coffee Cake with Fresh Figs and Walnut Streusel?"
I've had it for breakfast, snack, dessert… my daughter likes to pick the figs from the top before she goes in, and my son takes down a slice in 3 bites.  They both believe it looks entirely like pepperoni pizza and giggle every time they get to use that joke.  My husband and I prefer the 'shove in mouth with hands' method.  And the dog was so mesmerized and couldn't stop staring at the final crumb that first night that we had to remove the plate from the living room in order to get her to leave us alone.
I simply cannot speak enough about it.
Vivian sells it as a 'breakfast or dessert' type of recipe… and I vehemently agree.  I don't care for very sweet things, so it really is about as sweet as I'd want a dessert to be anyway. And the streusel in the center is a revelation.  It adds such warmth and texture and playfulness.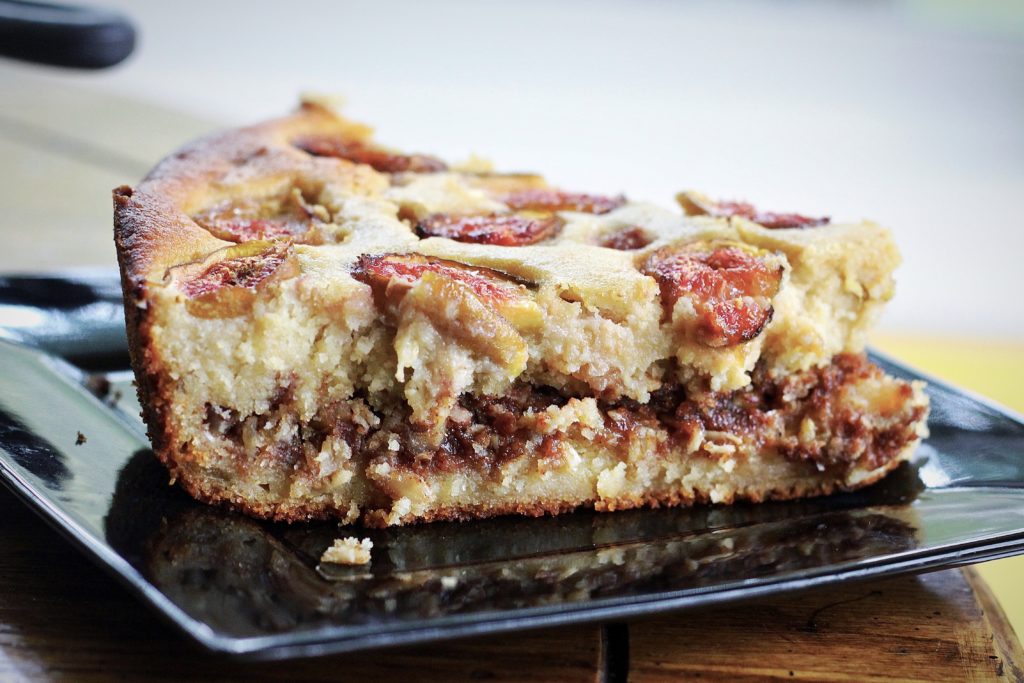 It's just so marvelous that I wanted to take 165 more pictures of it.
I now can't wait to make it again and am considering planning an event solely for such a thing.
And normally now would be the time I would share the recipe with you (by the way – when was the last time I've shared a recipe that isn't one of mine with you?  That would be a never) but… I'm not going to share with you the recipe for Vivian's cake.
Because it's not mine.
It is hers.  As far as I can see, she hasn't put it online.  Other people have.  But since I don't know her feelings on that matter, I'm refusing to copy and paste someone else's words and put my name on them.  So you go out and buy that cookbook and make it yourself.
And if you need any help in the fig department, I know a tree.
VIVIAN HOWARD'S
CORNBREAD COFFEE CAKE WITH FRESH FIGS AND WALNUT STREUSEL
(minus the cornmeal, plus the semolina, minus the walnut, plus the pecan)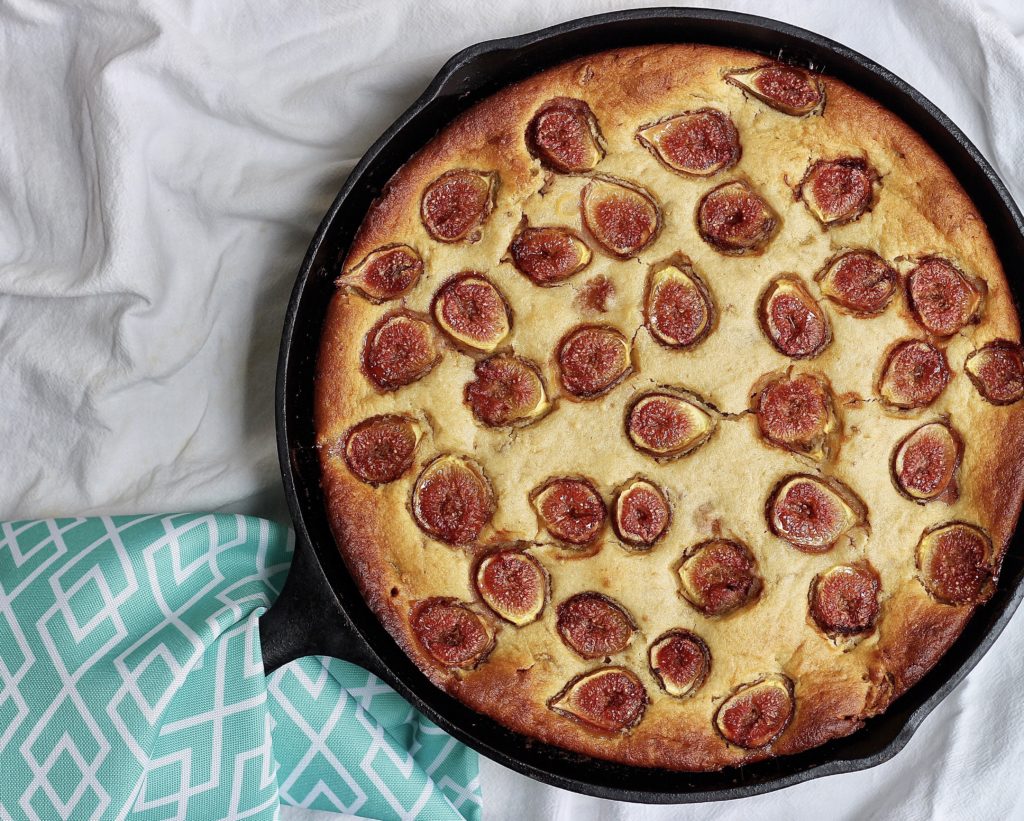 Thank you, Vivian.
I hope we can still be friends.