I have a lot of questions about a lot of things. People ask me why I have trouble sleeping. It's probably because these things are running circles in my head-
How do the birds know when to stop flying south?
Have you ever tried to take candy from a baby?
(It's, like, really hard.)
Does eating a peppermint brownie count as bushing your teeth?
Is Paul Simon saying 'Elvis is a watermelon?'
(Because that's what I'm singing.)
How does Advil know where to go once I swallow it?
What does Van Morrison look like?
When is Santa's birthday? And can we arrange for another mystical figure to deliver me presents so I can celebrate it?
I also lay awake thinking of new recipe ideas. I keep a notepad by my bedside because I'm always thinking of stuff when I'm supposed to be sleeping…and if I don't write it down immediately, I will never remember it. It's not a fool proof method, however. Sometimes I'm half asleep when I'm writing something down. And I wake up the next morning to things like 'grit gnocchi' and wonder what the hell it means.
This recipe I'm about to share actually ended up making sense when I read it.
My mom came over for a girls night last night while the boys went to the ACC Championship Football Game. I had previously made a batch of split pea soup and knew I wanted to serve quiche with it.  So my new (and legible) idea was to take one my favorite side dish recipes, Roasted Carrots with Honey, Cumin and Feta, and turn it into a quiche. (See recipe here: 
http://food52.com/recipes/9829-roasted-carrots-with-honey-cumin-and-feta
 )
The key to making this side dish and quiche extra fantastic is to use really, really good feta cheese. This is my favorite kind:
When my mom saw what we were having she got so excited- 'It's such a girl meal!!' And she's right. Something about puréed soup and savory pie that just screams girl. (No offense, boys.) And it was an awesome meal. The quiche was fantastic. The soup was lovely and the night was perfect.
My mom and I ate our girly meal in front of the TV, excited to watch something boys could never understand. We drank our Central Coast Pinot, (which paired beautifully with the meal), watched The Sound of Music, and had a good, old fashioned girly girl night. It was lovely.
And so is this recipe.
Any questions?
HONEY ROASTED CARROT QUICHE  
w/ CUMIN & FETA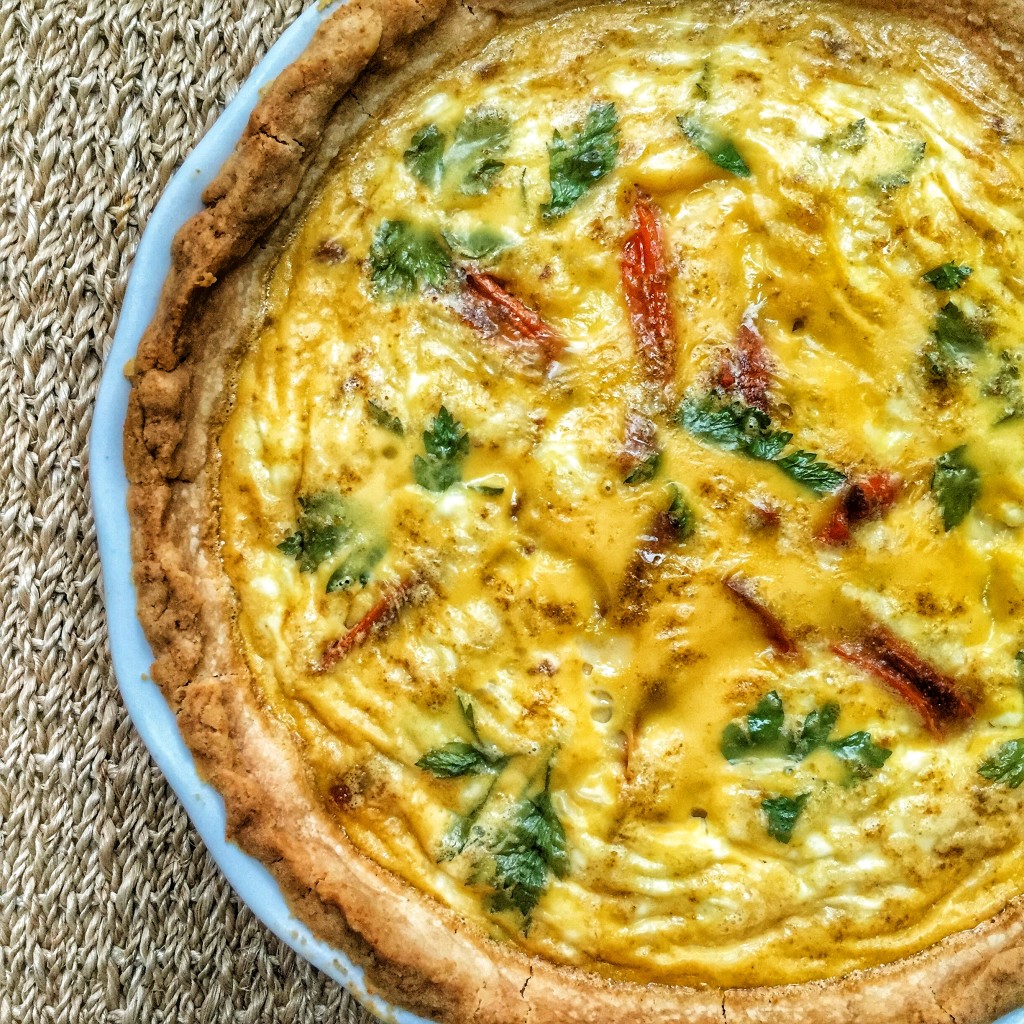 First roast your carrots, which can be done days in advance if need be…
Peel 3 large carrots and slice them lengthwise into the size of steak fries.  Toss them with some oil and season with kosher salt. Roast at 400 degrees for 12-15 minutes until golden brown and fork tender.
Transfer the hot carrots to a bowl and coat with honey, then season liberally with ground cumin. Toss well.
Allow the carrots to cool while you prepare your quiche.
Turn the oven down to 350. 
Prepare your favorite pie crust, whether it's storebought or homemade, by rolling it out and pressing it into a lightly greased pie dish. (I chose to use my new gluten free pastry recipe because my mom, who is watching her wheat intake, had never had it before-
**My best tip for rolling out pie dough is to place your ice-cold dough on top of a lightly floured piece of plastic wrap, then lightly flouring the top of the dough and placing another piece of plastic on top. You then take your rolling pin and hit the dough to flatten it a bit before rolling it out through the 2 pieces of plastic wrap. (You always roll from the center to the edges, rotating the dough around as you roll out.) Once you get your dough rolled out to your liking, peel off the top piece of plastic and flip it onto your pie plate. (Using the plastic wrap makes it easier to roll because the dough won't stick to the rolling pin and always come out smooth. And the plastic wrap helps make the transfer from counter to plate so incredibly easy.)
Press down with your hands, through the plastic, to form it to the bottom and up the sides of the dish.
Crumble about 4 ounces of really food feta onto the bottom of your prepared crust.
Arrange your cooled, roasted and seasoned carrots over the cheese, along with some fresh parsley leaves. Be artistic and fan the carrots out, or just toss 'em in… it'll taste the same in the end!
Beat 6 large eggs and mix with 1 cup of milk (anything less fatty than whole milk may produce a watery custard, and actually I really love using goat milk here!), about 2 tsp of dijon mustard and a couple pinches of kosher salt (go lighter than you normally would on the salt because the feta is highly salted.) Beat very well until the egg whites have completely broken down.
Slowly pour your custard over your arranged ingredients.
Bake in a 350 degree oven for about an hour until the center is no longer jiggly.
Cool on a rack and serve either warm or room temperature.
…
Note- Quiche can be made days in advance if need be and reheated right before you want to serve it. Another option is to prepare the quiche but not bake it until you need it. I've had good results with both methods.
And I highly highly recommend eating this quiche with the soup it all started with… Accidentally Vegan Split Pea Soup