I love anything served in an edible bowl. I've made various salads and soups in bread bowls, corn or seafood salads in avocado bowls, chicken salad in raw cantaloupe or tomato bowls, I love them all. This recipe is perfect this time of year as a hearty side dish to pork tenderloin or as a light, vegetarian dinner or lunch. It serves 2, but can easily be adjusted to serve more in the same amount of time. Just bake more than 1 squash and adjust the seasonings and 'stuffing' ingredients to accommodate the extra servings. I hope you enjoy it!
*Butter and Sage-Roasted Acorn Squash with a Brown Rice and Feta Salad

-Slice your acorn squash in half from stem to end.

-Scoop out the seeds and stringy flesh. Reserve the seeds in a separate container for later.
-In a greased, foil-lined baking sheet, place your squash halves cut-side up and place 1/2 TB of unsalted butter in each cavity.
-Add about 1 tsp of light brown sugar to each along with a good sprinkling of dried sage, some kosher salt, a little cinnamon and nutmeg.

-Remove your reserved squash seeds from the flesh and place in an even layer on another greased cookie sheet. Coat with olive oil and season with salt and sugar.
-Place both sheets in a preheated 350 oven. The seeds will be done after 20 minutes or so (they will smell toasted, that's how you know they're done.*) but the squash needs about an hour, until the flesh is fork tender.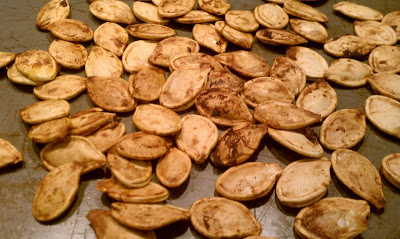 (*like nuts, you can also toast pumpkin or squash seeds in the microwave for about 7-8 minutes, stirring every few minutes or so)

-When the squash is finished cooking, there will be a pool of brown butter and juice in each cavity. Spoon out some of that liquid and pour over the outside edges of the squash flesh, as if you're basting it.
-Allow the squash to cool a bit while you make your brown rice salad.
-In a medium bowl, place 1-1/2 cups salted and cooked brown rice (whole wheat orzo is a great alternative) and sprinkle with red wine vinegar, a couple TB or so.
-Cut 4-5 ounces of good feta cheese into small cubes and add to the brown rice.
-Finely mince a small handful of fresh sage and 2 green onions, add to the rice mixture.
-Add a handful of pomegranate arils and season everything with some freshly cracked black pepper.
-Stir to fully incorporate. Check your seasoning to make sure there is enough salt. If you salted your brown rice cooking liquid you should be fine because the feta is highly salty.
-(this salad is great on it's own for a light lunch)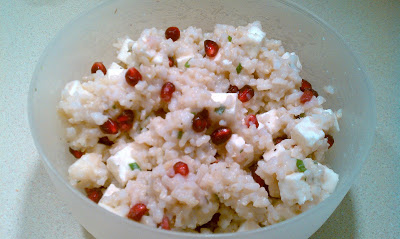 -When the squash halves have cooled enough to handle, place one on each plate and mound some salad into each half. Top with the reserved toasted squash seeds (not pictured below) and more pomegranate arils.
-Serve warm or room temperature.

I love how this looks like a heart…would be a cute thing to serve your Valentine for lunch 🙂
(The total cost of this small, yet satisfying meal for 2 was only $3 because I used these TIPS)