There are a lot of enchilada recipes out there by Americans like me who have a skewed perception of Mexican cuisine. I have actually been to Mexico and have studied the culture a bit, so I may know a smidge more than the average American, but still. I do not pretend to think that this recipe is, in any way, authentically Mexican in the slightest. It is, however, delicious. And super easy.
I cook fresh things, from scratch, 99.9% of the time but sometimes I need to cut a corner or three to pull a dinner together. Especially around the holidays when people are coming and going, I'm losing my mind, and that nights family dinner is the farthest thing from my mind. (Wait. I have to feed you people too?!).  It is for recipes like these that I silence the Chef part of my brain and turn up the volume on the stay-at-home-mama part. (Hey, at least I'm using fresh cilantro!)
I have seen a great many Americanized enchilada recipes out there that rely on mostly pantry staples and seem easy enough, yet still require you to make a roux or sauté something first. I'm sorry, but if I'm gonna make a dinner like this, an easy, throw-together meal, then I'm not dirtying up more than one cooking vessel. So I created this recipe for myself and for all the other mamas out there who need a break.  This recipe uses one bowl and one baking dish.  Oh, and a spatula.  And a can-opener.  Ugh, and a knife if you use fresh cilantro.  OK, so when I actually write out all the needed utensils, it seems like a a lot but don't be fooled.  I whipped this up very early yesterday morning when I was up before the house.  I had all the ingredients on hand, so it literally took me 8 minutes to throw together.  This is a great use up for leftover roasted chicken, or even those store-bought, rotisserie chickens that are mysteriously delicious.
Here's what I did…
*White and Greengo Enchiladas (or whatever you wanna call 'em)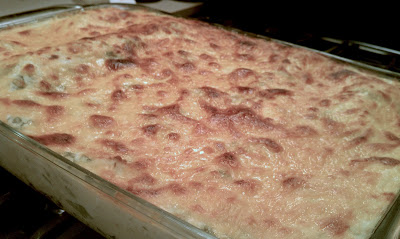 -In a mixing bowl, add 2 cups of shredded, cooked chicken*, 1 cup of grated mozzarella, monterey jack, or white cheddar cheese**, and a 14.75 ounce can of creamed corn.  Mix this well.
-Place some of the filling in the center of a large, burrito size tortilla (whole wheat, if you can find it!) and roll up. Place each rolled tortilla, cut side down, in the bottom of a GREASED 9x13in baking dish.  Repeat this until all your filling is gone. (you will most likely use 8 tortillas, but I would make sure you have 10 just in case.)
-In the same, now empty, mixing bowl add a 10 3/4 ounce can of cream of chicken soup, a 10 oz container of Original Philadelphia cooking cream***, a 4 ounce can of green chilis (do not drain), and then enough chicken stock or broth to fill up the can of cream of chicken soup.  Add to this a large handful (at least 1 cup) of fresh and roughly chopped cilantro.  Mix very well and pour over your stuffed tortillas, being sure to get it in between them and down on the bottom a bit.
-Top with 2 more cups of the shredded cheese.
-Bake in a preheated 375 degree oven for about 20 minutes, and if the top isn't brown enough yet, but the casserole is hot throughout, then place it under the broiler for a few minutes to brown.
-Allow to cool and set for about 15 minutes before serving. OR YOU WILL BURN THE HECK OUT OF YOUR MOUTH.
(This can be made ahead and kept in the fridge before baking for 2-3 days.  It also freezes well for about a month if you wrap it tightly in plastic wrap, then aluminum foil.)
(*You could use any other meat in this and it would still be great.  I've done it with leftover braised pork shoulder and it was awesome, but beef could also work.  This is just the 'white' version… And you could easily make this vegetarian by substituting 2 cans of white beans for the chicken and using cream of mushroom or cheddar soup instead of the cream of chicken and vegetable broth instead of the chicken.)
(**I'm always developing my recipes with a 4 year old's tastebuds in mind, so they are always on the milder side.  But if you want a spicier enchilada, use pepperjack cheese and/or a handful of chopped, pickled jalapenos. And, of course, if yellow cheddar is what you have-use it!)
(***This 'cooking cream' is a new product and is basically a pourable version of the classic cream cheese.  If you don't have this, soften a brick of plain cream cheese before mixing it in.  You could always use sour cream if that's all you have but the cream cheese is what helps make these enchiladas sooo yummy!)