Yes. I made my own pop-tarts.  Yes I know they exist pre-made.  But do you know me at all? This is what I DO.
I've made 'pop tarts' before but just wasn't completely satisfied with them.  They were tasty…  I mean, they were pie dough filled with fruit jam.  So… good, yes?  Sorta. But the texture wasn't awesome for a pop-tart replacement.  They were too delicate and the filling was too goopy.  So I fixed the things I didn't like and made them again! I changed the dough and added egg and milk, making it more sturdy.  And used more cornstarch in the filling to make it thicker.
And then we had ourselves a pop tart, ladies and gents.
A whole wheat, lower in sugar one at that.
I went with a cherry filling this time but swap out any berry in the filling recipe and make whatever kind you'd like!  These babies are pretty damn awesome, I'm not gonna lie.  My kids happen to know what the real pop-tarts taste like – we have them in the house sometimes and toss them to the kiddos on those particularly hectic mornings when someone has to eat something fast.  And I never feel great about it.  But there's a reason why convenient food exists.  And even the parents who prefer homemade anything over packaged fall into the traps.  It's life.
But you could have blinked and missed my son gobble down the first from the batch the other day.  Insane!!
My daughter helped me make them and she absolutely loved handling the dough (a.k.a. tasting the dough), cutting the dough into rectangles (hers were triangle-esk), and forking the edges of dough (a.k.a. putting a skirt on the dough).  It was a great project for us and a delicious one at that.
So now I have a freezer full of these little breakfast pies to toss to my children on those particularly hectic mornings… and I feel supremely awesome about doing so.
SWEET CHERRY TARTS 
er… HOMEMADE CHERRY POP TARTS
(whole wheat!)
Filling:
In a medium saucepan, combine…
1 lb. sweet cherries (mine were frozen)
1 lemon both zested and juiced
1/4 cup sugar (note that I happen to like using only half that amount-only 2 TB of sugar- for my family, as we don't like things too sweet.  But the 1/4 cup makes them more pop-tart like 😉 )
Begin to cook this and once the mixture is hot, use an immersion blender to blend until smooth.
In a separate bowl or ramekin, mix together until no lumps…
2 TB cornstarch
splash water
Stir this into the hot cherry liquid and bring to a bubble.  Allow to simmer for several minutes, stirring off and on.  When it's thick and hot, pour into a glass bowl and place that bowl into a larger bowl full of ice water to chill quickly.  OR do this step ahead of time and allow it to cool gradually.  Set aside until ready to make your tarts.
Dough:
In a food processor, combine the following…
4 cups whole wheat PASTRY flour (or white whole wheat flour, which is a softer wheat can be subbed)
2 TB sugar
4 tsp kosher salt
Pulse until mixed well.  Add the shredder attachment (leave the blade attachment in) and place…
2 sticks frozen, unsalted butter (whole)
into the 'pouring' spout of the processor lid.  Mine fits the 2 sticks perfectly.  If yours doesn't, simply do it one stick at a time.  The point here is that you are 'shredding' the frozen butter and mixing it into the dry ingredients.
Once the butter has been fully combined, remove the lid and the shredder attachment.
Add in…
Blend again until a dough forms.
Split the dough into fourths, flatten into a rectangle and wrap in plastic.  Refrigerate for an hour before making your tarts.
Assembly:
When you're ready to make and bake, roll out your dough into a larger, flatter rectangle.  You want each piece of dough to roll out to be the size of a 9×13 in baking dish. (You will most likely be working in batches here, so refrigerate whatever dough you aren't working with currently.)
Using a pizza cutter, slice the dough down the center, vertically. And then across in half, and then slice across the width again in half, making 8 rectangles.
Trim along the outer edges to make them straight if you wanna be precise. And yes, some of your rectangles will be triangular.
Place 4 rectangle dough pieces on a parchment-lined baking sheet.  Brush each rectangle with…
1 large egg, beaten (this 1 egg will be used for the entire batch)
Place a heaping tablespoon of your cherry filling into the center of each triangle and place a matching dough piece over top.
Crimp the sides with the tines of a fork.
Poke the center a few times with the fork as well, to allow steam to escape.
Continue this until all your dough has been turned into tarts. Note- you will have filling leftover.
Bake in a preheated 350 degree oven for 25 minutes.
Place onto a cooling rack and begin to cool.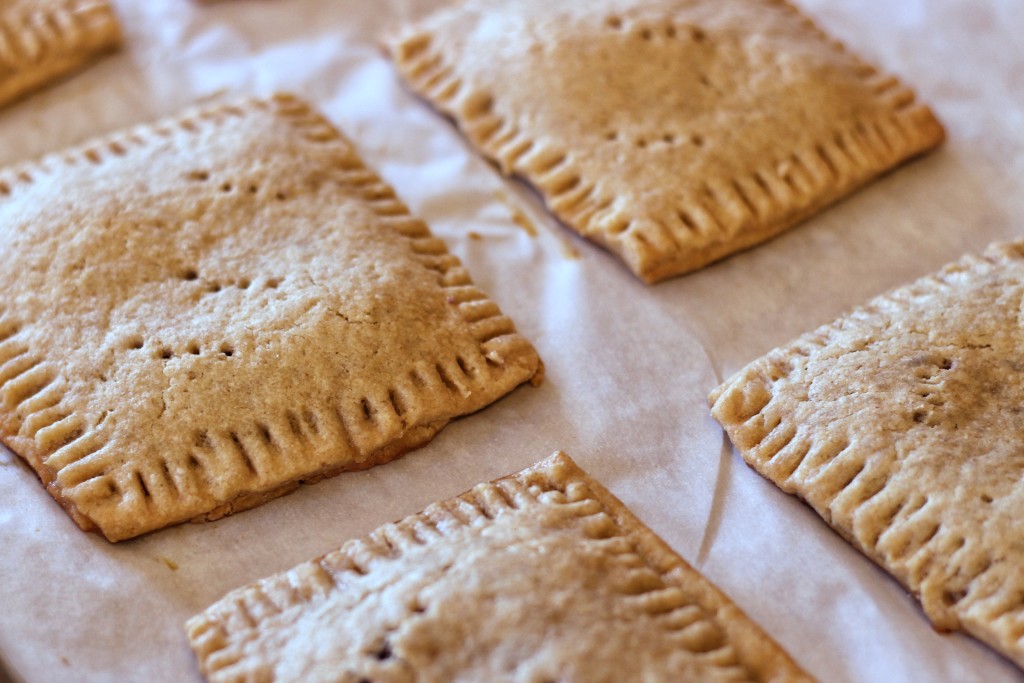 Eat warm.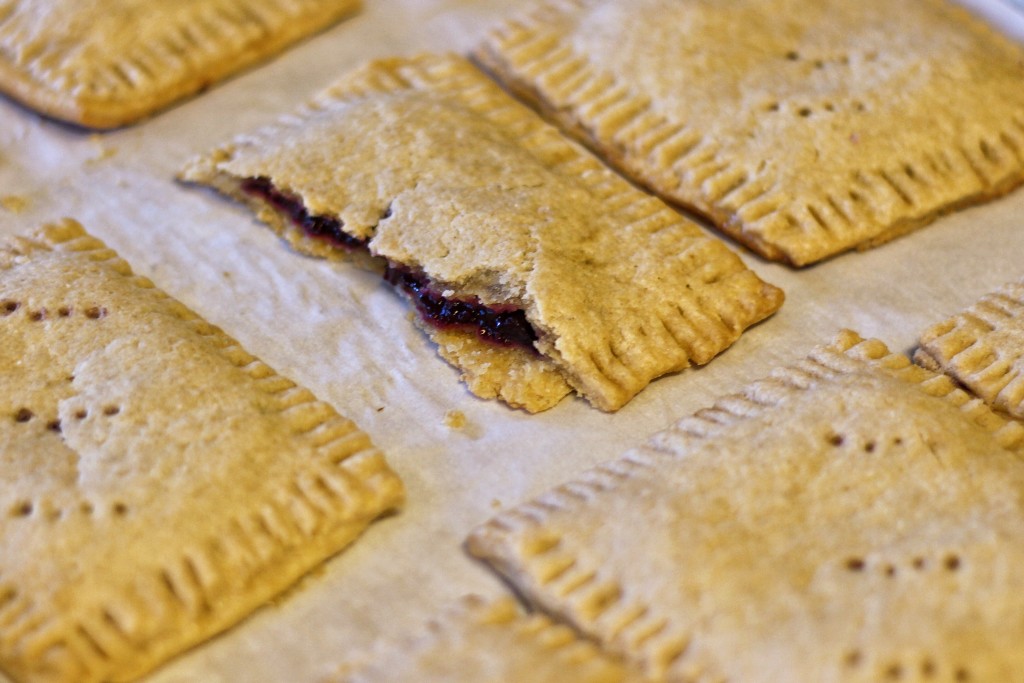 Or behave like a human and wait until they cool more.
To save for later eatin', wrap each pop tart with plastic wrap and store in a large freezer zip bag.  They should stay good for a month or so if properly sealed.
…
Note- I don't believe in frosting pastries like these, but if you do- be my guest!
Beat 1 egg white (from a pasteurized egg only) until stiff peaks form, add 1 1/4 cup powdered sugar and a splash of vanilla extract. Spread frosting onto each tart and top with sprinkles if you'd like.
…
Thanks for reading, y'all.  XOXO