My father, who has no musical ability whatsoever, taught me how to listen to music.  My mother was the musical one in the family and my brother and I got our talents from her, but my dad loves music perhaps as much as the rest of us.  I think when you're not able to make music of your own, your appreciation of it comes from a different place, a more joyous place.  You hear things that other people may not.  My father taught me how to appreciate a good Phil Collins drum solo, the flutes in a Jethro Tull song, and the banjo in anything by The Dillards.  I can remember staying in the car with my father, long after we pulled into the driveway, and listening to the last few bars of Crazy Love by Poco or Emmylou Harris' Pancho and Lefty.  I can remember waking up to the loud blast of Rod Stewart's Reason to Believe or The Beatles' I'm Looking Through You morning after morning after morning.  He loved Paul Simon's Graceland and Creedence Clearwater Revival's Green River, and both albums together make up the soundtrack to my childhood.  I can't hear Centerfield by John Fogerty without thinking of sitting beneath his arm at a Braves game.  I can remember driving to soccer games and singing, the both of us, to Frankie Valli's Walk Like a Man or The Tokens' The Lion Sleeps Tonight on 96.1 FM, neither one of us being able to hit the high notes but we didn't care.  My father made me feel like I was a better singer than I am.  Maybe it's because he didn't know how to do it himself, but I always felt like I had more talent when I was with him.  He would close his eyes, lift his face to the sky and tap his feet like Crazy when he really liked the sound of something.  I wonder if he wishes that he could make his own music, or if simply listening to others do it for him is enough.
My father taught me a lot of things, things that I still hold onto today.  He taught me how to shake a hand, to look for the spice in a zinfandel, and to jab with my left.  He taught me that a skinned knee or banged up elbow can be cured not by medicine and a bandage, but by the magic rub that only he knew how to do.  He taught me how to make a late night, open faced tuna melt in the oven and how to drive a Donzi.  He taught me that I can always come to him and he will just listen.  He taught me that real men cry at baseball movies and Budweiser clydesdale commercials.  He taught me that I can always be stronger, faster and better as long as I never stop.  I get my strength from my father, my drive and my confidence.  He taught me how to be stubborn and to never settle.  He taught me that sometimes the best way to win a battle is to not act Crazy, but rather to stay calm and quiet until the other person settles down to listen.  He taught me that I deserved to find a man who treated me with as much respect and appreciation that he did.
When my husband and I went on our first date in Wilmington, NC, 12 years ago, he took me out to a nice restaurant and it was the first time I had been out with anyone who made me feel like I felt when I was with my father.  I felt comfortable and completely looked out for.  I called my father from the car after that date, while my now husband was pumping gas and I told him that I had found the one.  My father, after he listened to me rant and describe like a Crazy person for minutes on top of minutes, simply held the phone away from his mouth and yelled to my mother,
'Cary!  Telephone!  It's your daughter!…And some wine!' 
My husband has been taking care of me, making me feel comfortable and completely looked out for every day since that first date 12 years ago.  And now, with our 2 children and our family complete, he does the same for our children.  I look at the relationship he has with our daughter and it makes me excited to think of what they have to look forward to.  Neither one of them knows what's in store for their relationship, but I do.  They will have a bond that no one can break.  He will understand her like no one else can and she will always go to him for advice.  He will listen to her when she just needs to complain and be the pillow beneath her tears.  And the best part of it all is that I get to sit back and watch something that I was a part of as a child.  I have front row seats to watch one of life's greatest love stories.  The love between a father and daughter is a beautiful love, a pure love, and a delightfully Crazy love.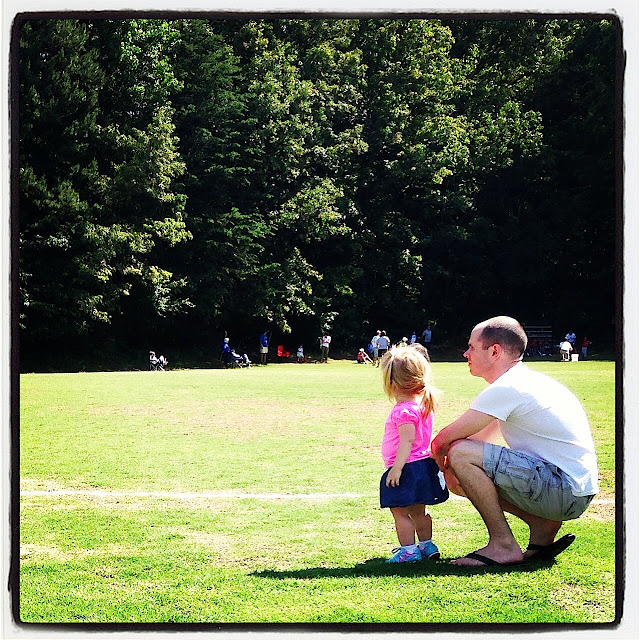 ~~~~~~~~~~~~~~~~~~~~~~~~~~~~~~~~~~~~
I developed this dessert recipe for the two fathers in my life.  My husband really enjoys my raw/vegan desserts so I knew he would appreciate a new one and my father, who is trying to eat less gluten these days, loves both key lime pie and coconut cake.  So here we are!  These went over well when I had the family over yesterday for Father's Day lunch.  I made several sandwiches, a couple salads and set out a cocktail bar.  We all ate and laughed and talked and looked at old family photos.  It was perfect.
(a green salad with golden raisins and shaved carrots, and a lentil and brown rice salad…)
(a roasted veggie sandwich with a roasted garlic, tarragon and basil aioli, a muffaletta, and a cuban sandwich with whole grain mustard and house-made pickles…)
If you're sticking to a vegan or raw diet, a gluten or dairy free diet, or just happen to really like the idea of eating 'clean' desserts like I do, this one satisfies the same desire as a cheesecake or a key lime pie, and yet after you eat one of these, you still feel wonderful about yourself.
*Raw Coconut Lime Tarts
*For the Crust-
Line a standard 12 cup muffin tin with liners, do not grease.
In a food processor, combine the following:
-1 cup raw walnuts
-1 cup UNSWEETENED shredded coconut (if you happen to use the sweetened kind, it won't be 'raw' and will be substantially sweeter.)
-3/4 tsp kosher salt
-1/2 tsp dried, ground ginger
Process until fully mixed and moistened.  You want it to become dough-like in texture.
Firmly press 1 TB of the crust mixture into the paper cup liners down on the bottom and up the sides a bit.
*For the Filling-
In the same food processor (no need to clean it), combine the following:
-1 1/2 cup raw cashews
-the top cream from 1 can of coconut milk (You can place the unshooken up, unopened can in the fridge for a couple hours to ensure proper separation of cream from water, but most of the time it happens at room temperature.  Just scoop out all of the thick, white stuff and leave the watery stuff behind.)
-3 TB raw agave nectar
-the zest of 3 limes
-the juice of 2 limes
-1/4 tsp kosher salt
Process until completely smooth.  This will take a bit, so be patient and keep checking on it and scraping down the sides.  You want no lumps whatsoever and the mixture will be very thick and creamy.
Spoon some of the filling mixture on top of the crust in the muffin cups.  You will have enough for exactly 12 if you fill each cup almost to the top.  Use a clean, wet finger to swirl the top to make it pretty if you'd like.  Add extra lime zest on top of each if you'd like, as well.
Place in the fridge and chill until completely set, which usually takes at least 6 hours.
Once completely set, carefully remove from pan and remove wrappers.
Serve chilled.  (If these become too warm, the coconut cream will loosen up and they won't be as firm.)
And if you're serving these for a crowd, I suggest you
place them in the freezer a bit before serving so they remain cold and
firm enough at serving time.
Enjoy!
(For my (very old!) recipe for White Chocolate Key Lime Cheesecake that I created for my boys a couple years ago at Father's Day, check out this post.)