Second breakfast may be my favorite meal. It's what I eat after I've worked out, hours after the giant hunk of my sweet sourdough bread has faded away…
And I've had some awesome second breakfasts in my day… I do a lot of skillet frittatas with leftovers…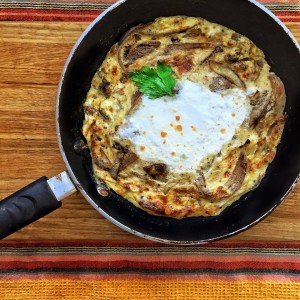 There's been the Meatloaf Breakfast Stack, Avocado Toast, Eggs in Avocado, Eggs in Sweet Potato… All delicious and fun and awesome. And the 'Eggs in Sweet Potato' is actually what led me to today's second breakfast. I made this particular meal after a heavy workout one day, when I came home to find leftover cooked sausage from making pizzas the night before and a leftover baked sweet potato… I just threw some things together and it ended up being so amazing that I haven't been able to stop thinking about it since.
So I recreated it today for my holiday guests. It's one of those things I could no longer keep all to myself. Which is also why I'm sharing it with you lovely people.
Duck Egg and Sausage Stuffed Sweet Potato
with Maple and Sage
Brown
1 lb. sausage
of your choosing in a large skillet (depending on how many of these you make, you will most likely have sausage leftover… I suggest just making this again with it ;-). Unless the sausage I'm using is seasoned enough, I generally add a bit more
ground fennel seeds and dried sage
to my sausage as it's cooking.
Bake/microwave your sweet potatoes- 1 small potato per person.
Split the warm potato in half and open it up like a book.
Place the opened sweet potatoes in a skillet or on a baking sheet, season the potato flesh with kosher salt and top with some of the browned sausage, trying to make a well for the egg to nestle in.
Crack 1 duck egg into the well of each and season the egg with some kosher salt.
Place in a preheated 400 degree oven and bake for about 20 minutes, or until the whites have set and the yolk is runny.
Top with chopped sage and a drizzle of maple syrup.