I mean.  I can just drop the mic right now.  Do you even need me to say more?  This is just too good.  I'm sorry, but it is.  If you are a dark chocolate lover, you need this in your life.  Stat.
I don't like overly sweet things, you know that.  So you know that any dessert recipe I write will be as balanced as I feel a dessert should be.  And this, I feel, is a perfect example of that.  I have cut back tremendously on the sugar here vs. what you'd find in a standard chocolate cheesecake recipe, and what that has done is allow you to really taste the true essence of really good dark chocolate.  And isn't that the point of eating such delicious things?  So we can taste them?  Otherwise, why bother?
I wrote and made this for my mama's birthday dinner the other night.  She loves dark chocolate things, and also loves berries with chocolate… so I made her a raspberry sauce to drizzle over top.  It was awesome, everyone loved it, my daughter licked her plate, my son begged for more, and I wish I was eating it now instead of writing about it.  But me writing about it makes it possible for you to have it.  So that makes it all ok.
Enjoy!!  And Happy Birthday, beautiful mama!
TRIPLE DARK CHOCOLATE CHEESECAKE
WITH SOUR CREAM GANACHE
Crust:
In a food processor, combine the following…
Process until the cookies have broken down completely and turned to moist crumbs due to the butter.
Press evenly into the bottom of a greased 10 inch springform pan.
Bake in a preheated 350 degree oven for 7 minutes, or until you smell it and the crust has just set a bit.  Keep the oven on.
Set aside while you make your filling.
Filling:
First, melt your chocolate over a double boiler.  In a medium sized glass bowl situated over a smaller pot with enough (simmering) water to not touch the bottom of the bowl, on medium heat, slowing melt…
Stir as you melt it slowly, and once it's almost completely smooth, turn off the heat and stir some more.  It will continue to melt as it cools and you do not want to overheat your chocolate.
Set aside to cool a bit while you work on the cream cheese part of the filling…
Wipe out the food processor from when you used it for the crust, but don't worry about cleaning it too much.  Add in the following…
4 (8 oz) bricks of SOFTENED neufchatel cream cheese (I always prefer working with the reduced fat kind, as I find the tang is a nice addition)
3/4 cup sugar
1 TB instant coffee or espresso
1/4 cup cocoa powder
Process until smooth, stopping to scrape the sides every so often.  Once that's mixed well and completely smooth, add in…
4 large eggs, one at a time, while you're blending
Once everything is mixed well and you've got a smooth mixture, add in your previously melted (room temperature) chocolate and mix again.
Pour it into your prepared crust.  Spread evenly with a spatula.  Bake in the same preheated 350 oven for 1 hour.
Allow it to cool on a rack until room temperature.  Run your knife around the edges to loosen it up so it won't stick to the sides when you remove it later.
Place in the fridge overnight before adding your Sour Cream Ganache.
. sour cream ganache .
In a double boiler, just as before, slowly melt the following…
The total amount of chocolate used here is 12 ounces.  And I really like the combination stated above, as I feel it's the perfect balance of bitter and sweet.  But feel free to use whatever you want to equal the 12 oz.
Once it's melted completely, and shiny, remove from the heat and stir in…
8 ounces (full fat) sour cream
Stir until you have a thick, frosting-like consistency.
Spread this over your cooled cheesecake, leaving a rim around the edges.
Chill again to set.
Before serving, carefully remove the sides of the pan.  Bring the cake to room temperature and top with chocolate shavings.  (I used another Ghirardelli 60% bar and a vegetable peeler.  The slower you 'shave' the chocolate along side of the bar, the more curly your pieces will become.)
And/or serve with a raspberry sauce if desired.
. raspberry sauce .
In a saucepan, add the following…
1 (16 oz) bag frozen raspberries (if you're making this during raspberry season- use fresh!)
1/4 cup light brown sugar
splash water
Allow the sugar to melt as the raspberries thaw.  Once your berries have softened, use an immersion blender to blend until smooth, apart from the berry seeds.  Chill and serve room temperature.
Now it's your turn to make someone else happy!  It's a guarantee smile 🙂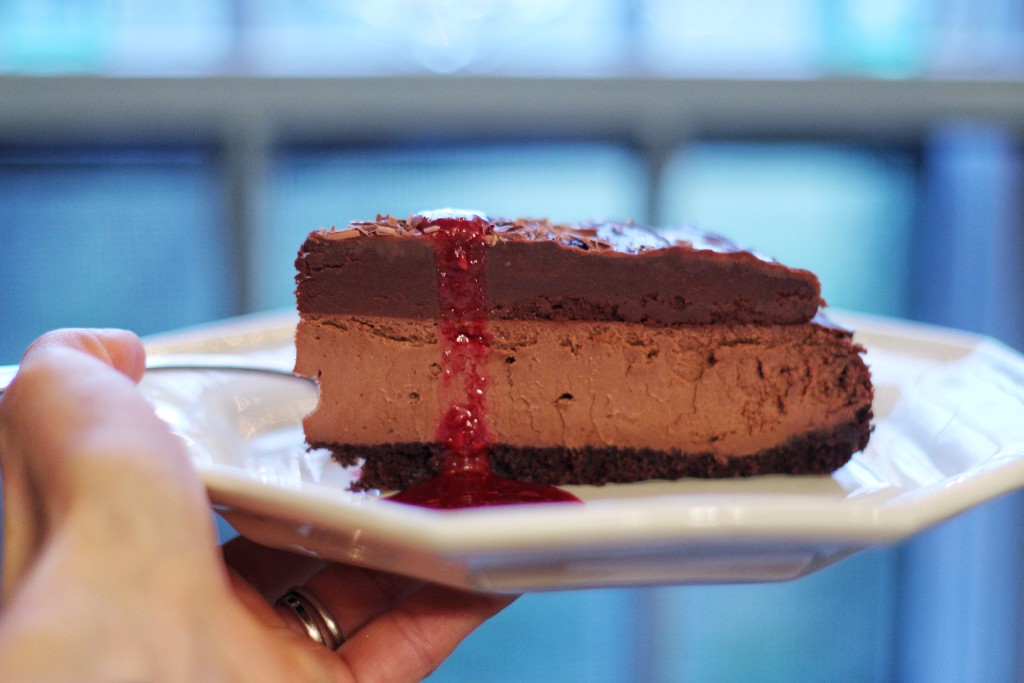 …
(Note that my husband took the featured image used for this post!!!  That whole cake shot?  That was all him!  I had my hands in kale salad and he braved the freezing rain and chicken poop to take a shot of the cheesecake in my parent's yard before we sliced into it.  Now, that's true love right there!  Thanks, baby! XO)