I had a wooden toy kitchen when I was little, most likely made of scraps from the house we were building.  I would spend hours in my room pretending to make bread, adding water to flour until a stiff dough formed.  Then I would place it in the window sill to rise like I saw some Mama Bear do in a storybook.  When I couldn't reach the flour canister, I would use the baby powder on my mother's dresser – it felt the same to my little fingers.  I spent a lot of hours in that kitchen.  I liked the way the dough felt between my knuckles.  I liked the way my fingernails turned white from the flour and how the tiny, white hand prints looked on my ragged towel apron.
Last week I watched Ming Tsai make Chinese pancake dough out of nothing but flour and water and was taken back to my childhood kitchen made of wood.  Until then I had never seen another person make a dough of only flour and water.  (I thought I made that up when I was 7!)  But after seeing it being done last week, I thought it was time to revisit my old recipe.
Instead of using the dough for the pancakes, I wanted see if I could use it for tortillas for family taco night.  I know traditional tortillas are made of flour (or masa harina) and water and some sort of fat.  But since Ming and I know that a dough can be made without the fat, I thought…why not?
And this time, I was sure to reach for the flour, and leave the baby powder on the dresser.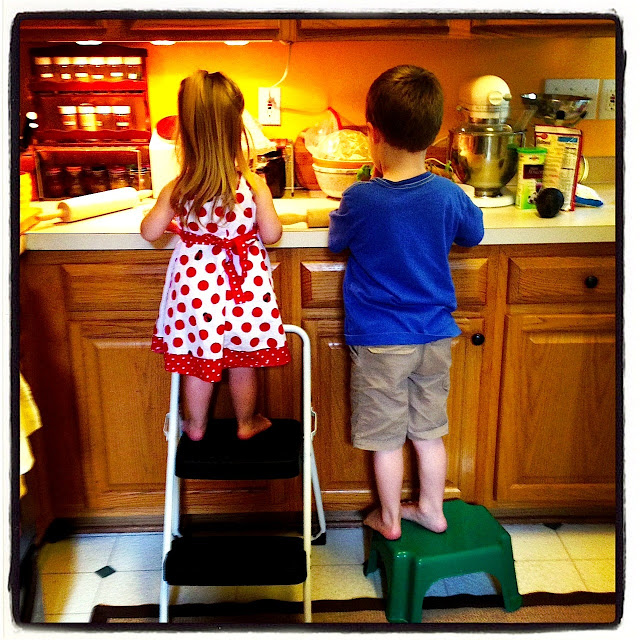 My little sous chefs! – Rolling out the tortilla dough.
*Homemade Oil-Free Whole Wheat Tortillas
(These tortillas are so easy to make and delicious!  I don't see the need to add any lard or shortening, as they did the job just fine as is. And since I always try to make things healthier, I used half whole wheat flour.  They were a huge hit!)
In a medium mixing bowl, add the following…
-1 cup AP white flour
-1 cup whole wheat flour
-1/2 tsp kosher salt
Slowly drizzle in…
– 3/4 cup warm water
Mix with the end of a wooden spoon…
and then switch to your hands when the dry has been moistened with the wet and begin to knead the dough in the bowl…
and it will go from a shaggy dough, to a smooth dough ball…
set this aside to rest for 10-20 minutes and then cut the dough into 8 pieces…
then take each piece and shape into a ball before rolling it out into a flat circle-ish shape…
get some helpers if you'd prefer (but note that you will most definitely not be getting circles if you employ such tiny helpers)…
and then take each 'circle' and place on a medium-high heated flat top or grill…
for about 2 minutes, or until you see the dough begin to harden on the edges and brown on the bottom and then flip…
you will need to cook this side another minute or two, and bubbles will most likely form when they're ready to be taken off the grill.  Set aside to keep warm while you cook the rest of your tortillas.
And when they're done, fill them with whatever fillings you'd like or…
not.