I love Coconut Shrimp. It's one of those guilty pleasures that I'll indulge in while dining out at the beach. I know most of the Coconut Shrimp I've eaten at these restaurants have been previously frozen and probably purchased with the coconut part already attached, but I don't care-they're delicious. As most of you know, I don't deep fry at home so if I'm in the mood for something fried, I just have to figure out a way to mimic the recipe at home. I make baked 'french fries', baked potato chips, baked 'fried okra', baked 'hushpuppies', baked 'springrolls' etc., etc., The tricks to faking a fry at home are a high oven, lots of space in between each item on the cookie sheet, and on many occasions I'll bake the goods on a cooling rack situated on top of a cookie sheet so that there is even cooking on both sides of the item. If you do these things properly, you can get a really yummy and crispy result, and definitely one you can feel good about feeding your family.
Today I was craving Coconut Shrimp so here's what I came up with: (it was delicious!)
*Peel and de-vein 30 medium-large shrimp and keep the tails attached.

*Place in one medium bowl-
–1/4 cup flour
*For your batter, in one medium bowl mix together until combined-
–1/2 cup flour
–1 1/2 tsp baking powder
–pinch salt
–1 egg
–2/3 cup gingerale (a little less than half a can's worth)

*Place in another medium bowl-
-2 cups shredded, sweetened coconut
-Preheat oven to 425*
-With the tails as your handle, dredge your shrimp in the flour first and shake off the excess. Run each shrimp through your wet batter and then your coconut. Make sure you cover each shrimp with a lot of each coating.
-Place your shrimp on a greased cooling rack fixed over a cookie sheet or roasting pan.
-Bake for 10-12 minutes until the shrimp is firm and fully cooked and the coconut has begun to toast.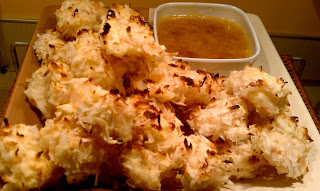 -Enjoy with a dipping sauce made of:
-equal parts orange marmalade and apricot preserves with a 1/2 part of dijon mustard, a 1/4 part grated horseradish and a pinch of crushed red pepper flakes.
We ate ours tonight with a crab, corn and avocado ceviche. It was a really yummy finger food dinner that we enjoyed sitting together on the living room floor. Plus, using these Tips, tonight's dinner total for both the Ceviche and the Shrimp was $12 and it will feed 5-6 people easily.
Happy Eating, Everyone!