I'm taking your Down South uptown, and a little to the left.  Cause this is just the fanciest and purtiest barbecue sandwich I've ever seen, y'all.
That's essentially what this is… it's a barbecue sandwich.  And a great use-up for leftovers.
And yet, it's so much more.
The idea behind this recipe came from me just having a giant bunch of collard greens sitting in my fridge after New Years.  See, we didn't do the traditional Southern New Years meal this year, instead we opted for the ultimate burger- The Steak n Eggs Burger.  So I was still left with those giant collards, and I wanted to do something different with them.  And here we are.
I'm taking leftover pork shoulder, that I shredded and mixed with barbecue sauce, and layering it with some leftover slaw and a hoppin' john inspired mix of quinoa and black eyed peas.  So it's incredibly healthy, and grain and gluten free if you need that in your life.  But they're really hearty and filling too.
I knew the idea for these collard wraps was cool, I just didn't know how delicious they would be until my husband and I took our first bite.  We both, I think, were pleasantly surprised at how awesome they were!
So next time you find yourself with pork and slaw leftovers, and you want a fun twist on what to do with them, make sure you have a giant bunch of collard greens in your fridge too.
BARBECUE COLLARD WRAPS
Remove your collard leaves from the bunch ( 1 large bunch total) and wash thoroughly.
Transfer to a cutting board and slice out the thickest part of the rib of each leaf by slicing along either side of it.  Discard rib pieces, or save for a vegetable stock.
(When you get down to the smaller, more yellow-tinged leaves that are closest to the core of the bunch, save those and finely chop to be used in your quinoa hoppin' john later (…why not?!))
Drop the leaves, about 4 per batch, into a large pot of boiling, salted water.  Boil them for maybe 30 seconds, or until the leaves turn dark green.  It doesn't take long at all to do.
Place the blanched leaves into a large bowl of ice water to 'shock them', or stop the cooking process.
Once cooled, lay them out on layers of kitchen towels until they dry.
When you're ready to wrap and roll, lay out one collard leaf, textured rib side up, onto a plate or cutting board.
Place a couple TB of your warm Quinoa Hoppin' John (recipe follows), then about the same amount of warm, finely shredded, barbecue sauced pork (notes on that below as well) and about half that amount of slaw.
Then wrap as you would a burrito- fold over once, then tuck in each side and continue rolling.  You will most likely need to slice off the tail end of the collard leaves after you've wrapped it up snuggly enough.  Just be sure you have a completely encased wrap.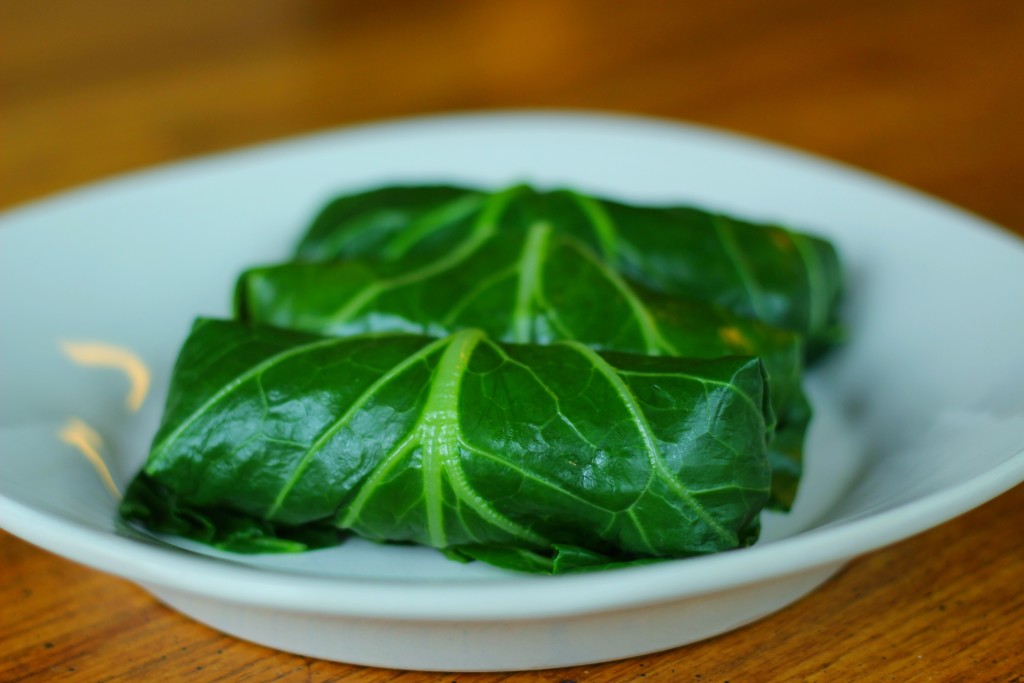 Serve room temperature, and preferably with some extra barbecue sauce for dipping.
. quinoa hoppin john .
In a medium saucepan, sweat out 1 small white/yellow onion, diced, in a little bit of oil.
Season with kosher salt.
Once the onion is softened, add in 1 cup of quinoa.  Stir to coat the quinoa in the residual oil and onions, allowing it to toast for about 30 seconds or so, then pour in 2 cups of chicken stock (water + salt can be used instead).
Bring this to a boil.  Reduce to a simmer. Cover.  Simmer for 25 minutes, until the quinoa has absorbed all the liquid.
Add in 1 (15 oz) can of black eyed peas and the finely chopped tender collard leaves you reserved from before if you did.
Check seasoning.  Keep warm until wrap time.
. barbecue pork .
I slow cook a pork shoulder fairly often and am always doing something different with the leftovers.  A lot of times its a sweet n sour pork over brown rice, sometimes it's burritos, sometimes casseroles… so it's not out of the question for me to have cooked pork shoulder around.  So all I did was shred up some of what I had.  Here's my method for cooking a pork shoulder.
. slaw .
I haven't officially shared my family's non traditional recipe for slaw with you yet, but it's on my agenda.  Ours is sweet vinegar based instead of mayo, but you use whatever slaw you like the best.
…
Thanks for reading, y'all.  I hope you have a great week!