Awhile back I saw a recipe that my friends over at Feed Feed shared from a website called Taste and Tell. It was a take on cinnamon rolls made using a biscuit dough instead of a yeast dough… so you could make them quicker than traditional cinnamon rolls (in about 30 minutes!!), but probably also?
Because biscuits rule.
I made them for houseguests a couple weeks ago and they were phenomenal.  Loved by all.  I shared them on Instagram that morning…
So naturally I wanted to put a twist on them and see what else I could come up with.
And guys?  GUYS.  These are incredible.
BROWN BUTTER PUMPKIN BISCUIT ROLLS
gah.
It's like Pumpkin Pie, Cinnamon Rolls and Buttermilk Biscuits made a baby.
And you reeeeeally want that baby.
I've already made them twice this week.  But, full disclosure:  I made them the second time primarily because I hated the photo I took of them the first time.  It bothered me so much that I made them all over again just to re-shoot them.
But it was so worth it.
The biscuit dough in these isn't made with butter, it's made with oil.  Don't worry about the lack of butter though… there's more than enough rolled inside.  And I make my biscuits here with all whole wheat flour and coconut oil… you know, so you feel better about all the butter and brown sugar.
balance.
Also, what else is new…  Oh yeah.
My 6 year old daughter flooded our bathroom while trying to turn her shower into a bath the other day.
She was successful in turning the entire bathroom into one.
It started raining in my kitchen that lies directly below right at the time I was pulling our dinner from the oven.  Our home is now a post-flood construction site with de-humidifier fans and heaters blowing in every corner.  They're loud sons a bitches too.  Strong winds.  Big bulky machines you gotta walk around in order to get anywhere.  There's about 20 of them going strong at the present.  No one can hear anyone, no short skirt is safe, and I have no bathroom floor / closet access / there are holes in my kitchen and dining room ceiling.
You know… you'd think that after awhile, the fan noise would be soothing.
Nope.  They're demon fans trying to eat me alive from the inside at a very slow and steady pace.
So I made one my music video bitch yesterday.
that'll teach it.
BROWN BUTTER PUMPKIN BISCUIT ROLLS
*The night before you want to make these, you will need to brown your butter and allow it to cool and soften to room temperature 
now, let's begin…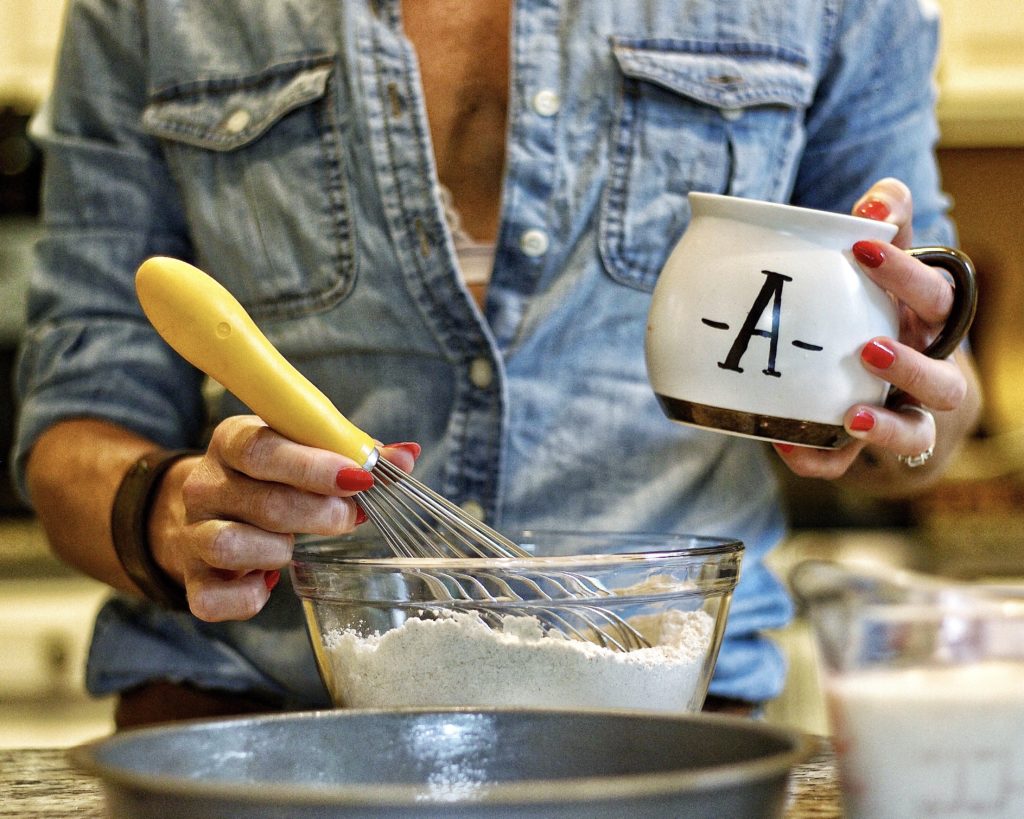 Ingredients needed:
2 cups white whole wheat flour (I prefer the softness of the white wheat over the red wheat.  Use whole wheat pastry flour if you can't find the white wheat.  Or, sure… use white all purpose flour 😉 )
1 TB baking powder
1/4 tsp baking soda
1 tsp kosher salt, rounded
—
1/4 cup coconut oil, melted then cooled (veg oil can be subbed)
3/4 cup buttermilk (full fat please)
—
1 stick unsalted butter, browned then cooled (*needs to be made ahead!)
1/2 cup light brown sugar
—
1/4 cup pumpkin purée (not pie filling)
1 3/4 tsp pumpkin pie spice blend
—
1/3 cup milk (nothing lighter than 2% please)
. browning the butter .
In a small skillet, place the 1 stick unsalted butter and melt over medium heat.  After the butter has melted, it will begin to foam.  Then the foam will dissipate and the butter will crackle and pop.  Once the foam and popping has stopped, you have brown butter.  (I always use the dark brown solids in my brown butter… but if you're a purist, by all means feel free to strain yours.)
Remove from heat and transfer to a heat safe bowl to cool completely to a 'softened butter' state.  This takes hours, sometimes 8 depending on the room temperature, but can be cheated by refrigerating it for a little bit.  Just keep an eye on it.  You want it spreadable.
. making the biscuits .
In a medium bowl, combine the…
2 cups flour
1 TB baking powder
1/4 tsp baking soda
1 tsp kosher salt, rounded
Whisk to combine.  Be sure to break up any hard baking powder clumps… those don't separate themselves and nobody wants to bite down on a baking powder clump.
Add in the…
1/4 cup coconut oil, melted
Whisk in.  Then get in there with your fingers.  Work the oil into the dry ingredients to fully moisten it.
Then slowly pour in the…
The liquid used in biscuits, etc. can vary greatly depending on the moisture level in the air that day.  But I've had to add the full amount each time I've made these.  However, you may need less… you may need more, but it's doubtful.  Mix with your hands until you have a ball of dough.  Transfer the dough to a lightly floured counter top and knead for a couple seconds, just to make sure it's completely mixed and firm.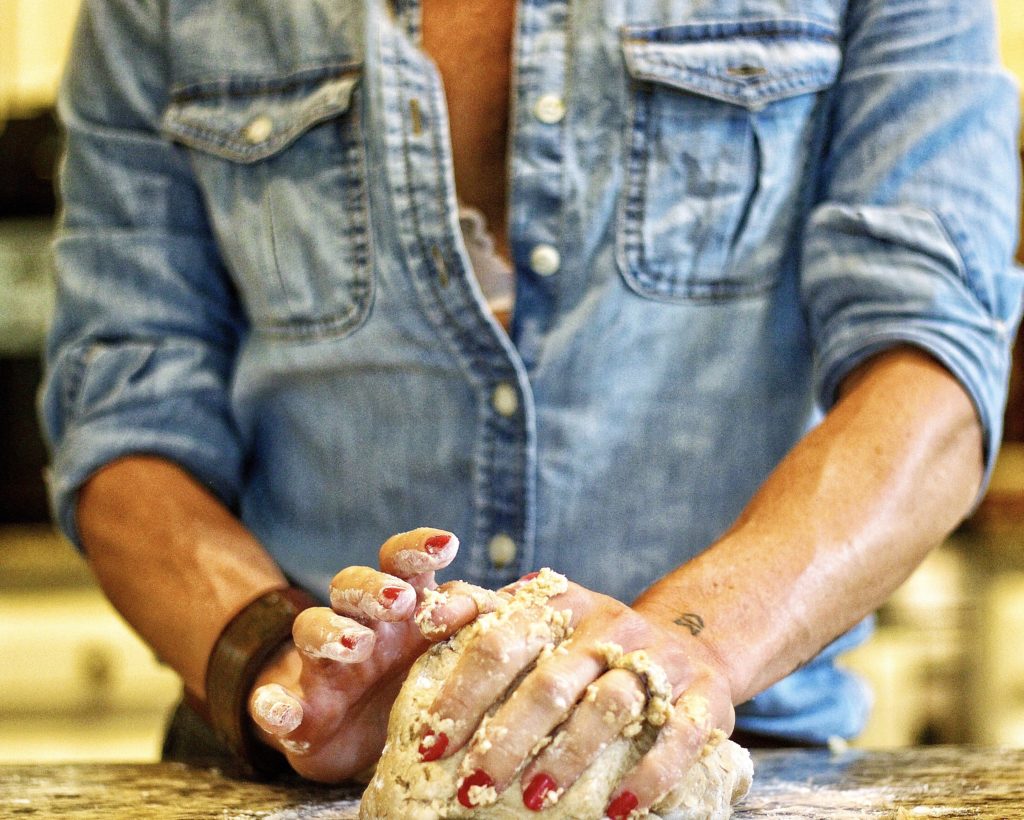 Using a rolling pin, shape into a rectangle about the size of a casserole dish… 13×9 inches ish.
In the bowl with your cooled brown butter, add in the 1/4 cup pumpkin purée.  Mix well.
Slather your dough rectangle with the pumpkin/butter mixture.
In a separate small bowl, combine the…
1/2 cup brown sugar
1 3/4 tsp pumpkin pie spice
Mix well.
Sprinkle evenly over the pumpkin/buttered dough…
Carefully, using a bench scraper if you have it, slowly roll the dough lengthwise into a pinwheeled log.  Be sure to keep everything in tact as you roll.  Once it's rolled up, pat it on the edges and squeeze it all gently to make sure you have a firm log.
Slice into 8 even pieces…
Place each piece into a greased 9×9 inch cake pan…
They don't have to be even and pretty in there.  They'll rise and swell in the oven.
Bake in a preheated 400 degree oven for 20-25 minutes.  I've checked after 20 minutes each time and they've been almost ready… and I turned the oven off both times, placing them back in for a couple minutes while I cleaned up a bit and they were perfect.
Once finished baking and hot from the oven, pour in the…
Pour evenly over all the biscuits.  This is a method used in older recipes that I really like.  It creates a more tender biscuit, but not a soggy one.  The hot biscuits soak up every bit of that milk.  It also takes the place of an icing.
Serve warm.
And often.
thanks for reading, y'all.  it's my birthday week!  woooo!! so if you miss me, come find me on Instagram.  I'll be travelin' and playin' a fool.
xo