This is a fun project to do with the kids this holiday season.  Their little tummies will be filled with so much sugar, grease, and junk, why not give them a treat with a little healthy kick to it?  (Added bonus-they get to make them!)
I've shared with you my Peach Gummies and my Champagne Jigglers for the really big kids, so here's just another version of the yummy gummy.  And this time it's cranberry-perfect for the holidays!  Have your kids cut them into whatever shape they like, it's so much fun!
These are a lot firmer than the Peach Gummies, and contain lots of fruit bits, which I happen to really like.  But if you want them more 'perfect', then I would strain the pureed fruit mixture before you add it to the gelatin.
*Cranberry Gummies
-In a small saucepan, combine 1 12 ounce bag of fresh cranberries, 1/2 cup of sugar and the juice from 1 large navel orange (about 1/3 cup worth).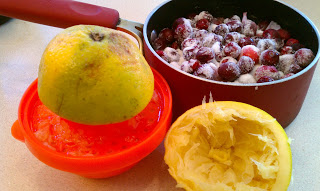 (not the prettiest of oranges, I know…)
Bring this to a simmer and then turn the heat down to low to continue to simmer until the cranberries break down and fully soften.
-Using an immersion blender if you've got one, puree until well mixed.  It should now be very thick.
Set aside.
-In a large, microwave-safe bowl, combine 5 TB or 5 packets of plain gelatin with the juice of another navel orange and enough cranberry juice* to equal 1 cup (you will need roughly 2/3 cup of cranberry juice).  Stir well with a fork and allow it to sit for a couple of minutes at room temperature.
-Stir in 1/2 cup of agave nectar and microwave on high in 30 second increments, stirring after each, until you cook it for a total of 1 1/2 minutes.
-Pour into a glass 9×13 inch dish and chill until set. This can take anywhere from 1 to 3 hours.
-Run a sharp knife around the edges of the pan to help release the gelatin.  It may take a little convincing to get it out, a hot towel on the bottom of the inverted pan can help, or if you can slide a spatula underneath it to release the seal, that can work too.  But once you get get it loose, turn it out onto the counter and then cut it into whatever shapes you'd like.  The side that was face-down in the pan is the shiniest side and should be your 'presentation side'.
-And you're done!  These keep for a very long time in the fridge, stored air-tight.  They're great for gifts and lunchboxes.  Enjoy!


(*I always have the 100% cranberry juice blend on hand for my son, which is mostly apple juice, and that's what I used here.  Cranberry juice cocktail, which is more common, has a stronger cranberry flavor but has sugar in it.  Use whatever you'd like.)