My daughter is doing what I like to call, 'thinking about teething'.  She doesn't have any visible evidence of a tooth yet, but she is gnawing on anything within reach, drooling on anything within reach and I just have that mama hunch that it's gonna be soon.  At every supermarket on the planet you can buy 'biter biscuits' or 'teething cookies' or even updated versions of those Zwieback toasts that many of us grew up on, (and by 'updated' I mean, sugar-ed and preservativ-ed).  Most of those products contain things I'm just not that comfortable giving my baby.  Things like white flour, white sugar, shortening, names of things I can't pronounce…
So you could buy those and, regardless of what my tone seems, I will not judge you, OR you could make your own.  Now, when I started my research for making my own teething biscuits, I came across a lot of recipes.  A LOT.  And I was shocked at the ingredients in most of them.  Almost all of them contained the exact things I was looking to avoid in making my own!  So, I created a recipe that I am super psyched about.  There is nothing in here that I don't feel comfortable giving my baby.  And the best part is, this recipe is so simple that it basically has 3 ingredients, in equal parts, and takes less time to prepare the dough than it takes to preheat your oven.
I decided to make this recipe using what a lot of new moms have in their cupboards anyway- baby cereal.  Now, I have taught you all how to make your own Baby Cereal and that works perfectly in this, but I would imagine many of you mamas out there have a half-used box of baby cereal that your baby has either grown out of or you just forgot about.  This would be a great way to use it up.  I also use oat flour in this recipe, which is a great alternative to wheat flour.  My daughter hasn't had any wheat yet, but she has had plenty of oatmeal so I know it's OK to give to her.  Your child may be different, so feel free to adjust this recipe to your baby's needs.  And the third ingredient is fruit puree.  This one is up to you.  Use applesauce, pear puree, peach puree, prune puree, or any other type of fruit puree or fruit baby food that you have.  (If you're following me and making your own in ice cube trays, you would need 8 cubes to equal 1 cup.  If you're making your own and serving immediately, 1 cup equals 1 large pear, pureed.  But if you're shy of 1 cup, add a bit of sterilized water.)
Here's how you do it-
*PearRific OatTastic Teething Biscuits (or something a little less lame…)

(recipe makes 10-12, depending on the size you choose to make them)
-1 cup oat flour
-1 cup oat, barley, or brown rice baby cereal (if you don't have any of these, use another cup of the flour.  They will just be a bit more dense.)
-1 cup pear puree 
-1/4 tsp ground cinnamon
-1/8 tsp ground allspice
–Mix everything well in a large mixing bowl, then spoon some dough onto a parchment-lined cookie sheet or use one of those silicone baking mats using a large spoon.
–Using wet fingers, press the dough down and shape into long, flat rectangles.  Remember that your baby will need to hold onto these, so make them in a shape and size that is easy to hold. (And don't be too fussy about the looks of them, remember who you're serving them to.) These do not rise, so the biscuits can be placed right next to each other.
–Bake at 350 for 30 minutes.
–Remove from the cookie sheet and transfer to a roasting rack or oven-safe cooling rack set on top of the cookie sheet.  Return to the oven and cook for another 10 minutes to crisp them.
–Cool on the rack for at least 30 minutes.
–Store in an airtight container at room temperature for 3 days or in the fridge* for 2 weeks.
These also freeze well.
(*giving these to your baby cold from the refrigerator or freezer adds an extra soothing element to their teething pain.)
(*I should note that I am not a doctor, nor do I pretend to be.  Ask your doctor before giving something new to your baby.  And please give these to your baby with careful supervision because they can break off into chunks depending on your baby's strength…Also because once they combine with your baby's saliva, these biscuits can be slippery little suckers.  See pictures below.)
yum!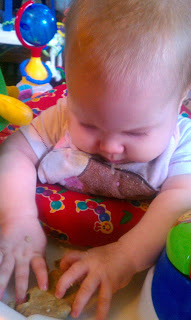 whoops! (note the drool here…)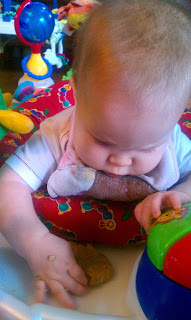 …almost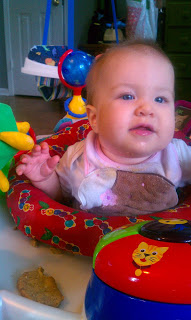 oh, you get it, mama!