Who doesn't love a lemon bar?  They're sweet, summery, light and delicate, with just enough tang to balance out the sweet.  I set out to make some for a picnic the other day, but in true Me fashion went to change it up a bit.
I wanted to first make them with an oat crust, kind of like a crisp topping… and that led me to making these more of a lemon cream-filled bar instead of the standard 'lemon on top' bar..  Then, as I was tasting the filling, I had the idea of adding rosemary to the mixture.  A quick trip to the rosemary plant by the patio door helped that idea come to life, and here we are.
So the lemon cream filling in these is thanks to a can of that stuff we all wish we didn't love so much..
sweetened condensed milk.
Why you gotta be so tasty and easy, SCM?
I always have some in my pantry for quick desserts-
I turn it into Dulce de Leche for these Dark Chocolate, Salted Sesame Caramel, Brown Sugar-Rosemary Shortbread (say that 10 times fast)
Salted Caramel – Banana Pudding Cheesecake Squares (recipe update coming soon!)
…among other things.
So the filling is incredibly easy to make, with no eggs needed, and I didn't need to add any extra sugar to it.  It came out incredibly creamy and lemony and delicately touched with the flavor of rosemary.
And the crust is so so yummy.  I found my daughter just eating the crust bits from the pan as I took the photos for this post.  It tastes like the best oatmeal cookie in the world.
I've had a ton of lemon bars in my life, seen a ton of recipes for them online, and I can safely say that these are the best I've ever had.  They're incredibly lemony, just sweet enough, and the oats round them out to be one helluva comforting and satisfying dessert.
Make them!!
This weekend!!
For that Memorial Day picnic you just got invited to!!
OATMEAL ROSEMARY LEMON BARS
Grease a 8 x 11 inch baking dish and set aside.  I know this is an odd sized dish, but it makes these the best size and thickness.  If you use a 9 x 13, I feel they're too small.  If you don't have an 8 x 11 inch pan, go for an 8 x 8 and you'll just have some thicker bars!!  (The baking time will be a bit longer…)
. crust .
In a large mixing bowl, combine the following…
1 stick (1/2 cup) unsalted, softened butter
1/2 cup light brown sugar, packed
Stir with either spatula or wooden spoon to fully combine.
And, either in a sieve situated over that bowl to sift right in, or in another bowl using a whisk to be added to the butter/sugar mixture, combine the following dry ingredients…
1 1/3 cup AP flour (or white whole wheat for a heartier and higher fiber crust)
1 rounded tsp kosher salt
1 tsp baking powder
Once the dry is completely mixed into the butter/sugar, add in…
Press half of this crust mixture into the bottom of your greased 8 x 11 inch pan.  Press tightly with either your hands or the bottom of a cup to make it even.
Set aside.
. filling .
In another large mixing bowl, combine the following…
1 (14 oz) can sweetened condensed milk
zest of 3 lemons
1/2 cup lemon juice (about 4 lemon's worth)
about 1 packed tsp of minced, fresh rosemary (1 large sprig's worth)
Mix this well.
Pour and slather over your pressed crust mixture in the pan.
Top with the remaining half of the crust mixture, but don't press down.  Just sprinkle it over the filling evenly to cover the filling completely.
Bake in a preheated 350 degree oven for 25 minutes, or until golden brown on top and at the edges.
Allow it to cool before cutting into squares…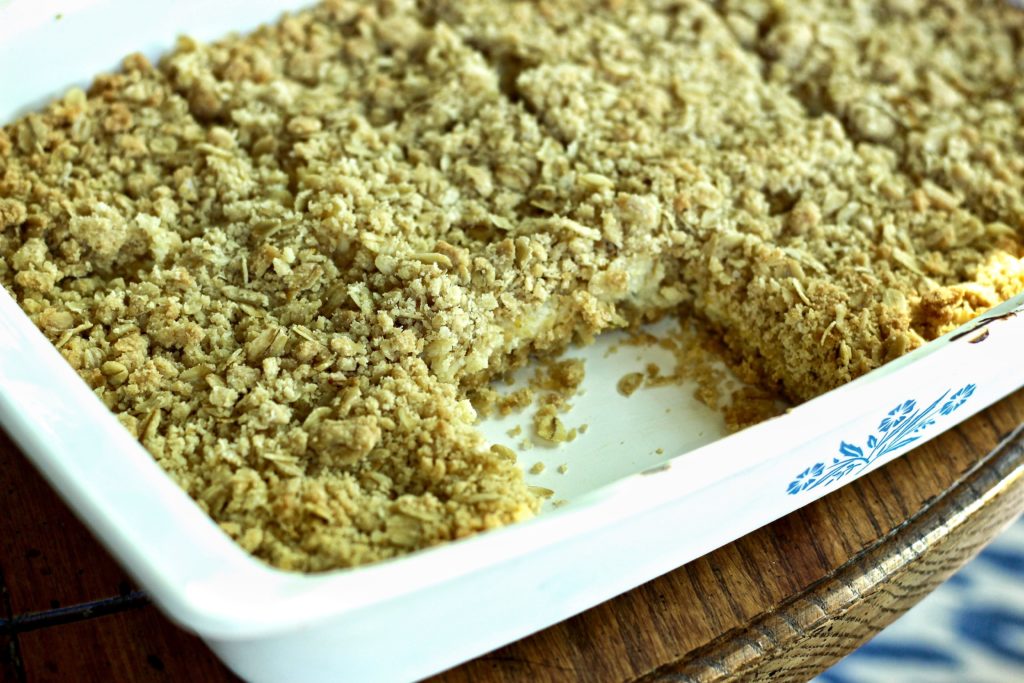 …and eating.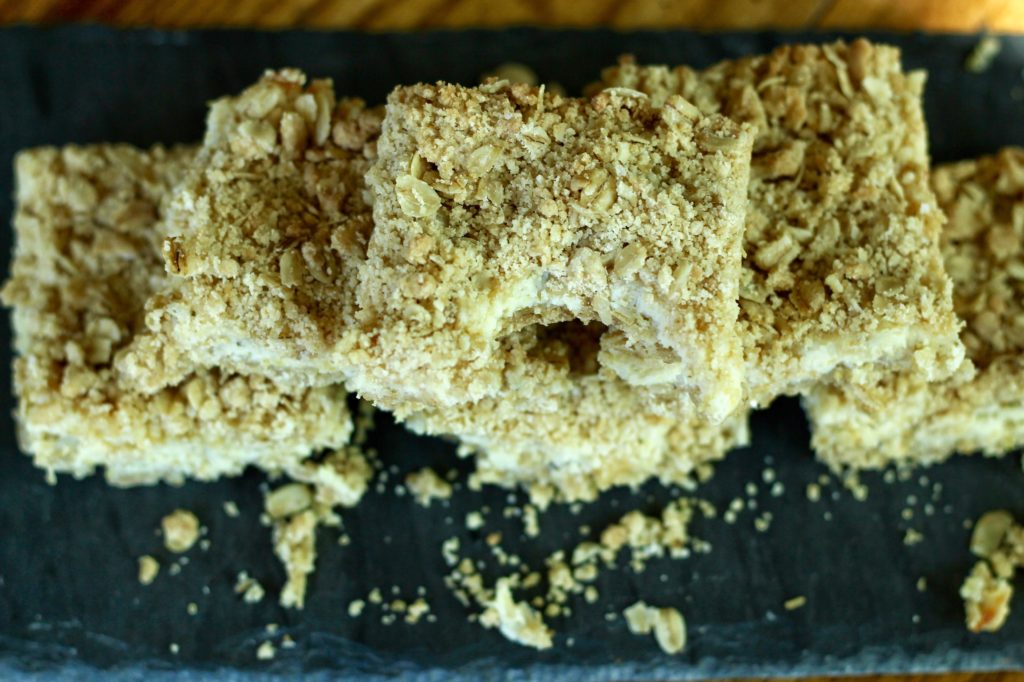 Have a great weekend, y'all!  XO