I am a music fan.  Music is a large part of who I am…it's a part of how I was raised, of my dreams, of my day to day life…  I often feel like I'm a rock star trapped inside of a housewife's body.  Perhaps one of these days I will get back on a stage, but for now I happily settle for the concerts I become a part of in my living room.  I like a lot of different types of music.  I love rock, Motown, rap, folk, country, pop… I love a lot of different artists, from Mary Chapin Carpenter to The Carpenters, Al Green to Green Day, Pink Floyd to Pink… Which brings me to the purpose of writing this post.
Pink (or P!nk), is one of my current favorites.  I've been a fan of hers since I saw an MTV special on her promoting her second album, M!ssundaztood back in 2001.  It was a behind the scenes look at her creating the album, writing the songs, talking about her music, and I was hooked.  What officially sealed the deal though, I think, was years later when I saw a video of her singing a tribute to Janis Joplin and when she belted out, 'Piece of my Heart', I was blown away.  I just really, really liked everything about her.  I have all of her albums, not just burned copies or iTunes downloads, but the actual CD's, which is something I do for the artists I truly treasure.  I feel like we'd be great friends.  I mean, we're both blonde, at one point my hair even resembled hers…
apparently, this is me…
…we're both Virgos, love the color green, both short…(OK, now I'm reaching), I feel like Willow and Lennon would play really well together, they could bond over the fact that their moms named them each something strange…  It's not an obsession or anything, don't be scared, I just really admire her.  Her work ethic, her drive, her talent, what she's done with her life after all that she's been through.
Anyway.  Let me get back on track here.  I have been wanting to see P!nk live in concert for a very long time.  And last year for my wedding anniversary, my husband surprised me with two tickets for her Truth About Love tour in my home town.  That was in October.  I have been dreaming of this concert day for 5 months.  And it finally happened this past weekend!  It was amazing.  She was amazing.  I took a lot of pictures, and I will bullet-point the entire experience for you all now.  Because words, no matter how eloquently strung together, cannot express the excitement and sheer, child-like joy that I still feel whenever I think about the evening, which is a lot.
OK.  First things first.  2:45 p.m.  Managed to say goodbye to these adorable, little things.
It actually wasn't that hard.  They had been driving me nuts all week.
3:30 p.m.  Checked into the DoubleTree Hotel.   It was beautiful.  They had fruit water in the lobby.
4:30 p.m.  Opened the bottle of prosecco I smuggled in, unbeknownst to my husband.  Drank from hotel water glasses.  Enjoyed the silence.  And the time we had to enjoy it without Dora or her equally redundant cousin asking us where we were going every 2 minutes.
4:45 p.m.  Began the make-up process.  This hotel had no good lighting for make-up application in the bathroom so I had to improvise.
I took my sweet time with the make-up.  I love make-up.  LOVE it.  Always have.  And usually I have to rush through it but I wanted to go as slow as I could and just play.  Sip and play and sip again.  It was wonderful.
I used a lot of make-up.  A LOT.  It was so much fun.  I even put glitter on my lids in honor of P!nk and my favorite song of hers.
5:30 p.m.  Put on the outfit that took me days to settle on.
The jacket is hiding a lot of it but there's a lot of glitter going on here.  Glitter on the eyes, on the wrists, on the feet..I felt very shiny.  I kinda think I dressed like I imagine my 2 year old would have dressed if she were really excited…just put everything you own on at once!!  Bottom line-I wasn't holding back one bit.
5:45 p.m. We head out the door and set out to walk a few blocks to our restaurant.  We suddenly realize it's St. Patrick's Day weekend and we had just walked into a very large frat party.
It was amazing fun to be out walking through this.  Lots of green-wearing young people drinking lots of green-dyed beverages and in large hurries to get to the next greenly-decorated bar.  Part of me now wished my sparkly shoes were green…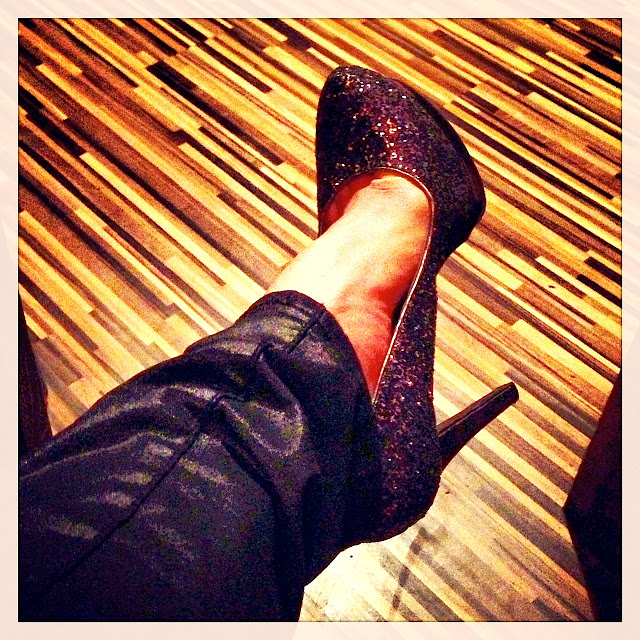 6 p.m.  Walk into The Wooden Vine restaurant.  It's quiet in there.  Lovely.  Beautiful place.  Impressive wine list.  Delicious, inventive food.
Duck Quesadilla, Belly-Kopida, Dolmas, Grilled Baby Octopus, Scallops, Vinho Verde, Gruner Veltliner, Pinot Noir, Malbec…all very tasty.  We sat and sipped and nibbled for over 2 hours.  Alone!!  We talked and listened and enjoyed.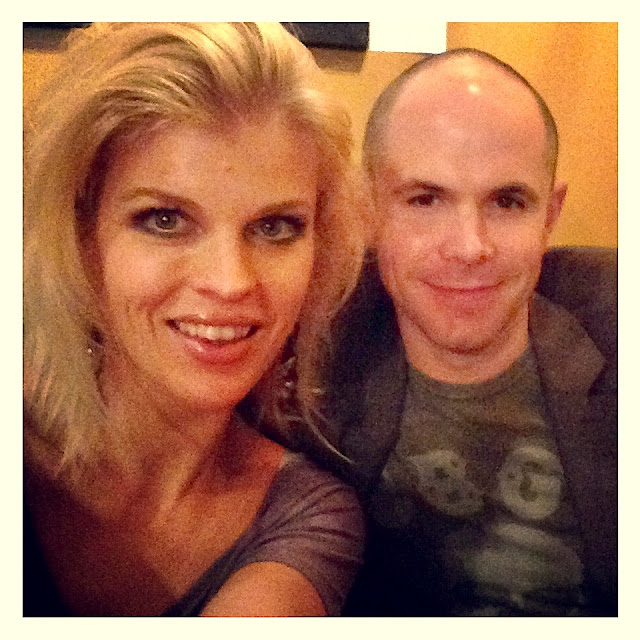 7:30 p.m. We freshen up and head back outside into the frat party.  This time it was louder and greener.  And something major must have happened while we were eating dinner because the Ecto-1 showed up on Trade Street.
8 p.m. We wait in line at the Time Warner Cable Arena.  It's very crowded and very exciting.  There are even protestors there.  Something about how we were all going to hell because we liked music…?  Very exciting.
8:45 p.m. We settle into our seats, cheap beers in hands, and enjoyed the last few numbers of the opening act, City and Colour.  Our seats are amazing, I hug and kiss my husband.  We make friends with our very drunk seat neighbors.  (They like my shoes.)
9:10 p.m.  The lights dim, the music begins, and out pops P!nk, belting out 'Raise your Glass' while swinging from cables.  My cheesy grin began and did not fade for 2 straight hours.  I got a little teary, my face hurt from smiling, I was mesmerized, in awe, amazed, and fully entertained.  And I did not move.  For 2 hours, I stood in one spot, completely quiet except to lightly mouth the words to all my favorite songs.  And those of you who know me know that I don't ever not move…or not talk…especially when I've had a couple drinks.  I didn't know I was capable of that.  But P!nk did not disappoint.  I even forgave our new friends behind us for singing every word to every song as if they were miked.  I even forgave the poor acoustics in Time Warner Cable Arena for making P!nk sound like she was being recorded on a blackberry. She played all the things I wanted her to play, some of her old stuff, a lot of new stuff, my favorite song off her new album, 'Just Give Me a Reason' (feat. Nate Ruess from 'Fun'), she did an amazing cover of Chris Isaak's 'Wicked Game' that was beautifully dark and haunting.
The show went on for 2 whole hours and she didn't stop for longer than 7 minutes total for some costume changes.  She danced, swung, jumped, and belted her heart out for 2 straight hours.  Incredible.
11:00 p.m. (ish…?) The concert comes to an artificial end and we all wait in anticipation for her encore.  Before we could think enough about it, the stage lights come on, the opening bars of 'So What' begin to play and P!nk runs out from back stage dressed in a gold lame unitard/bodysuit strapped into a harness around her waist.  She gets a little help from some shirtless men, becomes latched onto come cables and without hesitation, is pulled as fast as can be through the sky over the audience. I am not exaggerating when I say that she was flying above our heads, darting from corner to corner, turning flips, belting with amazing precision, like Peter Pan.  It was incredible.  Incredible!  At one point she lands on a metal tower at the far corner of the arena, in high heeled pumps, mind you, and begins to flip, and do handstands while singing.  Then, at the same moment, every single person from our section looks up to notice that there is another metal tower planted directly in front of us.  'She's coming over here!!!', we all yelled, like children.  And before you know it, she flies our way and sings at our perch.  She's so close that I could see her make-up.  (…I wonder if she could see mine?)
It was freakin' fantastic.  Amazing.  Unbelievable.  But her final encore was my favorite.  And I knew it was coming when the lights went down again after 'So What' and I saw the silks come down from the rafters.  If you haven't seen P!nk's performance on the 2010 Grammy Awards, you need to see it and then you will realize why I was so excited for this number.
She performed it so well and it was as amazing as I remember seeing it on TV.  Breathtaking, beautiful, and so powerful. I have never seen anyone work so hard doing something so perfectly in my entire life.  And I've seen some amazing people perform in my time.  Legends, even.  It's not fair to compare artists because everyone is different (thank goodness) but what she does is beyond what I believe anyone out there can do.  It was one of the greatest experiences in my life.
11:30 p.m. (ish…?) We begin to exit the arena and enter the frat party that is still happening on the streets.  Only this time it's smokier, sloppier, and I'm a good bit tired-er.  My glitter shoes were not needed anymore and my feet were in need of a break.
I walked 5 blocks down Trade Street in my barefeet.  The same 5+ blocks I walked in the glitter shoes just hours before.  But my shoes had fulfilled their destiny, they did their job and were not needed anymore.  They allowed me to have my perfect night.  Not unlike Dorothy's shiny red shoes, my shiny purple ones brought me back home safe and sound, after experiencing what seemed like an amazing Oz-like dream.
We went to bed around 1 a.m. and the next morning woke up as if we were still at home.  No sleeping in for these pro parents!  But we got to stay in bed, roll over and pick up a phone and tell someone to bring us food and coffee and we got to lay there and eat and drink for as long as we wanted.  Room service or any type of breakfast in bed is my ultimate luxury (It means I didn't cook it!!!).  It was almost as exciting as the night before.
We happily dined on eggs (even though they were hard scrambled), bacon, sausage, bagels, english muffins, hash browns, coffee and more coffee.  Everything tasted like it was made just for us.  I got in a quick workout after breakfast (because I'm kinda crazy) and got dressed and made-up in my usual spot.  This time I toned it down a bit…
me and my st. patty's hat.  nobody liked this but me.  oh well.  win some, lose some…
Around 10 a.m. we headed back out to the streets to drive home and pick up our babies.  The streets were much quieter now.  We passed many green necklaces, half empty cups, shattered bottles, the Ghostbusters had all gone home… the party had officially ended.  We drove home, so very happy to have had our fun night, and so very happy to be on our way to see our children.  It was an amazing feeling that I've only felt an odd couple of times- leaving for awhile to have some grown up fun and then being excited to see the kids again.  I don't get to miss my kids often because they do everything with me.  And let me tell ya, there's nothing like it.
On Sunday we had a lovely St. Patrick's Day.  We just stayed home and played with our kids all day.  I braised a corned beef brisket and we washed it down with a Guiness.  It was a wonderful weekend.
Then Monday morning happened and I woke up looking like Kim Jong Un.  I am not used to consuming so much sodium (the restaurant food, the hotel breakfast, the corned beef…ahem, the prosecco, the wine, the beer…) that I went from feeling like I looked pretty good all weekend (obviously, if I took so many shameless pictures of myself and then showed them online…) to looking like this:
Meet Super Puffy Face.  It took me awhile, but I eventually found my gel eye mask hiding under the butter in the fridge.
All day Sunday I daydreamed about that concert, about the hotel, the food, the peace and the quiet.  I'm still doing it now.  I'm singing her songs all day long, either out loud or inside of my head.  I've heard several P!nk songs on the radio since the weekend and they all have new meanings and memories attached to them.  And I'm not sure I will ever be able to hear 'Glitter in the Air' without tearing up.  P!nk still has many shows left on her tour, she's long gone from my small town in North Carolina, and as for me- all the glitter has faded and I'm back on my feet doing what I do:  Cooking in my kitchen.  I love it, it's my life and I wouldn't change it.  But everybody needs an escape sometimes.  So now whenever I find myself feeling a little like Bill Murray (Groundhog Day Bill Murray, not Ghostbuster Bill Murray), browning the same pork chops or soft-scrambling the same eggs, I'm gonna slip on those magic shoes, belt out something from that night, and bring a little glitter back into my air.
But if you catch me trying to build a harness out of some kitchen twine, you know it's time to get me out again.
*Abbey' Soft Scrambled Eggs
photo shows 2 soft scrambled eggs
Eggs are something that everyone makes.  Every adult, at one point in their life, has scrambled an egg.  They are the first thing that I ever cooked as a child and are my go-to meal when I'm just feeling lazy.  Eggs can be done in a million different ways and everyone has their own way of making them.  I grew up with my mom whipping hers with milk and scrambling them in a pan until light and fluffy and my grandmother cracking hers directly into a pan of butter and using a fork to lightly beat them until the end result was scrambled whites and scrambled yolks only slightly mixed together.  I like them both ways, for different reasons, but if I have the time I like to soft scramble eggs in this delicate way that leaves you thinking there must be heavy cream or loads of cheese inside of them.  But these have neither.  I make them similar to the way you make risotto, low and slow with a lot of stirring.  They are rich and creamy and contain nothing more than a little salt, pepper and your fat of choice.
-Crack as many eggs as you want in a large bowl and whisk until there are no more clumps of white in the mix. Season with cracked black pepper if you'd like, but no salt yet!!**
-While you're whisking, preheat a non-stick skillet to medium-low heat with either some oil, butter, bacon grease, duck fat, etc. to coat the pan.
-Once the skillet has reached the correct temp and the eggs are ready to cook, pour your whisked eggs into the skillet and salt them liberally with kosher salt.
-Turn your heat down to low and start stirring.  You may need to continue to adjust your heat to make sure you aren't cooking the eggs too quickly, but rather ever-so-slightly, allowing them to set slightly at the edges before stirring the edges back into the center of the pan.  And you're stirring the whole time.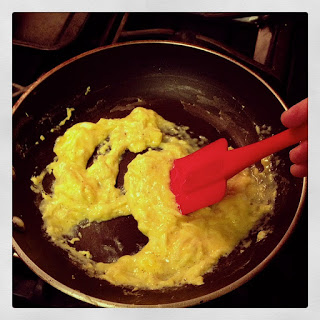 Continue this until all the eggs have just set, which can seriously take up to 15 minutes if you're scrambling 8+ eggs in a large skillet.  The chemistry of the eggs changes drastically when you cook them this way and they taste so much richer than if you cook them quickly.  It's a real treat.
-Remove the eggs a few seconds before they are completely done, because they will continue to cook once you plate them.
-They should be fully cooked, but still incredibly soft as if you could spread them on toast.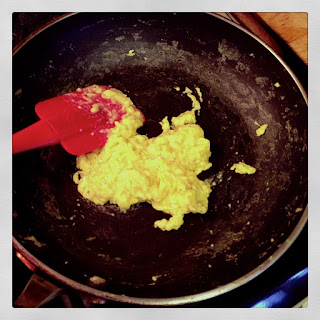 -Serve warm.


(**Salt, as we can see from my self portrait above, can cause water retention as the body tries to dilute it with a lot of water.  And specifically in the case of food, it pulls water out of the food's cells.  For instance, if you want a crispy steak or crispy skin on a chicken, then you salt it way in advance so the salt comes out and leaves a dry exterior, perfect for crisping.  So if you salt the eggs prior to cooking them, the water will begin to leach out, therefore making your scrambled eggs watery and rubbery.)