Two year olds and movie theaters don't usually go together in the same sentence.  The same paragraph, even.  But for some reason it felt right when we decided to take our newly 2 year old daughter to see Oz, The Great and Powerful over the weekend to celebrate her birthday.  You see, The Wizard of Oz was my first movie as a young girl.  The movie, my mom says, that I sat on the edge of the couch, eyes glued to the TV, watching.. completely mesmerized.  And I, like every young girl, yearned for a pair of ruby red slippers that I could click together whenever I felt homesick.  As an adult, I don't have any sparkly red shoes of my own, but I do have a pair of sparkly purple heels that make the little girl inside of me very, very happy whenever I slip them on.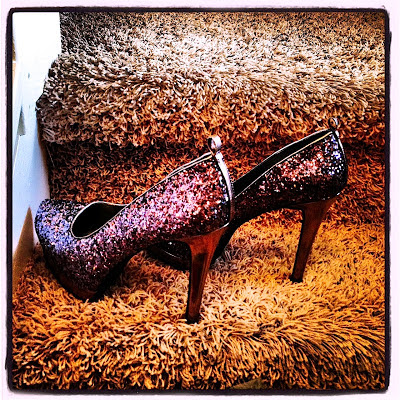 You may even catch me clicking a heel or two together in the background of a party.  (I actually wore them to my daughter's Elmo birthday party last week, per her request.)  The Wizard of Oz is a classic and I'll still watch it every Thanksgiving when it comes on.  Little ole me apparently sat through the whole thing as a toddler, not scared of anything.  My father still can't do that.  Once the flying monkeys come into the picture, he makes an excuse to get something from the kitchen.
So even though my daughter is much younger than the normal theater-attending child, I knew she was capable of making it work.  I knew it because my daughter is much different than the normal theater-attending child.  She has sat through entire college basketball games since she was 6 months old.  She loves drama and she loves a good story.  She's me.  She loves all things princess.  But before you think she's a girly girl, she loves all things witch almost as much, if not more.  Her favorite part of the Snow White book my mom reads to her is the witch.  And she will turn the pages until she finds her.  So as we were getting ready to leave for the theater over the weekend, we told her we were going to see a movie with princesses and witches (not entirely a lie…)
She was so excited when we first walked in the theater and picked our seats against the back wall.
I was also excited because we were not the only people to have our children in the room.  Ours were the youngest, but not by that much.  (Whew.)  She kept asking where the princess was during all the previews.  But she kept still because I really think she liked her big chair.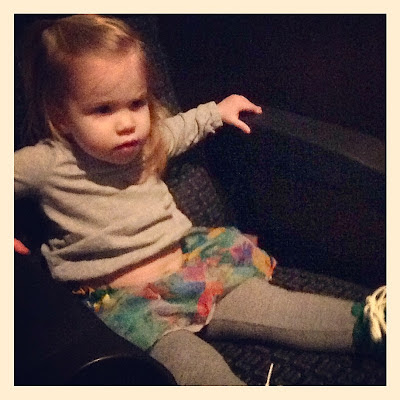 Once the lights dimmed and the Disney logo appeared on the screen she yelled out, 'Princess castle!!"  She was hooked.  And towards the beginning of the movie a man loses his hat and she became very concerned about the hat.
'Where hat go?'  
'Find hat'  
'Princess have?' 
For the first 10 minutes of the movie she thought we were watching a film about a missing hat.
There were a lot of 'uh oh's' throughout the film, a lot of 'wow's'.  And after about 30 minutes of exposition she decided the aisles were a better fit.  She stood up at the top of the stairs, eating her popcorn and swaying back and forth to the background music.  She was mesmerized.
I packed several things for her and her brother to snack on during the movie.  Yes, you heard me.  I brought my own food in there, what of it?  Once the theaters start selling applesauce in squeezable bags, real fruit gummy snacks, and anything for that matter without preservatives, unnecessary saturated fat and chemically processed sugar then I'll stop.  I like to make my own stuff, mix it with some store bought snacks and pack goodie bags for each kid.
She watched the whole movie.  My 2 year old daughter watched the whole (2 hour long) movie. We actually got to stay for an entire movie and I still can't believe it as I'm typing it.  It didn't come without its wrinkles, though.  She, like any 2 year old person was not able to be still and quiet for an entire 2 hours.  She danced a bit, she walked up and down the stairs a couple times, we went potty, she counted the lights strung on the walls, she made a couple friends, and we kept having to remind her we had to be quiet in the 'big movie room'.
But it was a complete success.  And at the end of the movie she clapped.  No one else did, she didn't do it because the other people around her were doing it.  She just did it because she thought the moment deserved an applause.
What innocence and sheer joy does someone have to have to clap at the end of a movie?  I just love her.  And after knowing that she can sit through a whole movie in a theater, I'm just so proud of her.  And I'm so excited for all the other things we get to do together the older she gets.  On one hand I want her to stay just the way she is.  She's so perfect right now.  And maybe I'm a bit scared of losing her one day.  Because all of us women, especially if you're one who also has a daughter, are well aware of that moment when the separation of daughter from mother happens.
I've (so far) only been on the daughter side of it but I know it's tough.  It comes back eventually, the friendship, but I'm just nervous for it I suppose.  A part of me wants to click my heels together every time she has a big milestone because I want to bring her right back to me, right back home again.
But on the other hand… I keep thinking how she can only get better with age.  I mean, if this is how awesome she is at 2, then imagine what she'll be when she's 12…22…32…42…52…62…She's gonna be unstoppable!  I know I can't stop her from growing up, but I just want to make sure I am here for every single moment that makes her the woman she's meant to be.  I am her biggest fan.  She is Great.  She is Powerful.  She is perfection.  And she deserves a round of applause.
Happy birthday, my darling. You've got the courage of the Lion, the strength of the Tin Man and the heart of the Scarecrow.  I know you'll be heading out on your own journey one day, following your own yellow brick road of dreams, but please remember there's no place like home.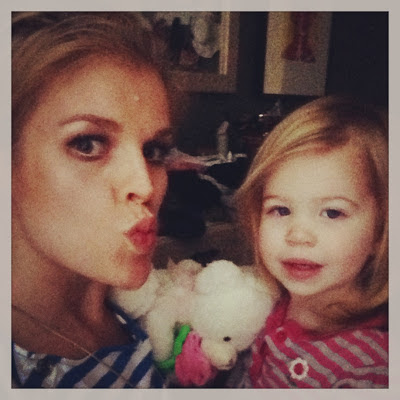 *Raw Peanut Butter-Coconut Oatmeal Cookies 
(recipe makes 18 small cookies) 
(These little guys are perfect for little kids, my whole family loves them.  And they happen to be a great, healthy treat for watching a movie!)
In your food processor combine the following:
-1 cup raw, rolled oats
-3/4 cup raw peanuts (I've used all sorts of different nuts for these, it just depends on what I reach for.  If you don't have peanuts, I like walnuts and cashews b/c they're soft.)
-1/2 cup ground or whole flax seeds
-splash of vanilla extract
-several pinches of kosher salt
Process until you get the consistency of breadcrumbs.
Add the following and process again:


-1 cup shredded coconut (Unsweetened would be preferred for health reasons but sweetened is fine if that's what you have.)
-1/3 cup agave nectar (Honey could also work.  Adjust this amount to your liking depending on if you use sweetened or unsweetened coconut.)
Process this until everything is well combined and moistened.  If you're using sweetened coconut, the mixture will become moister quicker, but if you're using the unsweetened kind, you will need to process it longer and add agave until you're able to squeeze it together and form a ball with your fingers.
Once the mixture is well combined you can take out small amounts, between the size of a walnut and golf ball, and form them into a flat disk.  I use a small (1 ounce) ice cream scoop to make sure mine are all even and then flatten them in the palm of my hand like I'm forming a hamburger.
Store in an airtight container in the fridge for a few weeks.
See another raw 'cookie' recipe here: Raw (and healthy!) Cookie Balls