So I have this friend, see?  And her sweet and beautiful tummy cannot tolerate wheat and other things.  But I love cooking for her.  And she loves her sweets like nobody I have ever known.  Which makes sense.  Because she's my sweetness.
Her name is Tara.  And this is her cake.
I made this cake for her when she was throwing a dinner party last weekend.  It was an experiment, and I was using her party guests/my friends and their children as taste testers.
This is not uncommon in my world.
Instead of thinking that I'm 'using people', I prefer to think that I am just a generously delightful person who always has food to force offer upon people and nervously politely await their feedback for, like, just casual conversation and stuff.
So I wanted to make for her a Flourless Chocolate Cake… something that's already a thing… something that I wouldn't have to announce as 'gluten free' to the room.  People can be weird about that.  When 'normal' eaters hear there's something given to them with any sort of dietary restriction attached, they tend to recoil in fear.  And fork into it very skeptically.
I decided that if I was taking away the flour- what gives a cake its body, that I would add some toasted and ground nuts in its place.  I thought the toastyness of the nut would add to the flavor of the cake as well.  Then I thought some unsweetened coconut would help with both the sweetness and the body too… since I always cut way back on the sugar in my desserts. But what I wasn't sure of, was whether or not it would come out as a Toasted Nut Coconut Chocolate Cake, because of these things.
It did not.
We all decided that when told the ingredients, you could taste the nuts and the coconut a bit, but that overall, it was simply a very delicious and dense dark chocolate cake with a moist, brownie texture.
My daughter said, about 4 bites in, that it tasted like 'those brownies I make sometimes'.  Me, being a big fan of dense cakes, took that as a high compliment.
And that's why we have taste testers, y'all.
I chose to use pecans as my nut in this mainly because I had them.  However, I'm absolutely standing behind them as the preferred nut of choice here as they're buttery and flavorful, but not overpoweringly so.  But honestly, you could use any nut you wanted.  Walnuts would be excellent… hazelnuts… cashews….  Peanuts, I believe, would be too strong of a flavor for it to not be called a Peanut Chocolate Cake, but you use what you wish 😉
This cake went over extremely well at the party.  Better than I expected, honestly.  I'm quite proud of it and cannot wait to make it again very, very soon.
Probably next week.
Or tomorrow.
And when I do, I will share it with my Tara and we will be happy tummies.
DOUBLE CHOCOLATE FLOURLESS CAKE
with
DARK CHOCOLATE CREAM CHEESE FROSTING
Preheat your oven to 325.
In a dry baking sheet, add the following…
1 cup pecans (halves or pieces, doesn't really matter)
Place in your preheated oven and toast until fragrant… about 10 minutes, tossing halfway through.
Remove and allow to cool.
Keep oven on.
Butter a 9 inch round cake pan (I use the butter stick papers, just be sure to butter ALL sides and crevices).  Add about 1 TB cocoa powder to the buttered pan and roll it around, tapping as you go, to dust the entire surface with the cocoa powder.  Tap out the excess.
Set aside.
In a double boiler (or glass bowl situated above a pot filled with enough boiling water to where the bottom of the bowl does not touch it), begin to melt the following…
Once the water is at a rolling boil, lower the heat to a light simmer and slowly steam/melt the chocolate/butter until glossy.  Stir occasionally, as needed.
Keep warm at a low heat while you continue with the rest of the cake…
In a food processor, combine the following…
your 1 cup toasted pecans, cooled
1 tsp kosher salt
1/4 cup cocoa powder
1/2 cup unsweetened shredded coconut
Pulse until you get a thick paste.  The nuts should be broken down completely, and the coconut should be unseen.
It should pretty much be a salted chocolate coconut pecan butter (now I want that on toast).
Set aside.
In the bowl of your standing mixer, with the whisk attachment, add…
6 large, room temperature eggs
Beat at medium speed until yolks and whites have become one… 30 seconds or so.
Then add in…
1/2 cup white sugar
1/2 cup light brown sugar
big splash vanilla extract
Increase your speed to med-high / high and beat until you have a thick and pale mixture… about 2 minutes.  Beat until you begin to see the whisk streaks as it beats.
Switch to the paddle attachment.
On low speed, add your melted chocolate/butter mixture slowly.  Add a little at a time to allow the eggs to come up to temp so you don't have scrambled chocolate eggs on your hands (hmm… other breakfast idea…)
Once fully incorporated, add in your pecan mixture.  Mix until well combined.
Then switch to a rubber spatula to scrape the sides and bottom to ensure even distribution.
Pour batter (it will be thick) into your prepared cake pan.  Spread evenly.
Place in your 325 oven on the center rack.
Bake 30-40 minutes, or until a wooden skewer inserted at the center comes out relatively clean, but not wet.  Some dryish crumbs are fine.
Transfer pan to a wire rack.  Cool 20 minutes or so.
Carefully remove by inverting onto your hands and then back onto the rack to cool completely.
Once cool, frost with the following…
. dark chocolate cream cheese frosting .
In a large mixing bowl, combine the following…
1 (8oz ) brick reduced fat neufchâtel cream cheese, room temperature and very soft 
1 1/2 cups semi-sweet chocolate morsels (10 oz), melted*
splashes of milk/cream/half&half as needed if it's too thick after combined
(*melt in a double boiler, or slowly in the microwave… your choice.  I usually melt 1 cup + in the microwave completely, but checking often, then stir in the remaining morsels to melt as I stir… this ensures I don't scald the chocolate.)
Use an electric beater if you have one and beat until smooth and glossy and frosting-like.
Frost as you wish.  But I prefer a hefty, but quick slather-swoosh on top, with no bother about the sides.  It's quite satisfying.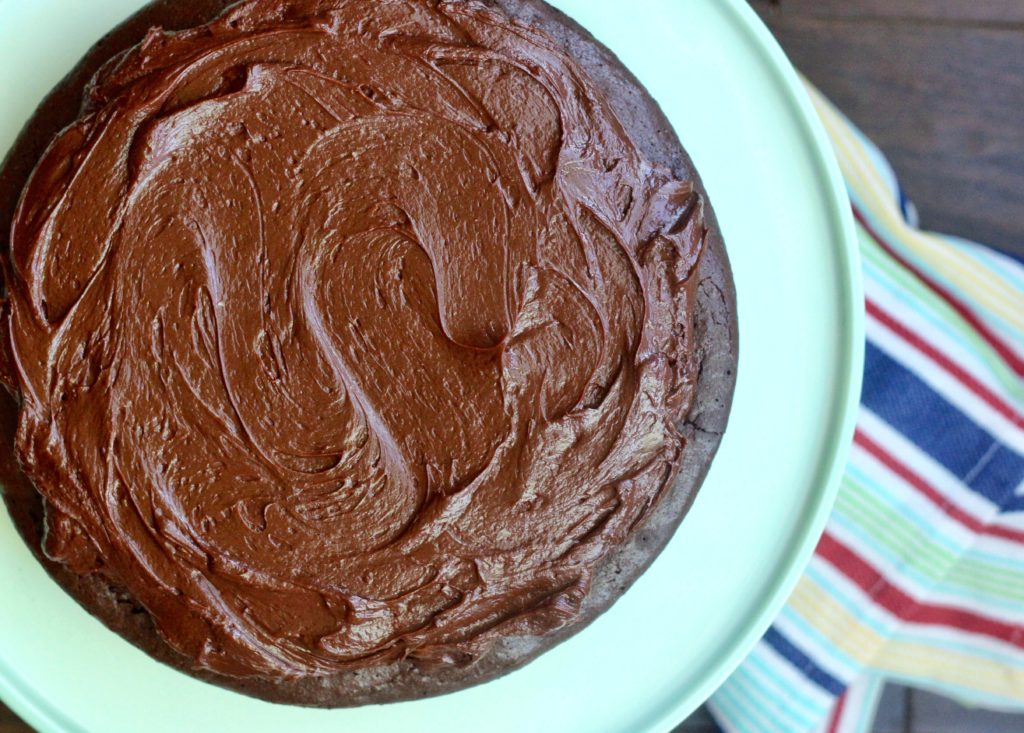 Eat room temperature.  Or chilled if you prefer.  I'd even settle for warm if you're entirely too impatient for cooling nonsense.
Just be sure to eat.
And Tara and I recommend it for breakfast the next day with your coffee.
…
Much love, y'all. Thanks for reading. xo