A little while ago I had the privilege of receiving an amazing gift from a company called JORD.  They make wooden watches- something I never even knew existed, and graciously sent me one.  But here's the thing- I am not a watch person.  I am an accessories person, all day, erryday… but not a watch person.  So I was a little nervous about being contacted by a watch company… until I saw the watch.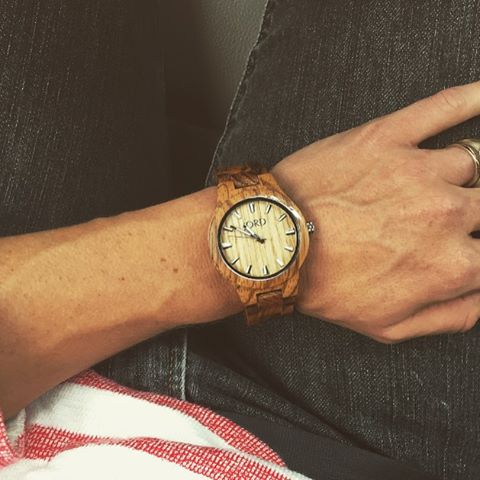 Look at that thing of wooden beauty!!  It was love at first sight… This particular model is the Fieldcrest – Zebrawood and Maple. And I have barely set foot out of the house without that thing on my wrist.  I love it so much.
Soon after receiving the watch, I did a photoshoot for the company, that I styled myself, with a dear friend and amazing photographer, Amy Ellis at Amy Ellis Photography… and if you follow me on Instagram, you know I've shared a few of the shots already, but it's time for me to put up a (condensed) gallery for you all here.
And before I do, the company has kindly sent me a discount code that is good for $20 off the first 100 uses, so I'd act fast if I were you.  After it reaches 100 uses, the value drops to allowing you free sizing on any purchased watch.  Click HERE for the code.  And stay tuned at the end of the post for another special gift!
And now, ladies and gents, you have the choice of looking through many photos of me and my watch lover.  Or quietly leaving the page.  I will not know which choice you have made.
…
First, Amy and I headed to a local farm to get some shots right as the sun was dipping down in the sky…
I styled this look with a denim button-down tied at the waist from Forever 21, a white maxi skirt from Target, brown boots from Marshalls, silver balled necklace from Target, beaded hoop earrings from World Market, oversized cuff from Forever 21, turquoise cocktail ring from Hand Picked and one-of-a-kind, handmade wrap bracelet from a local boutique. (I would link to all the products per usual, but they're all from past seasons and therefore out of stock.  But all items here and in the other looks are easily to find similar versions of at most stores… or in your closet 😉 )
Go twirl, she said.  So I twirled.  A lot.
Next, after the sun went down, we took it to the rooftop of my father's office building in downtown Davidson.  We turned on the twinkly lights and let that, the stars, and the moon light the evening.
This next look included black leggings with a faux leather panel down the legs from Kohls, a black camisole that is actually part of a lingerie set from Target, a sleeveless blazer from Target, platform peep toe heels from (you guessed it) Target, pewter tusk earrings from Forever 21 and a jeweled cocktail ring from Buffalo Exchange.  Again, all items are older and currently unavailable for retail purchase.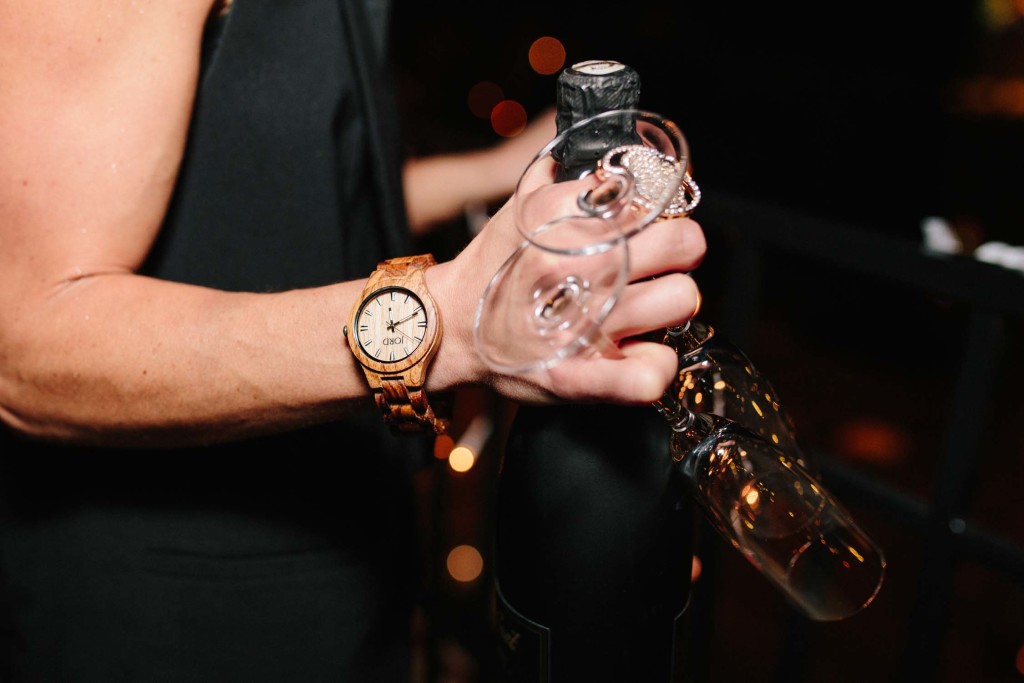 Oh, and some bubbly.  Because, everyday champagne…. And because mama always has a little liquid lovely on her photo shoots (shhhhh)
I received a few Instagram comments on my ponytail in this look, which surprised me.  I have very fine hair so in order to achieve any sort of supposed volume, I am smoke and mirroring you, people.  My trick for a full pony is to separate the hair into two sections- half on the top and half on the bottom.  Secure the top half at the center of the back of your head with an elastic band, then pull up the under layer directly underneath it and secure with another.  Then wrap both stacked ponys in one more hair band.  Tease it, spray it, and carry on.
Then we brought the party inside and onto a giant leather couch in nothing but an oversized sweater (Chicos from past season) and a glass of whiskey (Knob Creek, single barrel reserve).
Because, really… what more does a girl need in this world?
If it weren't frowned upon, and if I didn't just love the hell out of fashion, I would never wear pants.  Or shoes.  OK, I'd be nekked at all times.
Thank you, so much, to the team at Jord, I am honored you chose me to be a part of your family. And a special thanks to Amy Ellis for capturing such lovely images. If you're in the Charlotte, NC area, please, please look her up.  She's truly magnificent and such a great talent.  Also… something tells me I'm not done sharing more of where these came from ;-).  So, go follow me on Instagram and you won't miss a thing!
…
Liked what you see? Click the image below to receive another special gift, from me and the Jord team.  XOXO

Remember, the watch I chose was the Fieldcrest – Zebrawood and Maple.
Thanks for reading, y'all. XO