Oh hello gorgeous. How are you on this fine, cloudy summer afternoon?  I am dandy, thank you.  I've been on single mom mode for the last couple and I'm a bit tired, but hey – so is life, yes?  And whenever my husband goes out of town, the kids and I generally create something together.  We do lots of special things when he's away, just so it's less of a 'daddy's gone this week' and more of a 'mom is the coolest ever' week.
Get it?
I mean, it's really just for selfish reasons.
So is life, yes?
This time I decided to create 'cake in a mug' for them.  Single serving cake, made quickly, by them, cooked in the microwave.  You're even mixing it all INSIDE the mug itself.  You don't even need a damn bowl, ya'll.  I've lazy-ed this sucker up real good for ya.
Because sometimes life is too busy for cake, except you really want cake.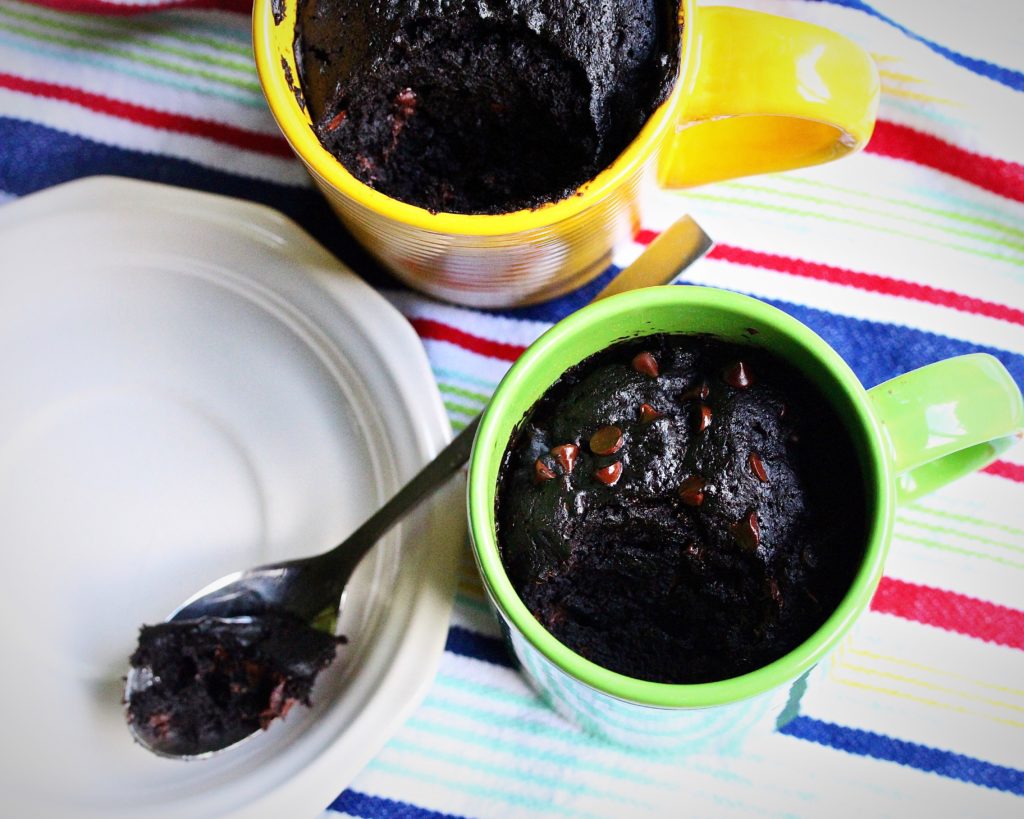 This is so simple, and can be changed to be whatever your favorite type of chocolate cake would be… do you want peanut butter in there?  Stir in a spoonful.  Or how 'bout instead you stick a peanut butter cup down in the batter?  What about some crushed up oreos?  Sprinkles?  Caramel swirl?  Favorite candy bar bits?  Crushed up peppermints?  Nutella?  Marshmallows?
Guys. I could go on, but I think you feel me.
There are no eggs in these, as there aren't really a lot of eggs in one whole cake anyway, so you don't miss them at all.  Plus, it makes the batter safe for lickin' 😉  Also I tested this using a gluten free flour mix and they came out GREAT!!!  We actually preferred it to the standard one, to be honest.  (In the photos, the gluten free cake is the one in the green mug, so you can see that it doesn't rise as much as the standard, but texture wise, it's more of a fudgey brownie than fluffy cake… both being awesome.)
So next time you're in the mood for a piece of cake, but don't have a cake.  Make this cake in a mug.
Kid and grown-up approved.
DARK CHOCOLATE MUG CAKE
(I prefer using a 12 (ish) oz coffee mug for this, as it's the perfect size for the cake to rise to the top… making it just look cooler and feel more special.  But honestly, I've done it in mugs about twice that size and it works just fine.  Be sure your mug is microwave safe.  PLEASE.)
In a 12 oz microwave safe mug (no need to grease), add the following dry ingredients…
1/4 cup AP white flour (or your favorite gluten free flour mix…. just make sure it's a cup for cup kind so you don't need to alter the other ingredients)
3 TB unsweetened cocoa powder (I used the 'special dark' Hershey's in the photos here, which is why it's such a dark chocolate cake, but any cocoa powder is good!)
1/4 tsp baking powder
3 TB white sugar
a good pinch kosher salt
Mix well with a fork.  Get all those lumps out.
Then, add in your wet ingredients (just dump as you go)…
1/4 cup + 1 TB milk of choice (can be a dairy-free milk… watch out for any that have added sugar, as that would make this a sweeter cake.  I can't stand behind the end results of any sweetened milks.)
2 TB vegetable/canola oil (coconut oil is a fine choice as well)
splash vanilla extract
Stir again with the fork until all the dry is moistened and you have cake batter.
Stir in…
1/8 cup (or 2 TB) mini chocolate chips (regular sized, of course, can be used, but I love how the mini ones stretch throughout the cake as they melt!)
Place the mug in the microwave and heat on high for 1 1/2 minutes.
If you're cooking two at a time, this can take up to 2 minutes and 15 seconds.  It's done when it's puffed up and pulled away from the sides of the mug, just like a normal cake!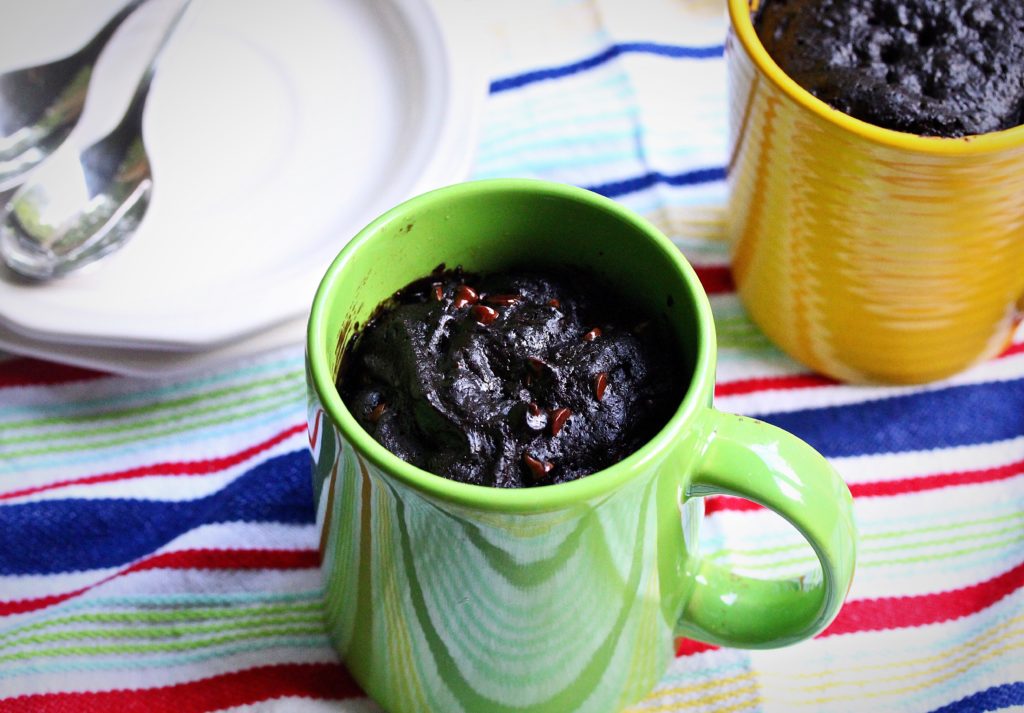 Allow it to cool slightly, but please enjoy it warm.
And with some vanilla ice cream on the floor watching The Sound of Music with your babies during a thunderstorm 🙂
…
thanks for reading, y'all.  Much love x