What the crap is happening?  I mean, I know why.  But really.  What?!  It's hot, y'all.  Like, not warm.
Hot.
My husband and I parted ways per usual this morning after our workout, then met up for lunch with my brother in Davidson and ate at the new Mexican spot… sat outdoors, it was lovely.  And hot.  Then we look over and see my father and my cousins walking down the street coming to the same place.
Small towns are funny.
It feels completely like a summer day outside, no doubt about it.  But it was definitely bizarre when we passed by the pumpkin patch and remembered it wasn't supposed to feel like that.
So… when it's an 88 degree October day, you can either get pissy about it. Cry into your scarfs and lattes… or you can just embrace it.
Today I embraced it and am just pretended it's summer…
Enter onesie, straw fedora and sneaks for the win.
It's all (ok, mostly) brought to you by H&M.
And in case you need to rush and by you some more summery pieces because you've already packed yours away, here's the full breakdown…
Black romper…
found here: @ hm.com
And shades from H&M also, but they're hiding from me now. And I can't seem to locate a comparable pair for you anywhere else.   But I love the square/aviator style of these.
The purse is a gift from my mama from Spain, so I can't link to it either, BUT it's a beautiful little leather number that fits everything I need for a quick outing.
It even fits tortillas inside.  I know this because I ordered fajitas today, but decided I'd rather just eat the filling, then felt guilty for doing so, and kept thinking about how disappointed the server and all of the staff and kitchen would be when they opened my tortilla warmer to find all of the tortillas still inside (in my head, this is a thing they do), so I shoved them in my purse.
And they fit nicely.
So now you know.
Canvas slip-on sneakers…
Out of season from H&M, but similar style (with laces) found here @ hm.com
Straw fedora…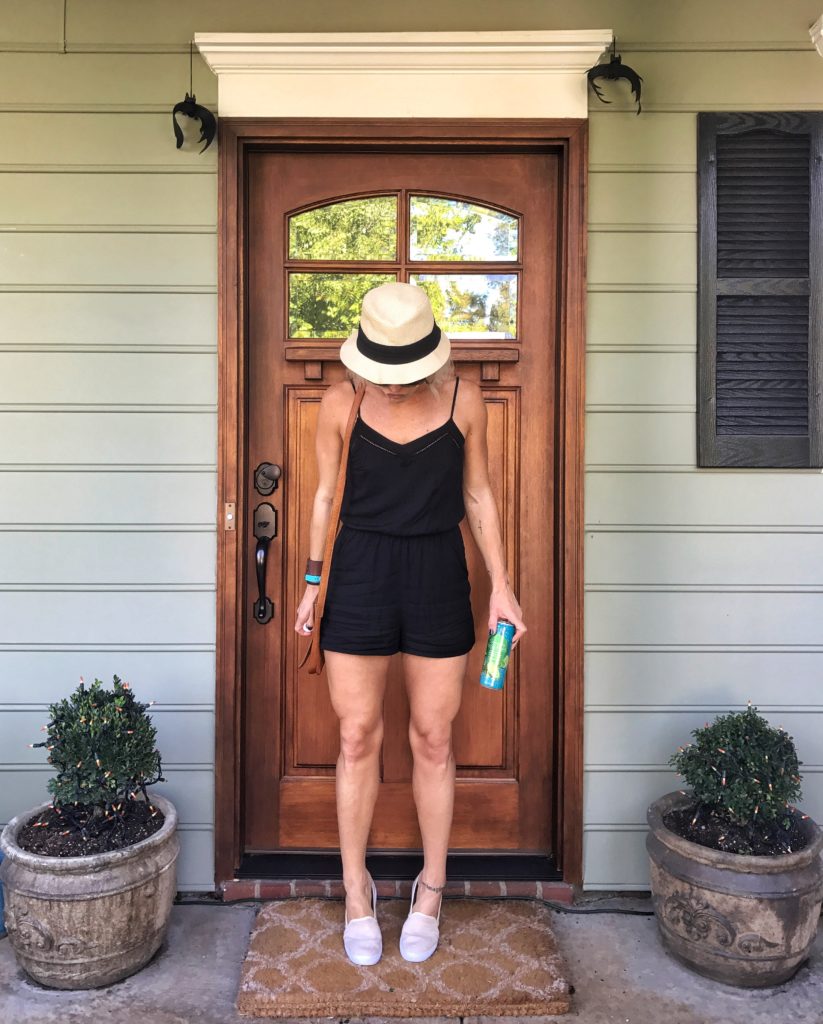 Found here @ hm.com
(Insert jokes from father about above pic- yeah, yeah, yeah, I'm short, daddy.  I stand on my tiptoes to reach a lot of things.  I'm not wearing heels… yes, this is my normal size.  No, I'm not the tallest one in my class…)
Also, just between you and me, I'm gonna let you in on a little secret.  I woke up this morning with a 16 year old face.  Turns out even for someone like me, a grown woman in excellent health, getting her many vitamins and drinking a gallon of water today, stress can do a doozy on the skin.  I mean, I barely slept last night, so there you go.
So… because of that, I turned to the ole Smoke n Mirrors effect and gave myself some eyes to distract the world from what's happening below.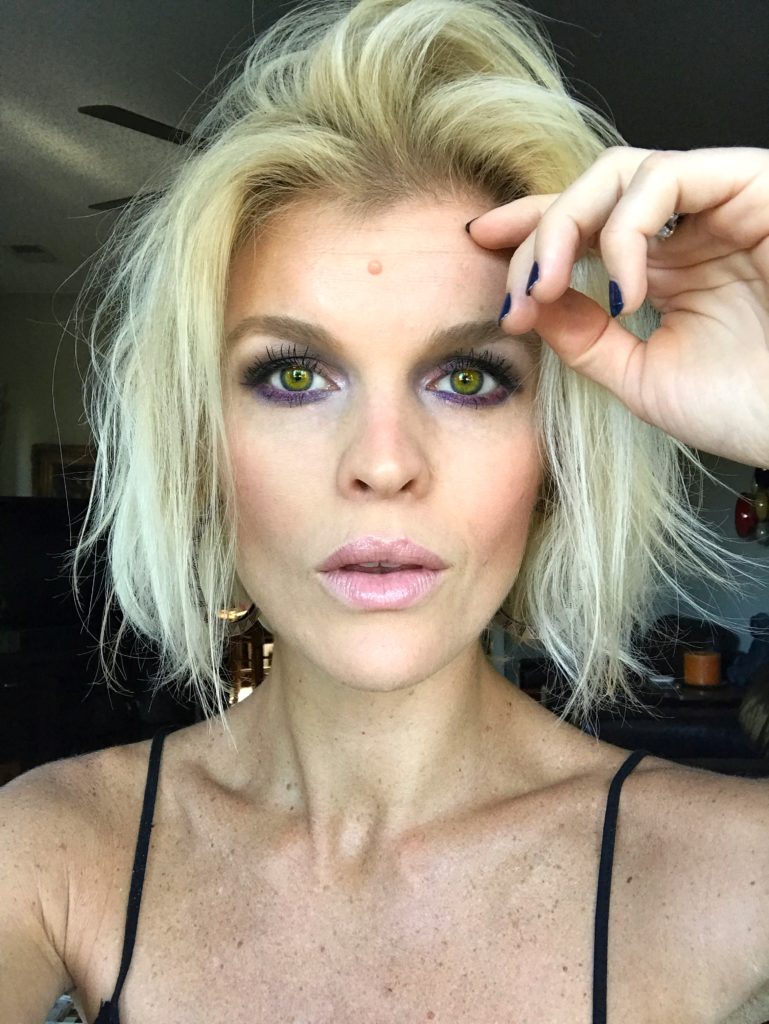 Did it work?
Eyes by Wet n Wild –  shadow palette 'Petal Pusher', found here @ amazon.com  for under $7.
And mascara by my old standby L'Oreal Voluminous in Blackest Black found here @ amazon.com for under $8.
(Remember how we found out how well that one stood up to tears?)
My foundation is Tarte Amazonian Clay Airbrush Foundation in Fair Light Honey.
My bronzer is Wet n Wild Color Icon Contouring Palette in Dulce de Leche.
My highlighter/shimmer is Wet n Wild Illuminating Palette in Catwalk Pink.
And my lips are just a little Vaseline Lip Therapy Rosy Lips (because with eyes that intense, you need to go SMALL on the lippies 😉
Nails are Sally Hansen Miracle Gel in Midnight Mod.
(Still!!)
…
So that's how I made this hot day work for me… Going with the flow is just so much more fun than fighting to swim upstream, y'all.
Enjoy the rest of your day!  Tonight it's family pizza night… so you may hear about that too 😉