(Close your eyes, mama… I'm wearin' red.)
Yesterday we talked clothes for Europe.  And I told you my color palate for the trip was black, white, grey and a pop of red.  The red I'm bringing comes by way of a few jewelry pieces, my evening clutch, a pashmina, leather gloves, and nails and lips. And then my clothes will always be in the black/red/grey world.  One thing that helped me pack light for this trip, honestly, is the fact that I know exactly what makeup looks I'll want while I'm there, because I planned out my clothing choices beforehand.  (I love playing with my makeup, and it always depends on my mood, so I usually pack a TON of choices.)  But for this trip I know my lip color will either be some sort of nude… or red.  And my nails are stayin' red… Did 'em bright and early this morning (technically it was dark and early… 3:30 am to be exact).  So, because of that, I know my eyes will either be dark and stormy (if my lips are nudey), or they'll be light, bright and lashy (if my lips are loud). Easy.
So.  Here's the scoop… (all drugstore finds, per usual 😉 )
My nail polish is my new favorite and I'm so happy to share it with y'all!  I've been telling everyone about this product, and I swear I get compliments on my nails constantly… everyone assumes they're pro.  But nope.  $5 at the drugstore and this stuff lasts.  AND is easy to take off.  Wut.
The Wet n Wild 1 Step Wonder Gel line is FANTASTIC.  And this color is Crime of Passion. It's not gel in the salon sense… no lights, etc.  It's as easy to apply as any normal polish is.  And it's only FIVE. DOLLARS.  I have almost all the colors and it's just my newest favoritist thing.  I can't say it lasts as long as salon gel manicures, (haven't actually had one… I'm really not a big salon gal to tell you the truth) but it lasts longer than any normal mani I've ever had… at home or salon.  (And I always use Sally Hansen Hard as Nails Xtreme Wear in Invisible as my top coat.)
As for the lips, we all know red comes in many shades.  There are reds with blue undertones (cool) and yellow undertones (warm).  I tend to go for the yellow undertoned reds, and brown-reds (think brick-red), as they pair best with my skin tone.
So, below are the products I'm traveling with… each being different enough to give me variety, but all staying within my color wheelhouse.  And, I'll remind you that I don't photoshop, edit or filter any of my face photos for cosmetic posts.  I consider that cheating, for one.  But also, I think you can never get a good grasp on the color itself if the photo is touched up.  Some of the pics below are from a couple weeks ago when I was made up for something and had a bit of other makeup on (just a little foundation and mascara), but the others are just me and the lipstick.  So you should be able to get a good idea of the shades.
Wet n Wild Megaslicks Balm Stain in Red-dy Or Not – $3
This line of balm stains are so great.  They go on so so easily… so smooth and rich with a slight sheen to it.  It's incredibly soft and moisturizing.  Then once that sheen fades, the color stays.  All day.  I swear by this product and wear these all summer long- at the pool, beach… it makes me look more pulled together when I'm really just a flip flopped, wet mess.  (My go-to summer shade, however is Red-ioactive, which, ironically enough, is a more pinky red 😉 ) The product does have humungous staying power, but can be easily removed completely with any oil based makeup remover if you need it gone (or use coconut oil like I do). I personally like the fact that it stays… because then I wake up the next morning looking surprisingly glamorous.
This color is a really nice brick red.  And it's perfect for a casual day look, as it isn't too bold or bright.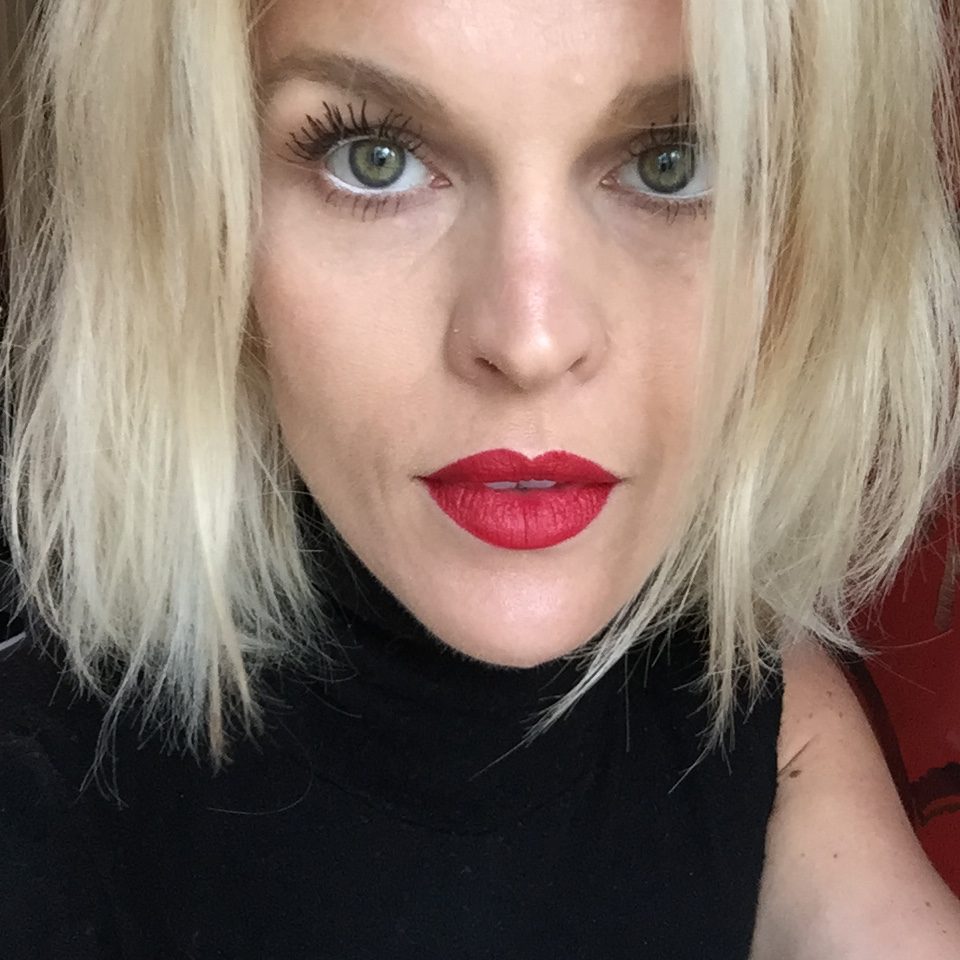 Milani Color Statement Lipstick in Best Red – $6
This is my new favorite classic red lipstick.  It isn't a stain, it isn't a gloss.  It's just a classic tube of thick and rich lipstick.  I love it.  It makes me think of my Nama.  Not because of the color- no… she never would wear red, but as a girl I used to play with all her lipsticks.  They all seemed so fancy- most of them in gold tubes.  I now have all of her lipsticks and wear them from time to time, even if they aren't in my color wheelhouse.  And this little Milani number is in a beautiful gold tube.
This color is the most perfect classic red to me.  I've been searching for years for the perfect red!  And I finally found it- in the back corner of my CVS.  I think it would work on any skin tone- I really do. It goes on very thick and has a really nice staying power.  I can wear it all day and only have to touchup the outer lip area if I've been eating.  And it comes off very easily.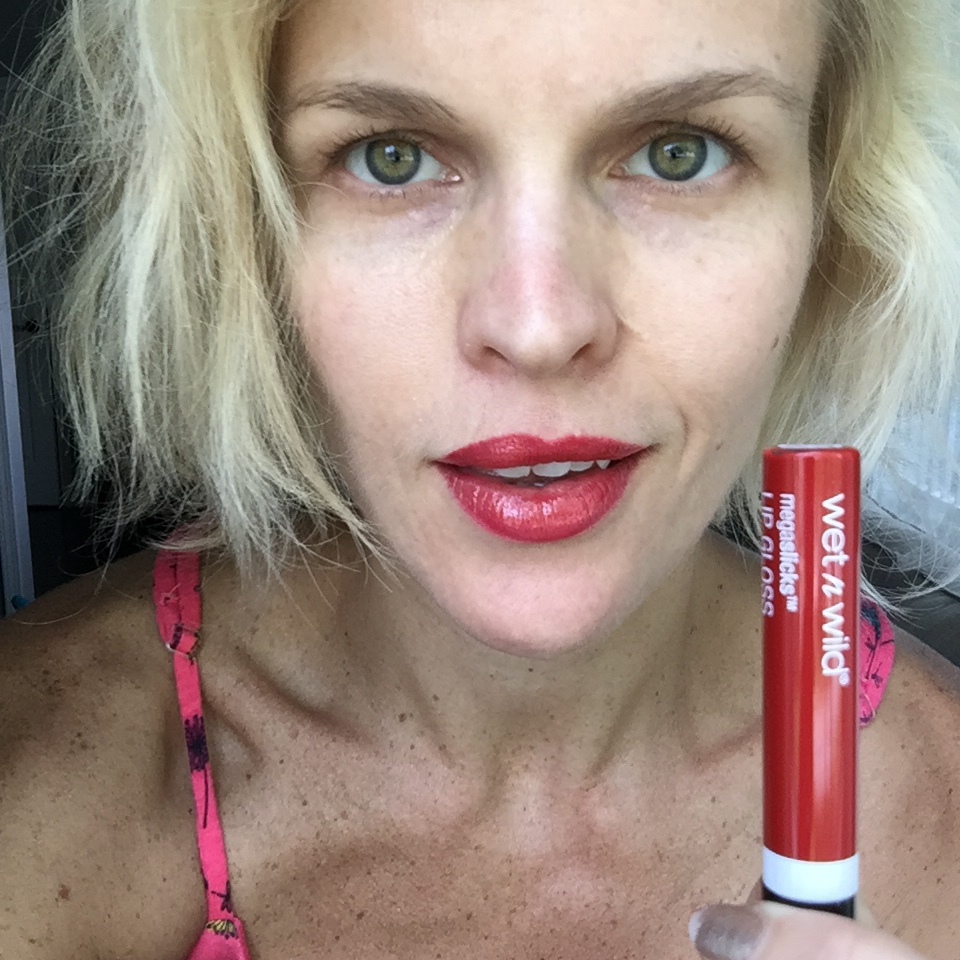 Wet n Wild Megaslicks Lip Gloss in My Cherry Amour – $2
(Don't wear this with pink, y'all.  But you do get a good sense of the lip tone up against that pink strap though!)
This is a thick, flat gloss.  No shimmer, just color and shine.  It's sticky, like most glosses are, so watch out for windy days.  But for $2, this line is another one of my go-to's.  I have a ton of their colors.
This is another nice shade of brick-red, but this time in a gloss.  So it's a bit more dressy.
Forever 21 High Shine Lip Gloss in Tangerine – $2
This is one of my favorite finds.  I was shopping at Forever 21 and about to checkout when I saw a bowl of lip glosses at the register.  This one popped out to me.  I figured, for two bucks I'd give it a shot.  No harm, no foul.  But I LOVE IT!!  It goes on really thick and very strong in color, with incredible shine.  It lasts pretty long for a gloss… and also considering its only $2!!
They call the color Tangerine, but I actually think that's false advertising.  It may look more coral here, but trust me- it's in the red family.  It does have an orangey tint to it, but this sucker is red first, orange later.
…
So there you go!  My red color pops coming with me to Europe.  All easy to find, cheap and tested by yours truly.  And I'm sure you'll be seeing them on many a photo I'll be sharing in the next week!
(Don't follow me on Instagram?  Go find me!  I'll post more frequently there 😉 It's everydaychampagne )
XOXO