What I love about fashion is that I get to play.  Sometimes an outfit gets thrown together on a whim minutes before walking out the door, and turns into something great.  Then other times I plan it out.  Put my artsy pants on.  I'll get an idea in my head and start planning away…. I'll even sketch it out, write notes about it and mull it over all day.  I do the same thing when I'm developing all my recipes.  It's just how my brain works- either I'm spontaneous and on a whim, or completely and utterly methodical.
I'm a very complicated person, y'all.
The last fashion post I did- the one for Fiore Boutique was completely on a whim.  Took me 20 minutes from start to finish.  I just styled as I shot it… And that turned into a really successful and fun shoot!
For this particular outfit post I knew I wanted to style one of my new H&M dresses.  I got one in an olive green and one in mustard.  They're both fairly simple and classic in style- a cinched in high-waist… slightly flared, short skirt… all in all a very flattering shape on most body types.  And it just screamed mod to me.  So when I planned out the outfit in my head (at the gym, actually…), I initially had black accessories in mind.   A black wide belt, and necklace, black tights and booties… Because I love black together with anything in the yellow-gold family.
But then as I was laying out the pieces of the outfit at home, I noticed my new H&M grey/copper necklace hanging on my wall… and saw the grey H&M clutch in the corner of the room… remembered I had H&M grey pumps, tights… and soon realized I could actually style a whole H&M outfit – head to toe – if I just switched gears a little (which I always love to do).  And then I really started to dig the idea of grey and mustard.  It's so unexpected and cool and made me feel oh-so girlie.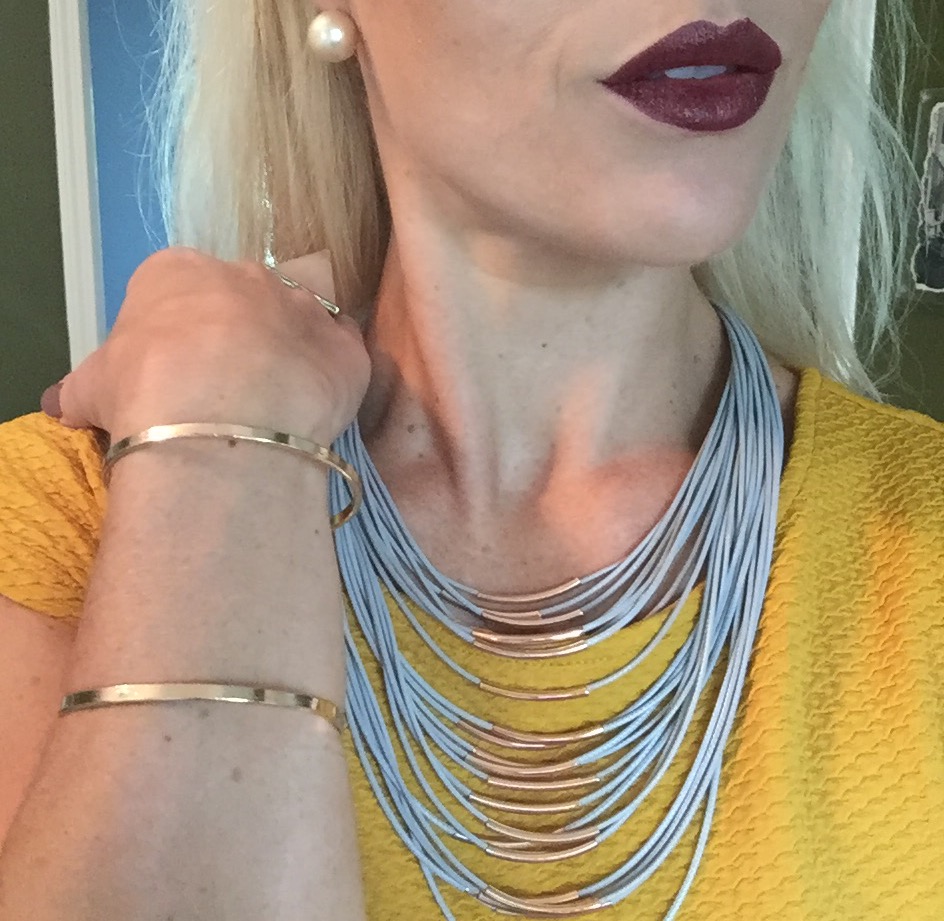 So that's what I did.  It's a super fun outfit- head to toe in H&M (some brand new, some old), and one that I really enjoyed putting together.
It really goes to show you that having a plan doesn't always have to mean you stick to it. And things aren't always black and white…
Sometimes there's a lot of fun to be found in those grey areas.